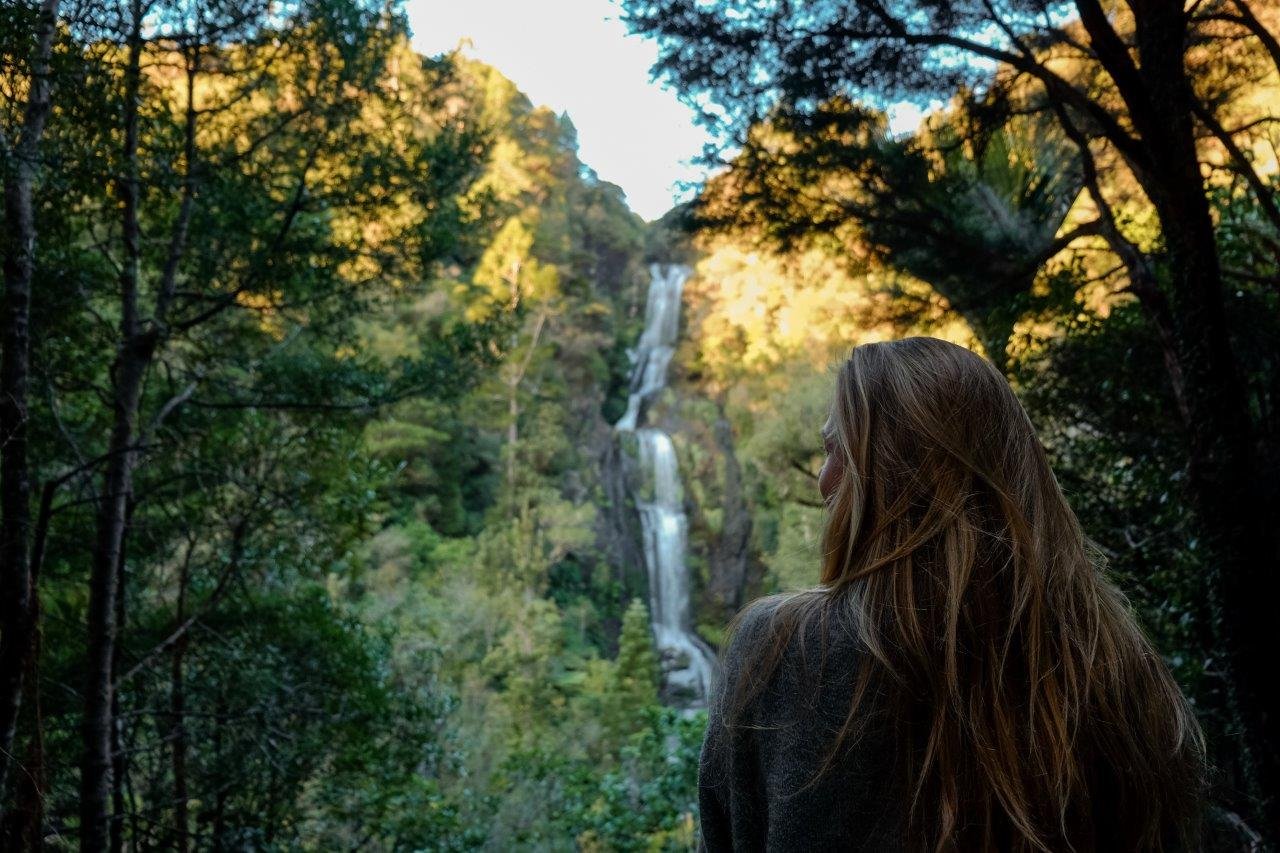 The past seventeen months living down under in the tiny country sometimes left off of world maps has been nothing short of surreal. New Zealand quickly became my favourite country in the world, not only for its beauty but also the people, the culture, the community and the life here.
I recently shared a post about 75 things to do on the South Island chokka full of ideas to inspire your future roadtrip around this beautiful place.
Today, I've compiled another list - fifteen beautiful waterfalls you've also got to make sure are on your New Zealand plans! I've included the location of each of them too, as they are on both the North and South Islands. Enjoy!
---
Rob Roy Glacier
Mount Aspiring National Park, South Island
This hike is Beautiful. Capitalized, bolded, underlined, italicized beautiful. Are there other ways to emphasize a word? If so, you should include them here. The trailhead is approximately a one hour drive from Wanaka, 2/3 of which are along a gravel road including a number of stream crossings. You will be greeted with stunning views of Mount Aspiring as you wind your way in. Be sure to start early and you may luck out and have the Upper Lookout to yourself which has panoramic views of the glacier and the waterfall.
---
Milford Sound
Fiordland National Park, South Island
Milford Sound is situated in the southwest of New Zealand's South Island in the famous Fiordland National Park. This region is widely regarded as the 8th Wonder of the World, and it's not hard to see why. This place is incredible. It's been said that you have to visit Milford Sound twice - once in the rain to see the hundreds of waterfalls that come tumbling down the mountains and once in the sunshine to see the majestic fiordland spread out in front of you.
Read more about taking a cruise around Milford Sound here!
---
Devil's Punchbowl Waterfall
Arthur's Pass National Park, South Island
A 1/2 hour hike up many, many stairs will bring you to the Devil's Punchbowl Waterfall viewing platform. This is a great little workout and you can hear the rushing of the water as you ascend into the forest. You'll also be able to spot the waterfall from the start of the hike and get a full view of the waterfall crashing down between two mountains.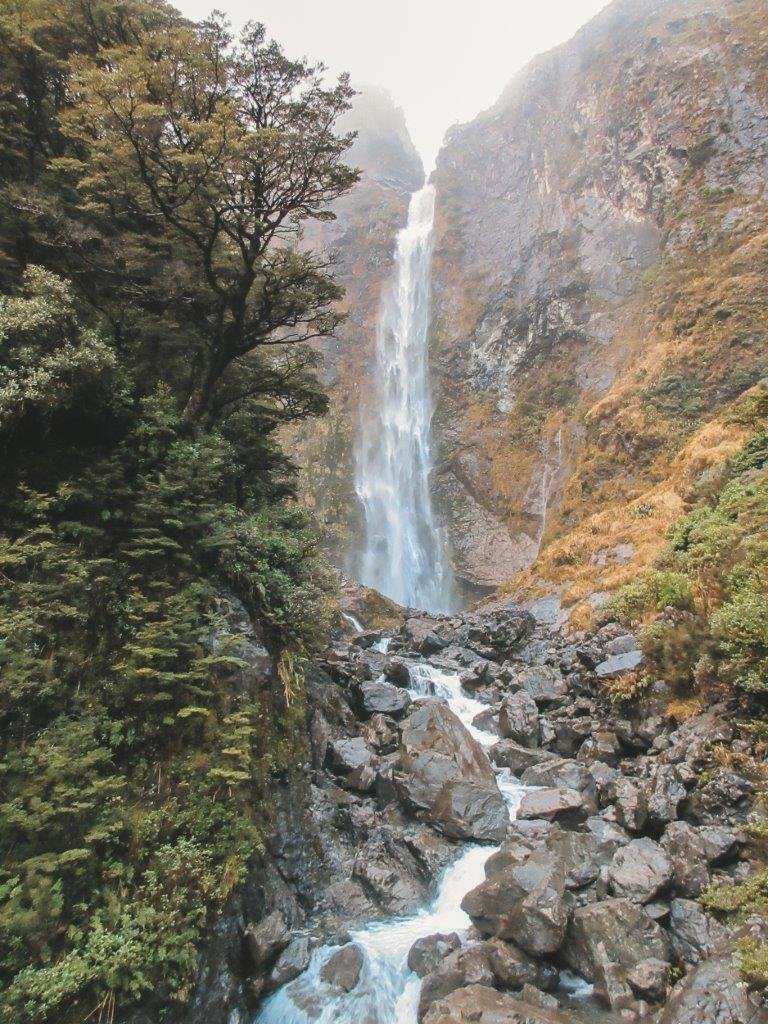 ---
Purakaunui Falls
The Catlins, South Island
The Catlins Forest Park is a region filled with waterfalls, forest and winding roads. The Catlins are home to plenty of beautiful natural gems - check out Purakaunui Falls for an epic three-tiered wonder.
---
Wainui Falls
Abel Tasman National Park, South Island
Wainui Falls is a great little track just outside Takaka in Golden Bay, the northwestern most region of New Zealand's South Island. It's a wonderful spot to get outside, enjoy the fresh air and see a beautiful waterfall where you can feel the spray hitting your face!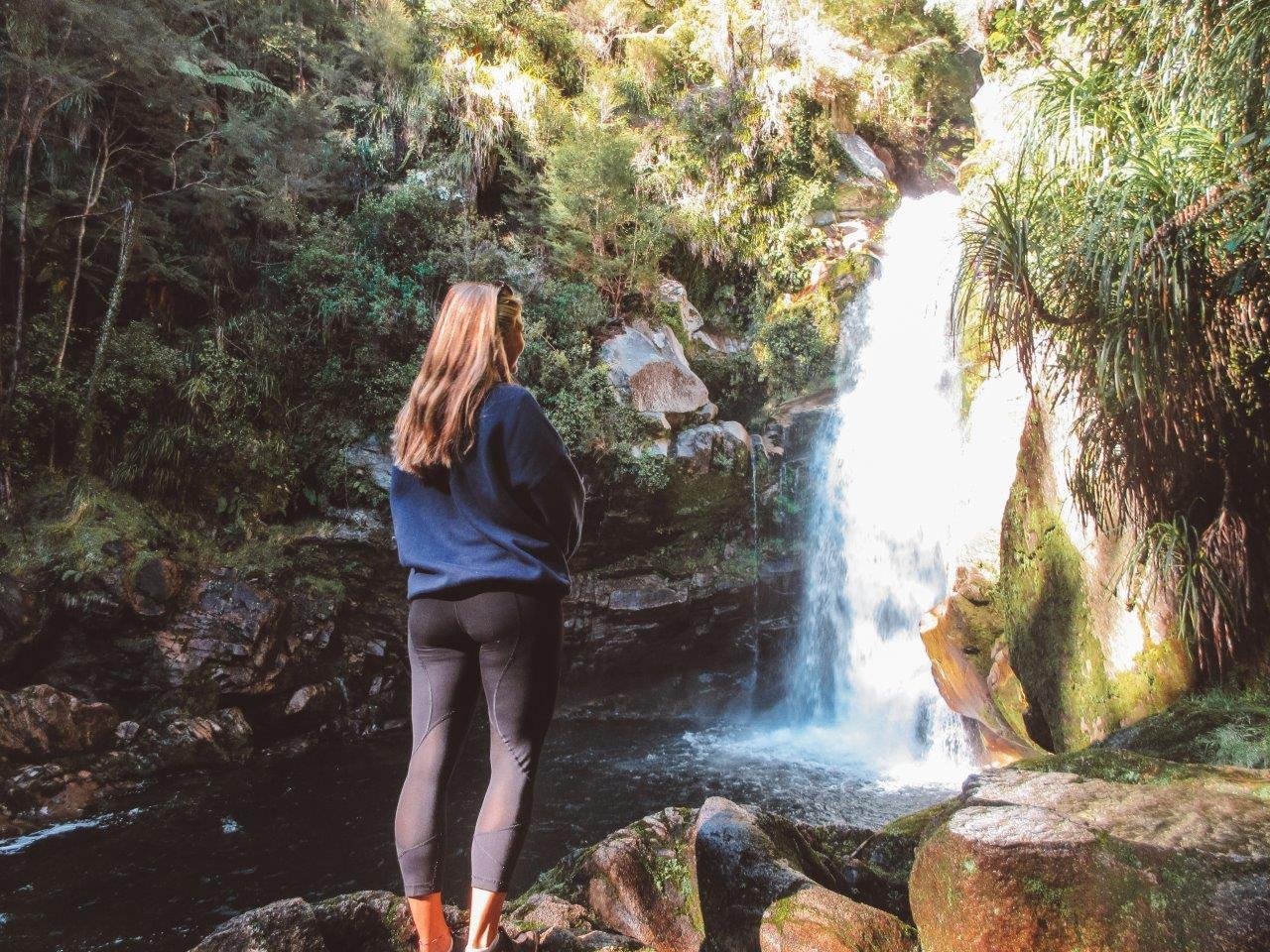 Newton's Falls
Akaroa near Christchurch, South Island
Newton's Falls are near the idyllic little French-inspired town of Akaroa. Best seen after rain, this little waterfall is a great nature escape.
Hunua Falls
Auckland, North Island
In the Hunua Ranges Forest Park, just south of Auckland, you'll find the famous Hunua Falls dropping thirty metres off the Wairoa River.
---
Dawson Falls
Egmont National Park, North Island
---
Tawhai Falls
Tongariro National Park, North Island
Tongariro National Park is full of treasures. We spent a few days in the park exploring and one of our mornings brought us to Tawhai Falls, where yet another famous Lord of the Rings scene was filmed: Gollum's Pool, where he fishes and sings!! The walk to the falls is less than ten minutes and the falls are really quite spectacular.
---
Taranaki Falls
Tongariro National Park, North Island
The Tongariro Northern Circuit, a three-day loop hike that circles around the national park visiting some of the most incredible viewpoints along the way. The weather was not on our side to do an overnight hike, so instead we opted for a day trek on a portion of the circuit. A 6.2km loop brings hikers from the Whakapapa Village to Taranaki Falls, a gorgeous waterfall that seems to burst out of the cliff face.
Read my hiking guide about how to get to Taranaki Falls here!
---
Huka Falls
Taupo, North Island
Huka Falls is an epic waterfall that gushes out of Lake Taupo via the Waikato River dropping 220,000 litres of pure blue water down an eleven metre drop each second!! The power you witness is quite surreal. There's some really nice viewpoints from both sides and from above the falls that offer varying perspectives of the natural phenomenon.
Kerosene Creek
Rotorua, North Island
You can swim in a natural hot springs at Kerosene Creek, a pungent yet very warm and relaxing pool with a waterfall.
Waiau Falls
The Coromandel, North Island
On the way down from Coromandel town to Thames, there's a nice little add-on to do by taking the road up to Waiau Falls. Spot the pigs!
---
Rainbow Falls
Northland, North Island
Rainbow Falls was impressive, thunderous and we got soaking wet with the spray that, when the light passes through, creates a rainbow (hence the name!). Highly recommend.
---
Kitekite Falls
Piha, North Island