Te Wahipounamu is a UNESCO World Heritage Site, a stunning area with some of New Zealand's most scenic landscapes. Nestled in the heart of Fiordland National Park is Milford Sound, New Zealand's most popular tourist destination and a region that Rudyard Kipling once described as the eighth wonder of the world.
Milford Sound is the only fiord in Fiordland National Park directly accessible by a road. The rest must be accessed by boat, kayak, helicopter or not at all. The drive to Milford Sound through the Southern Alps is beautiful. Starting in Te Anau, the road winds 120km north to Milford Sound/Piopiotahi.
Although many tourists fly into Queenstown and head directly for their boat cruise in Milford Sound by car, campervan or tour bus, the journey to get there must be enjoyed as well. The road can be busy; please watch out for changing weather conditions, narrow roads and wildlife.
---
Te Anau
The drive begins in Te Anau, situated on the banks of Lake Te Anau. This is a great place to stay for a few days as the Kepler Track, one of New Zealand's Great Walks, begins here.
---
Mirror Lakes
A beautiful reflection of the Earl Mountains of Fiordland National Park can be seen in this small roadside lake on a clear day. Pay close attention to the submerged sign!
---
Knobs Flat
The glacier that created Milford Sound also created the entire flatlands that you drive along. It's fascinating to envision how this landscape has changed!
---
Lake Gunn
A brief loop walk will take you through the beautiful trees of Fiordland National Park to a lake viewpoint with a chance to spot some of the birds and wildlife of the region.
---
Lake Marian
We didn't have time to complete the entire hike which is supposed to beautiful, but we did walk up across the swing bridge to the viewing platform over fast-rushing waterfalls.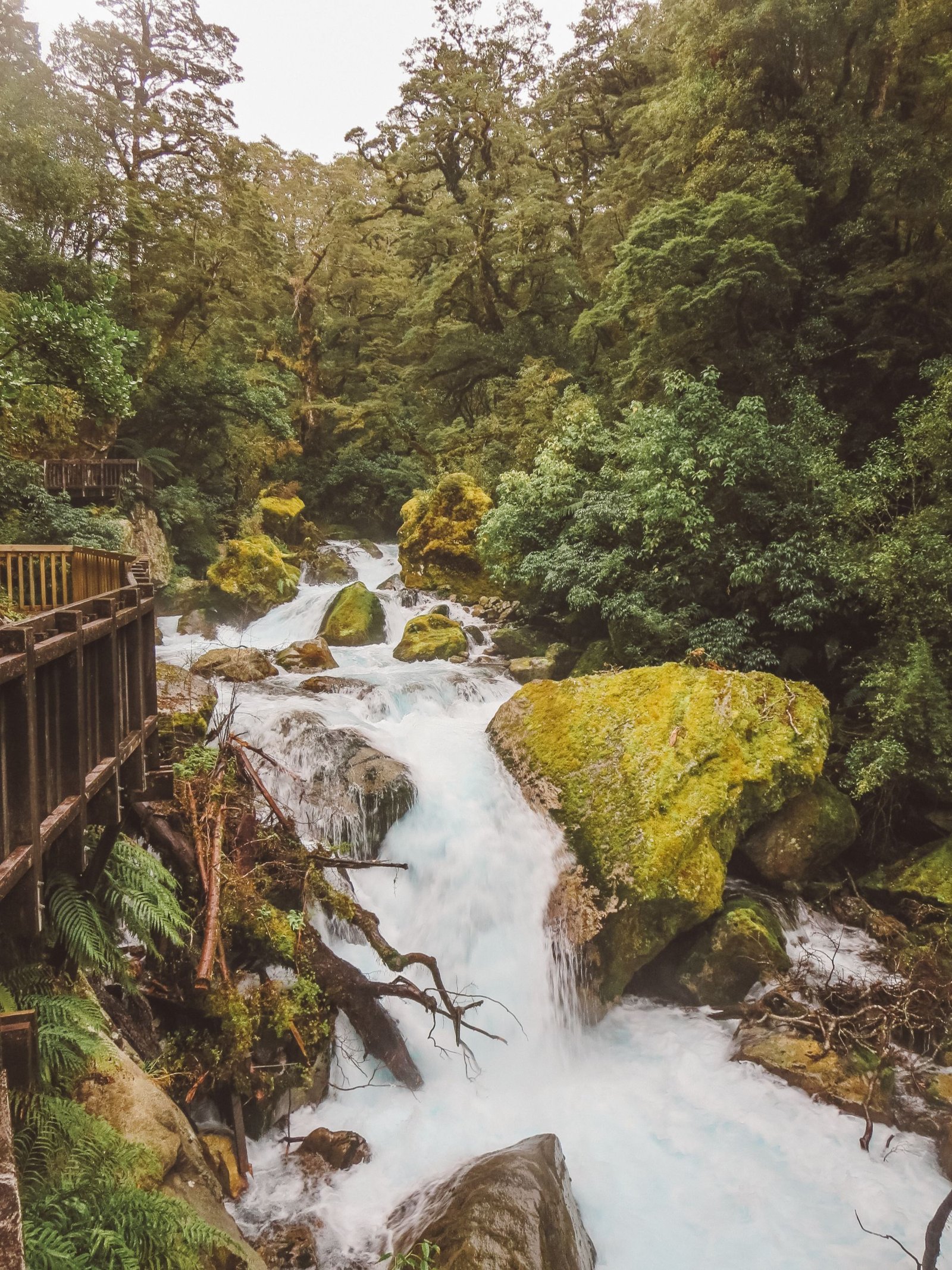 ---
Gertrude Saddle
A challenging hike up to Gertrude Saddle will give you panoramic views of the entire national park. From the road, you can view the gushing waterfalls that tumble off the mountain.
---
Homer Tunnel
The Homer Tunnel is the only way to access Milford Sound, making it the only fiord you can drive to directly! The tunnel was hand-dug through rock stretching 1.2km. It's pitch black as you drive through and you have to wait as it's just a one-lane tunnel.