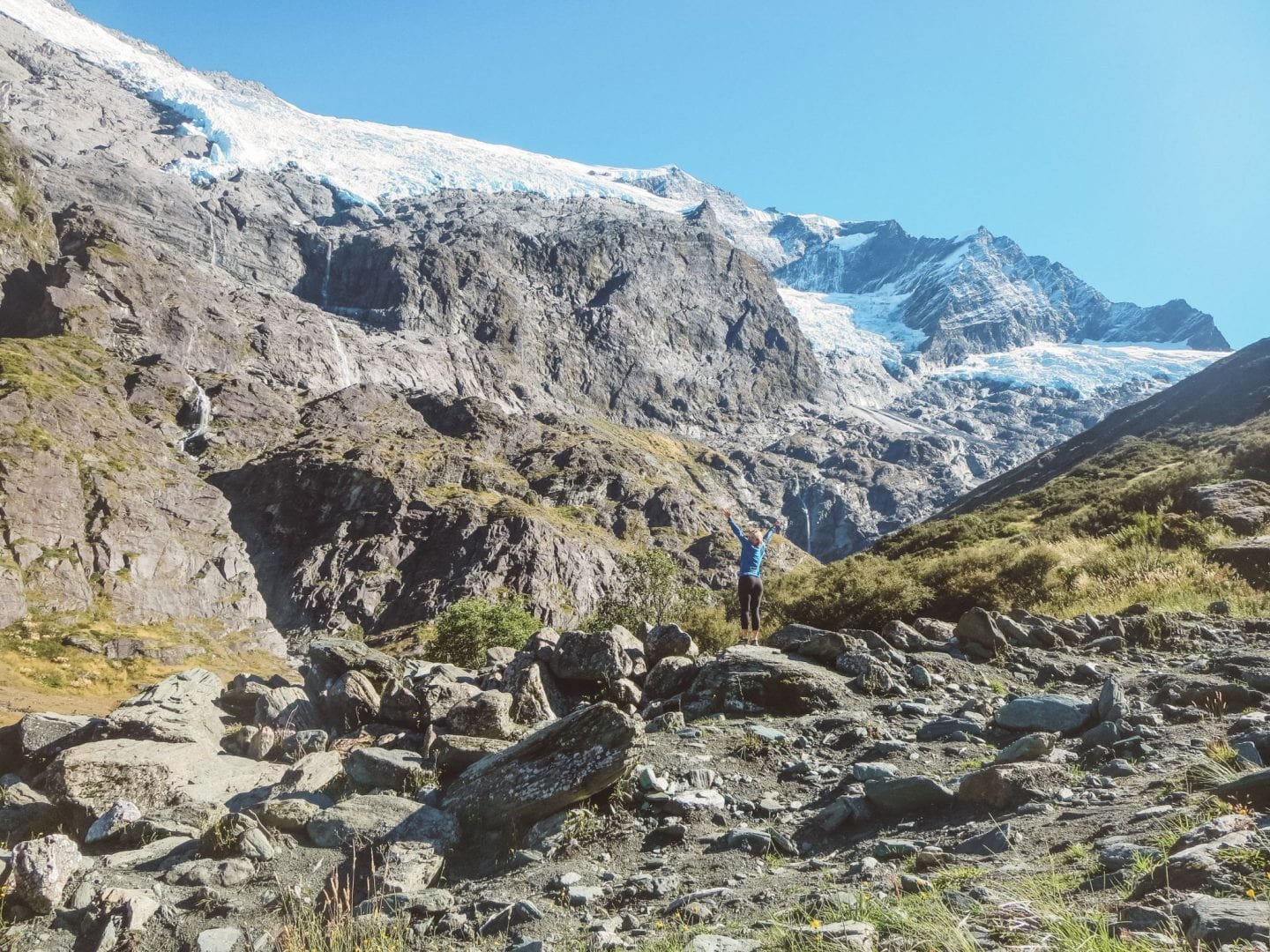 Rob Roy Glacier Track is the much quieter neighbour of the insta-famous Roy's Peak hike, both situated just outside of Wanaka. Rob Roy Glacier Track is maintained by the Department of Conservation as part of Mount Aspiring National Park.
The trailhead is approximately a one hour drive from Wanaka, 2/3 of which are along a gravel road including a number of stream crossings. Please ensure your vehicle is capable of driving these roads or consider booking a shuttle to the trailhead instead. You will be greeted with stunning views of Mount Aspiring as you wind your way in.
This hike is Beautiful. Capitalized, bolded, underlined, italicized beautiful. Are there other ways to emphasize a word? If so, you should include them here. It felt like I was walking through the great expanses of Mordor...oh wait, I basically was. New Zealand is the filming location of the incredible Lord of the Rings films, and for good reason. I half expected a hobbit to come trundling down the path at any moment out of the fairytale scene that was spread out in front of me.
Be sure to start early and you may luck out and have the Upper Lookout to yourself. Roy's Peak can keep its swarms of crowds so long as Rob Roy Glacier remains the much quieter neighbour. I hope for others' sake it remains that way for a long time. I encountered just 7 people on the way up and had the Upper Lookout to myself for almost half an hour before the other hikers began trickling in. Numbers increase as the day goes on of course and I passed plenty of people on my way back down who were all headed up. However, for that half hour I relished in the complete and utter silence and majesty of the space; I was moved to tears.
ROB ROY GLACIER TRACK HIKE DETAILS
When: during avalanche season (May-Nov) you can only get to the Lower Lookout which, while pretty, really doesn't make this hike worth doing!
Where: an hour outside of Wanaka in Mount Aspiring National Park
Difficulty: intermediate
Length: the track is 10km round-trip; I took 1 hour each way with an hour at the top for photos, but give yourself 4 hours for the whole thing
Directions: the trail starts at the Raspberry Creek carpark and follows the orange markers along a clear path up into the valley of the glacier. The Lower Lookout and Upper Lookout are on the same route so you can see them both.
Bathrooms: yes, basic outhouses at the carpark and dotted along the trail
Public Transit: no, but you can book a shuttle for $45 roundtrip which departs Wanaka at 8am and leaves Raspberry Creek at 3:15pm