Milford Sound is situated in the southwest of New Zealand's South Island in the famous Fiordland National Park. This region is widely regarded as the 8th Wonder of the World, and it's not hard to see why. This place is incredible.
It's been said that you have to visit Milford Sound twice - once in the rain to see the hundreds of waterfalls that come tumbling down the mountains and once in the sunshine to see the majestic fiordland spread out in front of you.
---
How to Get to Milford Sound
Most visitors will fly into Queenstown which is a 3h 45m drive away through Te Anau and the beautiful Fiordland National Park. You can either drive or go with a tour company. I recommend spending more than just a day in Milford Sound to truly experience this magical place.
I am traveling around New Zealand with a Stray bus pass that gives me unlimited hop-on, hop-off access all across the country. I took the Stray bus from Queenstown to Te Anau where I hung out for a couple days to hike the Kepler Track before venturing on to Milford Sound.
Interested in getting around New Zealand on Stray? Click on the image on the right to buy the perfect pass for your trip down under!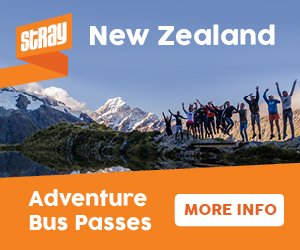 ---
Where to Stay in Milford Sound
A truly unique experience is at Gunn's Camp, just outside Milford Sound. It is an old worker's camp from the 1930s that housed the men who built the road to Milford Sound and their families! You get the opportunity to completely unplug from the world - no internet, no cell service and no electricity means living with just what's around you and soaking in the magic of Fiordland National Park.
---
Things to Do in Milford Sound
This is an excellent region for hiking - the Milford Track and the Routeburn Track, two of New Zealand's Great Walks begin here.
The number one thing you absolutely must do is get out on the water on a Milford Sound Cruise. I went on a 1h 40m cruise with Real Journeys for $68/person which was the perfect way to see Milford Sound. Milford Sound is the only sound in Fiordland National Park that can be directly accessed by a road so head straight for the harbour and onto the boat for the most iconic views of this spot.
This post includes affiliate links, which means I may receive a commission if you click a link and buy something I have recommended. It won't cost you any extra money, but helps keep this blog going!