I spent six weeks backpacking Australia before bad weather prevented me from continuing so I decided to seize the opportunity I had been granted and booked a cheap flight to Australia's smaller neighbour: New Zealand.
I have dreamed of visiting New Zealand for over a decade; I remember being glued to the ads on the television when I was about twelve that had stunning footage of all the beautiful things you could do in New Zealand.
It just always seemed so far away...and now I'm here.
I spent my first month in New Zealand traveling around the South Island - from hikes so beautiful you'll hardly believe they're real to stunning boat rides and incredible roadtrip views, icy cold glacier swims and beautiful fiordland cruises.
Across the South Island, I've taken 13 coaches and 4 ferries, hitch-hiked 7 times and stayed in 14 hostels. I've seen cows, dolphins, seals, hedgehogs, goats, geckos, deer, kea, cows and so many sheep. This country has exceeded my expectations in every possible way, and they were high expectations.
Originally planning to trek through the whole country in 2 months, I slowed down and finished my whirlwind around the South Island with a month-long stay in the beautiful seaside town of Kaikoura. Plans are up in the air at the moment for what's coming next, but I thought I would publish this guide first as it's packed full of wonderful information about all the incredible places I have been so lucky to experience on the South Island.
---
MONEY
The currency here is the New Zealand dollar. Due to the 2.5% Visa charge on every purchase made with your credit card, I highly recommend taking money out of an ATM once or twice per month and paying most everything in cash. Although you have to pay a fee when you withdraw money, in the long run this fee is substantially smaller than the Visa charge. Keep in mind also that, just like Australia, New Zealand is fairly expensive in comparison to other backpacking destinations. Budget about $80-$100 a day to cover your accommodations, food, transport and activities.
ACCOMMODATION
New Zealand is not a particularly cheap place to visit, but with some wise and careful budgeting choices, you can still backpack without spending all your money. Expect to spend between $25-$45 per night for a decent hostel. Make sure you book in advance during the summer to guarantee a bed! Book direct with hostels to avoid third-party booking fees. Look for hostels with free wi-fi, a kitchen and personal lockers, plus close to things you want to see.
WEATHER
The weather in New Zealand can be unpredictable. Always be prepared for wind, rain, blasting heat and any other conditions. This is especially important since much of traveling in New Zealand is focused around nature and this means being outside most of the time. Bring a raincoat, a sweater, a hat and sunscreen. I recommend layers so you can build up or strip down depending on the day. It's summer here between October and March, which is the best time to visit.
FOOD & WATER
Food is not going to be something you're going to want to spend all your money on if you're trying to stretch your budget as long as possible. Avoid eating out and buy all your food at local grocery stores such as New World, Pak'n'Save (cheapest) or Fresh Choice to cook in your hostel. All the hostels I stayed at had a kitchen usually with a free food bin - have a look in here for basics like pasta, cereal and even milk. Always carry plenty of water with you. Check out my guide to eating while backpacking here!
GETTING AROUND
Much smaller than neighbouring Australia, you won't really need to look into domestic flights unless you're on a very short and limited trip. Public transport is relatively non-existent in New Zealand. One of the most popular ways to travel the country is by car or by van so that you can take advantage of all the campsites (many of them free!). Alternatively, you can look into getting a bus pass on Intercity - get a flexipass so that you can travel by calculating hours. If you prefer a more guided hop-on, hop-off bus route that also includes plenty of activities and a guaranteed hostel bed every night, consider a company like Stray (that's how I did it!).
SIM CARD
As with all countries, you should pick up a SIM card when you arrive in New Zealand. The airports will have local phone carrier stalls; since I was already with Vodafone in Australia, I picked up a Vodafone New Zealand SIM card and loaded 4GB of data with unlimited social apps and plenty of talk and text for 60 days for under $50.
Stray Hop-On Hop-Off Bus
I traveled around New Zealand on a hop-on, hop-off bus with Stray New Zealand. I booked a Maximus Pass allowing me access to both the North and South Island with the pass being valid for a year! It takes the stress out of having to plan how to get between cities and to the much more remote and beautiful destinations New Zealand is so known for.
Interested in getting around New Zealand on Stray? Click on the image on the right to buy the perfect pass for your trip down under!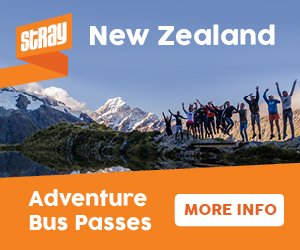 ---
CHRISTCHURCH, 2 NIGHTS
ARRIVE: fly into Christchurch International Airport. From the airport, bus 29 will take you straight into the city in about half an hour for $8.90.
GET AROUND: a one-zone transit ticket will cost you $4 and lasts for 2 hours. You can walk around town, but things like the Christchurch Gondola are quite far out and will need a bus.
STAY: the All Stars Inn on Bealey Avenue is wonderful: free wi-fi, storage lockers and 24-hour facilities in a great location.
DO: walk around the city to see the mixture of rubble being rebuilt from the earthquake next to sleek and stunning new architecture. Catch the bus out to the Christchurch Gondola and either ride up to the top or hike the 3km for free. Explore the botanical gardens.
READ MORE: check out my hiking guide for the Christchurch Gondola.
---
KAIKOURA, 4 NIGHTS
ARRIVE: take the Stray bus from Christchurch to Kaikoura. Sit on the right-hand side of the bus to get the best view as you drive along the coast, spotting dolphins and seals along the way. The drive is approximately 2 1/2 hours.
GET AROUND: Kaikoura is a small seaside town; the best way to get around is to walk since everything is so close.
STAY: the Albatross Backpackers Inn is brilliant. All the comforts of home, with free wi-fi, free coffee/tea/hot chocolate, free bikes and towels to borrow and the nicest couple running the place. You will want to stay here much longer than you plan.
DO: head to the Seal Colony to visit hundreds of seals lounging around the rocks. Complete the Peninsula Walkway all around the incredible coastline with some of the most inspiring views. Go shopping at the Innovative Waste Centre and the Op Shop for mega deals on cheap clothes to travel around in! Head 11km inland to do a day hike up to Mount Fyffe Summit. Explore the beaches at Mangamanu (great for surfing!) and South Bay.
READ MORE: check out my detailed guide to Kaikoura.
---
PICTON, 3 NIGHTS
ARRIVE: take the Stray bus from Kaikoura to Picton. Sit on the right-hand side of the bus to for beautiful coastal views as you wind up towards the northernmost tip of the South Island. The drive is approximately 2 1/2 hours.
GET AROUND: Picton is a harbour town, mostly used to access the ferry to Wellington connecting the South and North Island. Town is not very big, so the best way to get around is to walk. For those of you walking the famous Queen Charlotte Track, you'll need to book a water taxi to the trailhead.
STAY: I really enjoyed my stay at Sequoia Lodge Backpackers. It's right in town near the ferry, water taxis and trails of Picton while offering a quiet spot nestled back from all the tourists. Free coffee/tea, free chocolate pudding and ice cream every night, free wi-fi and lots of facilities for you to use - I think my only negative comment would be that the individual rooms do not lock and you are only provided access to a small locker in which to store your valuables, so most of your belongings are left unattended.
DO: take on the local trails: I recommend the Tirohanga Track, the Link Walk to Shakespeare Bay, Shelley Beach to Bob's Bay and the Picton to Waikawa Track in the Victoria Domain. Do a day hike on the Queen Charlotte Track (or spend a week hiking the whole 65km!).
READ MORE: check out my guide to 3 days in Picton.
---
ABEL TASMAN NATIONAL PARK, 3 NIGHTS
ARRIVE: take the Stray bus from Picton to Marahau. Sit on the right-hand side of the bus to for picturesque views of mountains, wineries and pure green lakes as you head west. The drive is approximately 6 hours with stops.
GET AROUND: you'll stay in Marahau which is the town on the gateway to the Abel Tasman National Park. In town, you can walk around including accessing the start of the Abel Tasman Coast Track. For those of you hiking in the park, water taxis provide drop-off and pick-up at various sections of the trail which can also be hiked as a 3-day trek.
STAY: in terms of location, the Barn Backpackers has it nailed. Situated right outside the trailhead to Abel Tasman Coast Track, this is the ideal spot to base yourself from. The facilities are big and lovely with hammocks provided. Unfortunately, the rooms don't have lockers and you only get 100mb of wi-fi a day unless you'd like to pay for premium.
DO: go hiking in Abel Tasman National Park! Head out on the Coast Track for just a day or go for the full 3-day 60km trek. Abel Tasman National Park is also a wonderful spot for kayaking, swimming and snorkeling.
READ MORE: check out my detailed guide to Abel Tasman National Park.
---
FRANZ JOSEF, 3 NIGHTS
ARRIVE: take the Stray bus from Marahau to Franz Josef via the pancake rocks at Punakaiki in Paparoa National Park. Sit on the right-hand side of the bus for stunning coastal views as you drive through three national parks during an 11-hour day.
GET AROUND: Franz Josef is a tiny little place which makes walking down the one main street a breeze! Many of the hikes start from town; others start from the carpark which is a 1-hour walk from town or you can take a shuttle for $12.50 return.
STAY: all the hostels in Franz Josef are centrally located so just do your research and pick a hostel that has the amenities you're looking for such as free wi-fi. Book in advance as it's nearly always full here.
DO: go on a hike to view the Franz Josef Glacier, the most famous attraction of the region (I highly recommend the challenging Robert's Point hike). If you've got a bigger budget, you can take a guided hike up on to the glacier with a guide and crampons or book a heli-hike where a helicopter will fly you to the top for a peak hike. There's loads of other smaller walks in the area too that explore the local landscape - I highly recommend the Tatare Tunnels where you can hike through old mines to see glow worms!
READ MORE: check out my detailed guide to Franz Josef.
---
WANAKA, 4 NIGHTS
ARRIVE: take the Stray bus from Franz Josef to Wanaka. Sit on the left side of the bus for the most beautiful views of the mountain ranges and lakes along the way. The journey will take approximately 9 hours with stops along the way at beautiful walks and waterfalls.
GET AROUND: Wanaka is a really small place, concentrated on the shores of Lake Wanaka. You can easily walk everywhere. To get to Roy's Peak or Rob Roy Glacier, you'll need to arrange transport.
STAY: Base Backpackers and YHA are quite central, but I really recommend the Wanaka Bakpaka overlooking town and Lake Wanaka just on the outskirts of town. There's 10GB of wi-fi a day, a lovely kitchen and a homey feel about the place.
DO: much like the rest of New Zealand, Wanaka is an incredible base for hiking. The best hikes around are the famous Roy's Peak, perhaps one of the most well-known views in New Zealand as well as neighbouring Rob Roy Glacier which is one of the most beautiful hikes I've ever done. A smaller local hike on Mount Iron is a great way to spend the morning before heading to Wanaka Lavender Farm. Make sure to go for a walk around Lake Wanaka and #ThatWanakaTree.
READ MORE: check out my detailed guide to how to spend 5 days in Wanaka.
---
QUEENSTOWN, 3 NIGHTS
ARRIVE: the Stray bus was fully booked on the day I planned to head to Queenstown, so I ended up hitch-hiking from Wanaka to Queenstown! It was an awesome experience - very safe and efficient. I made it clear I was taking a photo of his license plate before I got in and we stopped at all the viewpoints along the way for photos. Driving into Queenstown is beautiful and takes just over an hour.
GET AROUND: Queenstown, while bigger than most other places I've stayed, is still compact and walkable.
STAY: I literally cannot say enough about the Adventure Queenstown Hostel. It's right in the middle of town, clean and homey with a great kitchen, free tea/coffee, a huge lounge and they will do your laundry for you! They also lend out some really cool stuff to guests - even GoPros!!
DO: Queenstown is known as the adventure capital of New Zealand. Situated on the banks of Lake Wakatipu, there's plenty to do to keep you going for days. Try your hand at mountain biking, sky diving, flying and of course, hiking. Head up Queenstown Hill, a quick hike with great views of town. For a longer more intensive hike, take on Ben Lomond with incredible panoramic mountain views. Eat what's been named the best burger in New Zealand: a Fergburger.
READ MORE: check out my detailed guide of 4 things to do in Queenstown.
---
TE ANAU, 3 NIGHTS
ARRIVE: the Stray bus takes about 1 1/2 hours to complete the drive from Queenstown to Te Anau driving along the beautiful Lake Wakatipu before delving into the entrance of Fiordland National Park. The right side of the bus will have the nicest views of the lake.
GET AROUND: Te Anau is very small and you will just need to walk to get anywhere you need - from the hostel to the visitor's centre, any activities and the Fresh Choice grocery store.
STAY: Lakefront Backpackers is a great hostel. It's divided into 2 main buildings, each with their own kitchen, lounge and bathrooms. The rooms are spacious and comfy and the wi-fi is some of the best I've had so far! The view from the hostel looks straight out on the beautiful lake, so that's a big bonus, too.
DO: Te Anau is one of the gateways to hiking in the Fiordland National Park. The best things to do involve lacing up your hiking boots and heading out on the Kepler Track, one of New Zealand's Great Walks. There's plenty of small local trails too many of which wind around the beautiful Lake Te Anau which gives off some fantastic sunsets; just ask at the Visitor Centre for all the tips.
READ MORE: check out my detailed hiking guide for the Kepler Track.
---
MILFORD SOUND, 1 NIGHT
ARRIVE: the Stray bus leaves Te Anau to head to Milford Sound, a drive that takes just under 3 hours. Milford Sound is widely regarded as the 8th Wonder of the World. Sit on the right side of the bus for beautiful views over the sounds and lakes.
GET AROUND: you will need a car or a tour bus to explore Milford Sound and the rest of Fiordland National Park.
STAY: we stayed at the unique Gunn's Camp just outside Milford Sound in Fiordland National Park, an old worker's camp from the 1930s that housed the men who built the road to Milford Sound and their families. It was an incredible experience to not have electricity, internet or cell service and to just appreciate the stunning surroundings.
DO: the most popular attraction in New Zealand, you've got to get yourself on a cruise of Milford Sound. In the rain, you see hundreds of waterfalls cascading down the mountains and in the sun you see the majestic fiordland spread out in front of you. This is also an excellent region for hiking - the Milford Track and the Routeburn Track, two of New Zealand's Great Walks begin here.
READ MORE: check out my detailed guide to Milford Sound.
---
AORAKI/MOUNT COOK NATIONAL PARK, 4 NIGHTS
ARRIVE: the Stray bus returns from Milford Sound and detours down to Invercargill where you can catch a ferry to Stewart Island. Alternatively, head straight for Queenstown and on to Mount Cook which is one of the most stunning drives you'll experience in New Zealand. If you can, nab the front seat of the bus for the best views.
GET AROUND: Mount Cook Village is tiny, you can walk to all the local amenities (there is no supermarket in town). Trails can mostly be walked to or you can drive.
STAY: there aren't as many hostels to choose from in Mount Cook; I spent 4 nights in the Mount Cook Lodge which is clean, modern and comfy. Wi-fi is $5 for 24 hours, which isn't great (I'd prefer wi-fi to a mini-fridge in my room!).
DO: the absolute best thing to do in Mount Cook is hike. The trails are stunning around here. I recommend the Hooker Valley Track, Red Tarns, Kea Point, Tasman Glacier and Sealy Tarns to Mueller Hut!
READ MORE: check out my detailed guide to Mount Cook.
This post includes affiliate links, which means I may receive a commission if you click a link and buy something I have recommended. It won't cost you any extra money, but helps keep this blog going!