Queenstown is a major city on New Zealand's South Island. Queenstown is known as the adventure capital of New Zealand. Situated on the banks of Lake Wakatipu, there's plenty to do to keep you going for days. Try your hand at mountain biking, sky diving, flying and of course, hiking.
Queenstown reminded me much of Wanaka but bigger. Having said that, the town centre is still compact and highly walkable!
How to Get to Queenstown
I am traveling around New Zealand with a Stray bus pass that gives me unlimited hop-on, hop-off access all across the country. However, the bus I planned to take was completely full on the day I planned to go so I ended up hitch-hiking from Wanaka to Queenstown! This was an awesome experience and very safe. New Zealand is one of the best places in the world to hitch-hike. Always confirm where you're headed and I recommend letting them know you will be taking a photo of their license plate for safety. The drive took about an hour and a half with stops at all the viewpoints along the way.
Interested in getting around New Zealand on Stray? Click on the image on the right to buy the perfect pass for your trip down under!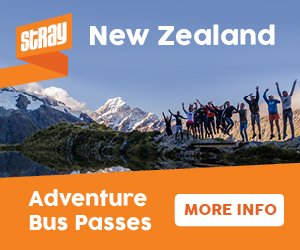 Where to Stay in Queenstown
I literally cannot say enough about the Adventure Queenstown Hostel. It's right in the middle of town, clean and homey with a great kitchen, free tea/coffee, a huge lounge and they will do your laundry for you! They also lend out some really cool stuff to guests - even GoPros!!
Things to Do in Queenstown
Queenstown Hill
A great introductory hike in Queenstown is the Queenstown Hill. It's not too long, but it provides a full sweeping view of Queenstown and the beautiful lake views.
Lake Wakatipu
Queenstown is situated on the banks of the s-shaped Lake Wakatipu. On the shores, beautiful patios become all lit up in the evenings and you can enjoy some really nice strolls along the lake. It's best here at sunset!
Ben Lomond Summit
The Ben Lomond Summit hike is a difficult hike that winds its way steadily above Queenstown to the Ben Lomond Saddle before taking on a rocky trek circling the mountain to arrive at the summit 1748m high. This 22km hike is absolutely breathtaking and you're rewarded with 360 degree views of the mountains and Lake Wakatipu. Check out my detailed hiking guide here.
This post includes affiliate links, which means I may receive a commission if you click a link and buy something I have recommended. It won't cost you any extra money, but helps keep this blog going!