Abel Tasman National Park is the smallest national park in New Zealand, tucked on the left prong of the northern tip of the South Island, just west of Nelson. Named for the first European explorer to have visited New Zealand, Abel Tasman National Park is home to one of New Zealand's 10 Great Walks, the Abel Tasman Coast Track.
---
How to Get to Abel Tasman National Park
I am traveling around New Zealand with a Stray bus pass that gives me unlimited hop-on, hop-off access all across the country. I took the Stray bus from Picton along the coast past Nelson and Peloras Bridge to Marahau at the gateway to Abel Tasman National Park, a journey of about 6 hours with stops. We stopped off here for our lunch break with a sweet spot for jumping in crystal clear pools.
Interested in getting around New Zealand on Stray? Click on the image on the right to buy the perfect pass for your trip down under!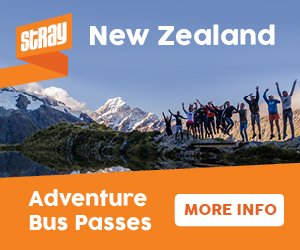 ---
Where to Stay Near Abel Tasman National Park
In terms of location, the Barn Backpackers in the town of Marahau has it nailed. Situated right outside the trailhead to Abel Tasman Coast Track, this is the ideal spot to base yourself from. The facilities are big and lovely with hammocks provided. Unfortunately, the rooms don't have lockers and you only get 100mb of wi-fi a day unless you'd like to pay $5 for 24 hours of premium.
---
Things To Do in Abel Tasman National Park
Explore Abel Tasman by Kayak
One of the best spots in the country for sea-kayaking, there's the option of either renting your own kayak to head up the coast with or going on a half-day or full-day guided tour. The coastline of Abel Tasman is beautiful.
Visit Split Apple Rock
Split Apple Rock looks just like an apple sliced perfectly in half. You can visit by kayak, the aqua taxis departing from Marahau will take you here, or you can walk here. The car park is 7km outside Marahau so you can easily walk, bike or drive there. From the car park, the trail down to Split Apple Rock is just ten minutes through the rainforest.
Hike the Abel Tasman Coast Track
The Abel Tasman Coast Track is 60km long stretching along the stunning coastline of Abel Tasman National Park. The hike starts on the outskirts of Marahau, the town at the southernmost tip of the national park and heads along the coast ending in Wainui. Along the way, you'll encounter wildlife, pristine beaches, incredible views and lovely huts and campsites to spend the night.
The Coast Track is commonly divided into the following sections which you can take 3-5 days to hike, depending on which sections you'd like to combine:
Marahau to Anchorage - 12.4km
Anchorage to Bark Bay - 11.5km
Bark Bay to Awaroa - 13.5km
Awaroa to Whariwharangi Bay - 16.9km
Whariwharangi Bay to Wainui to Totaranui - 9km
Abel Tasman Aqua Taxis operate drop-off and pick-up services to all these spots so you can hike just one-way and be returned to Marahau via water.
I hiked from Marahau to Bark Bay which took me about 5 hours with a lunch break. Personally, I felt the trail itself wasn't very exciting; it's well maintained and easy to follow but there's hardly any viewpoints except for a couple overlooking beaches between Torrent Bay and Bark Bay. It's mostly just rainforest. I think my favourite part of the day was taking the water taxi back to Marahau! Abel Tasman is much more beautiful from the water so I highly recommend exploring it that way instead - kayaking is very popular around here.
This post includes affiliate links, which means I may receive a commission if you click a link and buy something I have recommended. It won't cost you any extra money, but helps keep this blog going!