Picton is a harbour town, mostly accessed by visitors seeking to board the ferry that connects the North and the South Island. A small place, the most popular activity here is definitely the hiking. Picton is the gateway to the acclaimed Queen Charlotte Track.
---
How to Get to Picton
I am traveling around New Zealand with a Stray bus pass that gives me unlimited hop-on, hop-off access all across the country. I took the Stray bus from Kaikoura up the coast to Picton which takes just over 2 hours. Picton is also the first access point from Wellington on the North Island which is also where the closest international airport is.
Interested in getting around New Zealand on Stray? Click on the image on the right to buy the perfect pass for your trip down under!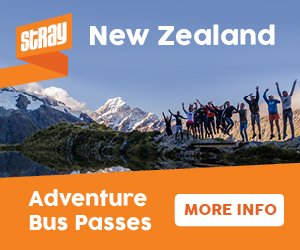 ---
Where to Stay in Picton
I really enjoyed my stay at Sequoia Lodge Backpackers. It's right in town near the ferry, water taxis and trails of Picton while offering a quiet spot nestled back from all the tourists. Free coffee/tea, free chocolate pudding and ice cream every night, free wi-fi and lots of facilities for you to use - I think my only negative comment would be that the individual rooms do not lock and you are only provided access to a small locker in which to store your valuables, so most of your belongings are left unattended.
UPDATE: I came back to Picton in September 2019 and stayed at Atlantis Backpackers which is one of the most unique hostels I've ever stayed at - I loved my stay here. It's in an old museum, is full of books and beautiful murals (I mean literally, the entire hostel is painted), the staff are great, there's free wifi and breakfast and coffee/tea and dessert - truly an awesome find, plus it's cheap!
---
Things To Do in Picton
The best things to do in Picton totally revolved around mountains and hiking. If that's your thing, you've come to the right place! There are plenty of awesome local tracks in town with wonderful viewpoints and harbour access:
Tirohanga Track - 2.4km roundtrip with viewpoint over Picton and harbour
Picton to Waikawa - 4.4km one way to harbour
Link Walkway to Shakespeare Bay (below) - 2.6km one way with views over Picton and Shakespeare Bay cruise terminal
Shelley Beach to Bob's Bay (below) - 1km one way with harbour views ending at a black sand beach and I spent 20 minutes walking with a hedgehog!!
---
Hiking the Queen Charlotte Track
The main reason visitors flock to Picton is to hike the Queen Charlotte Track, an epic 3-5 day hike along the Queen Charlotte Sound. You can base yourself from Picton and either drive or take a water taxi to one of the trailheads and do either the entire trek or just one portion as a day trip.
Check out my detailed guide to hiking the Queen Charlotte Track here.
This post includes affiliate links, which means I may receive a commission if you click a link and buy something I have recommended. It won't cost you any extra money, but helps keep this blog going!