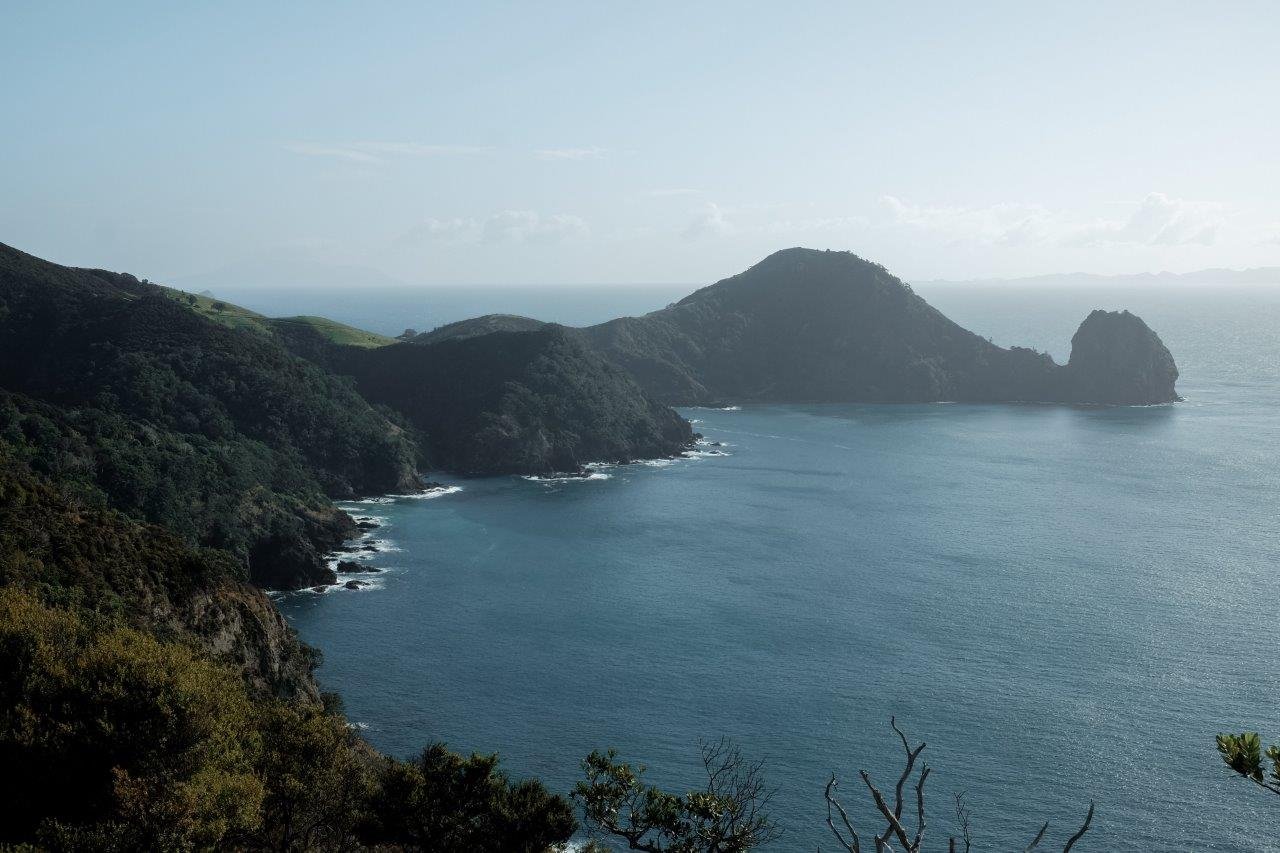 Unfortunately, the Coromandel Coastal Walkway was a disappointment. I'd even go so far as to say that it was my least favourite hike in all New Zealand, bumping the Abel Tasman Coast Track up to second last place.
The drive to get here is long. We cut it into two parts and spent the night about halfway at the northernmost free campground in The Coromandel at Little Bay, but we still felt it to be tedious. I'd say from Coromandel town we drove close to two hours each way. Thankfully, the views along the way are gorgeous - I would argue better than on the hike itself.
I would not say that this hike is worth it. You'll find plenty of other hikes of equal or greater beauty and landscapes that are much more accessible elsewhere in The Coromandel and the country. But, as I wrote in an Instagram caption last year, I'm on a mission to hike every track in New Zealand and this was another one off the list.
If you do decide to go, make sure you go on a sunny day. The whole road to get there is gravel and, while it is well-maintained and fairly easy to drive, you'll need to make sure you're in a vehicle that can tackle loose gravel, tight turns and hills; the rain doesn't help in the slightest.
There are plenty of people who live out here - we were surprised at the sheer number of houses nestled in clumps along the way, all a long way from the nearest town or any amenities. There are no food shops around, aside from one small general store in Colville; otherwise, the most public amenities you'll find are a few public toilets. Note that by far the nicest toilet on the entire drive is the one at the parking lot for the hike at Stony Bay campsite. If you can hold it, do. The one at Little Bay for example had about a hundred resident mosquitoes.
You can camp up at Stony Bay, right at the trail head, for $15 per person where they've provided, for some odd reason, at least eight toilets. I've never seen so many long-drop loos in one place! We decided to stay at the free campground about an hour south at Little Bay.
You can hike from either Fletcher Bay in the north or Stony Bay on the southern end of the track. The hike is one-way so you'll need to walk back the way you came. We hiked from Stony Bay as the drive is a little shorter than up to Fletcher Bay.
We decided to only hike half-way to the viewpoint overlooking Sugar Loaf Mountain and beyond to Great Barrier Island. This took us about two hours return. If you do the whole hike there and back, you're looking at at least five hours. The viewpoint was one of just two; the rest of the trail is in the coastal bush so, even though we were on a coastal trail, the coastal views were minimal.
I know this post wasn't as upbeat as my usual ones, but in reality, not every single thing I do while I travel is amazing. That's okay too - it makes the great things really, truly great.
Let me know your thoughts if you have been here!
COROMANDEL COASTAL WALKWAY HIKE DETAILS
When: year-round, but be sure to go on a sunny day
Where: The Coromandel
Difficulty: easy
Length: 3 hours each way from Stony Bay to Fletcher Bay or return; one-way hike so 6 hours roundtrip unless you arrange transport at either end
Directions: from Colville, follow the gravel road to either Stony Bay or Fletcher Bay. Follow the clearly marked track along the coast. There are two viewpoints for which you'll need to leave the main trail.
Bathrooms: yes, about 8 to choose from at the car park
Public Transit: yes, shuttles are available here