I'll be honest, when I was still in Australia and first researching New Zealand and how to best get around the tiny two-island nation, I was pretty stumped. It seemed that the only way to do it was if you had your own wheels - and I don't have a drivers' license. I mean, New Zealand is pretty much synonymous with #vanlife and public transport, aside from the major cities, is practically non-existent and certainly not frequent.
I began my time in New Zealand with a hop-on, hop-off bus pass with Stray that seemed like a great solution for foreigners hoping to get around to the main sites with ease. As I stayed longer in the country, I discovered other ways to get around (and yes, one does include your own wheels) and used them at different times to accomplish different legs of my journey.
I've put together everything I've learned in the past eighteen months of living in New Zealand to assist you in making the best choice for your own trip down under! Let me know if you have further questions, too.
---
Stray Bus
The gist of it:
Stray offers travelers a hop-on, hop-off experience (not only in New Zealand; they're in Australia and Southeast Asia, too!) on their big orange buses that travel on a set route around the country visiting the most popular and well-known tourist sites, plus a few other lesser known 'Stray specialty' spots, too.
Here's everywhere I went with Stray on the South Island!
How it works:
Once you buy your pass of choice, you'll need to download the Stray app. On here, you book your buses for whichever day you want to travel between places - you can spend as long or as short as you like between stops. You can do it in the minimum time or you can wait for a couple of buses to go and stay extra time in each place, it's totally up to you.
You also use the app to book all the activities in each place like dolphin swimming in Kaikoura or your Milford Sound cruise. You have to book through the app as there are set numbers for Stray travellers.
Who is this for:
While catered mostly towards 18-30 year-olds, there were people on my buses of all ages, traveling solo, in pairs or as a group of friends. Anyone can take Stray!
Price:
This depends on which pass you choose - you can get a pass for the whole country or just the North or South Island. You can also get add-ons like certain routes that might not be included in the main route. Check out the different passes here.
Pros:
For me, arriving more than a year ago to this brand new country with no idea what to expect, Stray was the perfect way to see New Zealand for the first time. It was great to always know you had a confirmed bed in each place you went (although I rarely ever stayed at the Stray-designated hostels) and to have the ease of basically having your trip planned for you. It's great for people who want a bit of security, stability and the freedom to enjoy the trip without worrying about how to get from place to place! The drivers are also absolutely chokka full of knowledge and I definitely feel like I learnt more about the towns and destinations we drove through from them than I did on my own.
Cons:
As with any pre-planned tour, the places you get to see are limited. I did my best to go as slowly as possible and always extended my stay at each stop so that I could do as much as possible in the area, but there are just parts of the country that Stray doesn't visit - it would be too much! (I'm glad I got to do my own roadtrips later down the line and visit the places I missed out on). Also, the hostels that Stray partners with to guarantee a bed for their travelers each night aren't too great; they tend to be the cheaper, noisier, rowdier ones. I always chose my own hostel which always ended up being nicer than those my fellow travelers chose!
---
Hitchhiking
The gist of it:
Hitchhiking is not something I would do in just any country. In New Zealand though? Absolutely. It's an island nation with not a whole lot roads. Especially on the South Island, you can really only go north or south in the loop around the island, with a few passes across the middle! Kiwis are a friendly bunch, and I also hitchhiked with a couple of travelers in their rental cars, too!
How it works:
Stand on the main road going in or out of town, put your thumb up and wait for a ride! Remember that you don't have to say yes to the first person who comes along if you don't like the vibe. I always took a photo of their license plate and sent it to my mum, just in case.
Who is this for:
Anyone can hitchhike, but make sure you feel confident!
Price:
This is the most budget-friendly option for traveling New Zealand because it's free!
Pros:
This was a wicked way to travel New Zealand. The conversations I had with the people who drove me were some of the best I had during my whole travels. There were some weirdos, sure, but most of them just wanted to share their generosity and love for New Zealand. I always picked up tips and suggestions for things to do and got to share my love of seeing the world with just a backpack with some really cool people.
Cons:
Hitchhiking can be nerve-wracking, because you're getting into a stranger's car and hoping that, for free, they'll take you to where you've asked them to take you. Like I said above, you don't have to go with the first person who pulls over. I did have an unfortunate experience with an old man who started drinking beer while we were driving. I immediately asked to be let out and, even though I was on a random road in the middle of farmland, a lovely couple pulled over soon after and took me the rest of the way. Trust your gut!
Probably the worst part about hitchhiking to me is that it's so uncertain. Most times it took 5-10 minutes for me to find a ride. One time, it took 2 hours. So you have to allocate lots of time to getting to where you want to go and don't try to cross too much distance in one day. Also, always hitchhike in the morning; never start in the afternoon, as you don't want to be hitchhiking in the dark.
---
Intercity Bus
The gist of it:
Intercity is basically the only option for public transport between cities and destinations in New Zealand. It's sort of the equivalent of a Greyhound bus in North America.
How it works:
You can either book a trip (from place A to place B), or you can buy hours of travel on a FlexiPass. So, if you bought 20 hours, you could travel as far as those 20 hours would take you. It's cheaper to buy hours than to buy trips, but depends on your need. The hours are valid for 12 months.
Who is this for:
Babies to adults can hop on this one without restrictions.
Price:
If you buy a FlexiPass, 10 hours of travel start from ~$100. Check out all the different options here. Be aware that booking just trips from place to place will be more expensive, but that is an option, too.
Pros:
I didn't do the FlexiPass with Intercity but did have a good friend of mine do it this way and she loved it. I took Intercity a few times on place-to-place journeys and they were comfortable and pick up and drop off locations are usually the main train stations or central places in towns and easy to find.
Cons:
InterCity does not travel everywhere in New Zealand, typically just between cities and towns, so you might not get to all of the beautiful national parks and off-the-beaten path spots.
---
Van Life
The gist of it:
This is the ultimate way to see New Zealand, if you are able to. Total freedom to go anywhere, stay however long you wish and have your own space on the road.
How it works:
Either buy or rent a van of the size and budget that suits you and hit the road! Make sure you get a self-contained van (has a toilet, a garbage can with a lid and a grey water system) so that you can take advantage of free camping all around the country. Check out my detailed information about:
Who is this for:
I've seen people do #vanlife solo, as a couple, as two friends or as a family. Just be sure to get the right size van to suit your group! You'll need an international driver's license to drive in New Zealand, so also be sure someone in your group has that.
Price:
You'll need to consider the cost of your van, plus gear, plus gas. If you're self-contained you'll be able to free camp all around the country. Plus, if you buy your van (instead of renting) you'll be able to make some if not all or more of your money back when you sell it on to the next van lifer!
Pros:
I absolutely loved van life. We bought our van, Bongo, in Wellington and took her on an extended roadtrip all around the North Island. There is total freedom in a van - you can go anywhere, for any amount of time and never have to worry about looking for accommodation. Your stuff is always with you and you've got way more space than just a backpack. You have your own bed instead of a new hostel bed every night. Plus, you save a lot of money while free camping!
Cons:
Eventually, we felt our van to be cramped and small. We didn't have the budget for one of those massive campervans on wheels and with limited room to move about in, it got frustrating.
Also, if anything goes wrong on the road (flat tire, exhaust pipe falling off, radiator busting... all of these happened to us), it's up to you to get it fixed, and it can get costly.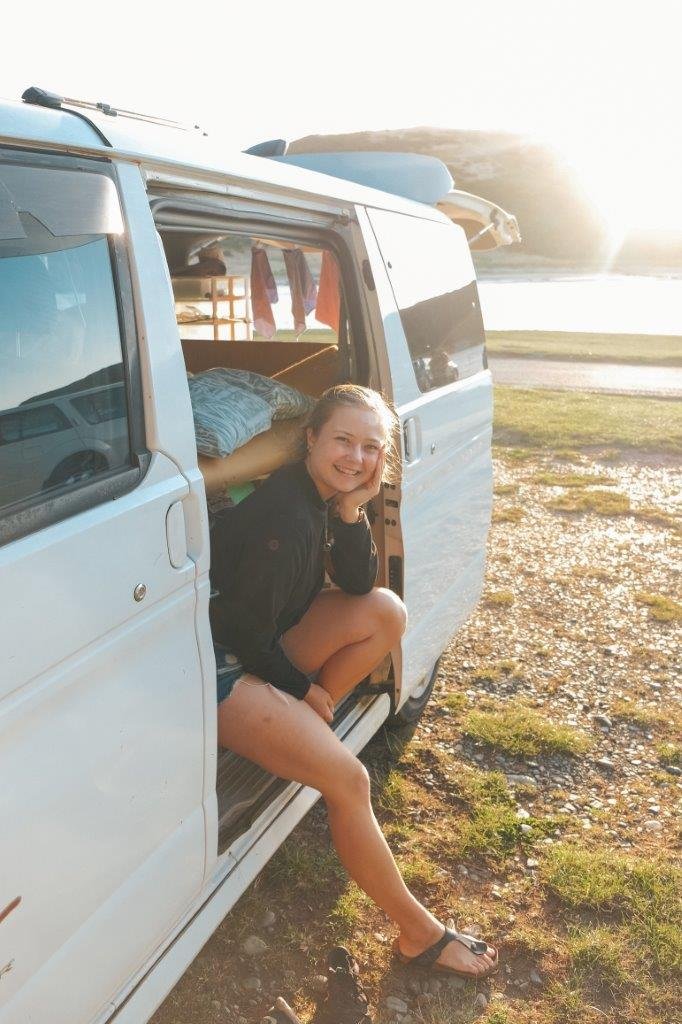 ---
Other Ways You Could Do It
Here's a few other suggestions for ways I've seen people traveling New Zealand. I didn't do it this way, but they sound exciting in their own ways!
Guided tour - let someone else plan your trip
Biking tour - friends of ours have biked around the whole country; takes some serious guts!
In a car and then staying at hostels / hotels each night - still tons of freedom to explore at your own pace and then have a comfy bed to sleep in each night
Let me know in the comments below if you have any more questions, or if you have other suggestions for traveling this wonderful country!