My parents and I spent our winter holidays as far away from home as possible - in the magical Sri Lanka. We discovered bustling cities, explored serene beaches and coastlines, trekked through the misty mountains, spotted elephants in the wild, took the world's most beautiful train ride and visited some of the ancient cities and ruins. I'm here to give you the best of Sri Lanka in a two-week itinerary, visiting all corners of the country.
---
Travel Tips
Always carry water; it gets very hot and you don't want to get dehydrated. Don't drink unbottled water as it is considered unsafe for travelers. This goes for fresh fruit and vegetables washed in unbottled water or smoothies or drinks with potentially unclean ice in them.
Bring long pants and clothing to cover your midriff and shoulders for temples and other sacred spaces.
Light colours are best for reflecting the hot sun, and white is a preferred colour in temples anyway.
The currency is the Rupee. Your best bet is to bring US cash and then convert it at the airport in arrivals. You cannot bring more than 1000 Rs back out of the country at the end of your trip, so remember to convert back anything you did not spend. $1 USD is approximately 155 Rs.
You will need a visa to enter Sri Lanka. You can apply online for $35 USD per person. Check out my preparing to visit Sri Lanka blog post for everything you should do in advance of arriving.
Tip tuk-tuk drivers, taxi drivers, restaurants and other service providers approximately 15%.
It's best to pay for everything in cash. Only use your cards at trusted ATMs.
Don't touch the animals that roam the streets such as wild dogs and monkeys. They will very likely carry diseases such as rabies which you don't want to pick up!
Go between December and March to avoid the rainy season. Prices will be more expensive at Christmas and New Year's, but you will rarely find anywhere that is sold out.
Wi-fi is available in many cafes, restaurants and at all hotels.
---
Transport in Sri Lanka
Taxi or Driver
While not the cheapest way to get around in Sri Lanka, and also not the most common, a taxi offers the reliability of a car with actual doors and trunk space, plus air conditioning and a barrier between yourself and the fumes and sounds of the country.
Expect to pay at least 100 Rs per km, and always settle price before you get in. We paid 3200 Rs for the 35km trek from Bandaranaike Airport to Colombo. Tell the driver you don't want to take highways (they're tolled, so drivers will push their price up).
Tuk-Tuk
By far the most common method of transportation, and also substantially cheaper than a taxi or private driver, is the famous tuk-tuk which can be found on every street corner. You will never need to hail one down, as ten will try to haggle with you at once.
Always arrange a price before you get in the tuk-tuk. Most drivers are reasonable. Pay no more than 100 Rs per km, and always know how many km you are traveling so while haggling you can indicate you understand the distance, meaning you can arrive at a reasonable price for both parties. We paid 250 Rs for the 3km trek from Colombo Fort Bus Depot to our second hotel in Colombo; this was after a different tuk-tuk tried to tell me it was very far away and that 400 Rs was the absolute cheapest he would go. Be confident in haggling!
Train
Trains are the best way of getting around the country. Use tuk-tuks within cities, certainly, but if a train is available to where you are going, take it! They'll be the cheapest method of transportation you'll find and no haggling is necessary. Plus, Sri Lanka has some of the most beautiful train rides in the world.
There are up to three classes available on a train, with reserved seats available on some trains. Reserved seats will always be more expensive, but it will guarantee you a seat. If you're in unreserved classes, you'll be paying less, but you may be standing for a couple hours smooshed in between the locals. We paid 800 Rs each for our 1st class reserved seats on the 2-hour trek from Colombo to Galle, but only 80 Rs each for our 2nd class unreserved seats from Galle on to Mirissa. Always take the highest class available (it's really only a few dollars more).
Bus
I don't recommend taking the regular city buses: they're loud, fast and hard to catch mid-transit! The cross-country air-conditioned reserved seating buses are generally decent – we took a 6.5 hour cross-country bus from Trincomalee to Colombo.
---
How to Buy Train Tickets in Sri Lanka
Sri Lankan train tickets cannot be bought online at this time. Reserved tickets (where you are assigned a seat) can be bought in advance of the day of travel at the railway station. Be aware that during peak season, reserved tickets often sell out weeks early. Unreserved tickets can only be bought on the day of travel. If you're taking a particularly busy route (such as Colombo-Galle or Ella-Kandy), always aim for reserved seating. If they're sold out, arrive at least an hour early before you plan to leave in order to get your tickets from the ticket counter.
Note: unreserved tickets hardly ever sell out. This can result in crowded trains with more people standing in the aisles than are sitting. But hey, at least you're always likely to get on board! If you are able to, always aim for 1st class reserved seats in what is known as an Observation Saloon Carriage. Tickets are a little more pricey in comparison to other classes (Colombo-Galle 1st class is 800 Rs per person, about $6.60 CAD) but you'll have much more space, plus fans in the ceilings.
---
Complete Itinerary for 2 Weeks in Sri Lanka
Day 1: Fly into Colombo
Read my complete city guide to Colombo here!
Colombo is Sri Lanka's bustling capital city. Although commonly overlooked by travelers in search of more romantic beach or mountain destinations, Colombo has much to offer the curious traveler. I suggest starting your trip off here to adjust to the country, understand the customs, and beat your jet lag. We traveled for over 24 hours via Guangzhou, China and arrived at approximately 6am Sri Lanka time.
Check into your hotel - request early check in - to get adjusted and take a morning nap. Once you have woken up, head out to explore Colombo! Explore the vibrant Pettah Market, have a stroll around Colombo Fort, have dinner at the Semondu Restaurant in the Old Dutch Hospital and then spend your evening relaxing on the famous Galle Face Green.
Where to Stay: Hotel Galadari, Fort
Day 2: Galle
Read my walking guide to Galle Fort here!
Wake up early the next morning to catch the 7am daily train down the coast to Galle. This is your first time experiencing the local's favourite way to travel. Hang out the doors of the train and feel the wind whipping in your hair as you watch the coastline rush by.
Once in Galle, head into the Fort and explore the old Dutch ramparts, oggle at the azure waters and stop for a photo at the gorgeous Point Utrecht Bastion before cooling off with refreshments from the beautiful Church Street Social Bazaar. Have a wander down the main street in town, Pedlar Street, before making your way back to the train station.
Continue along the coast before getting off the train in Mirissa, a sprawling beach town attracting a hip surfer vibe. Take a tuk-tuk from the small train station to the beachfront and check in for one night at your hotel or guesthouse.
Day 3: Mirissa
Read my complete guide to Mirissa here!
Wake up before the sun to catch sunrise at the Mirissa Beach, just steps from most hotels. Visit the famous Parrot Rock at the eastern end of the beach and climb the jagged steps to the rock's peak. If surfing is your thing, surf schools are dotted along the beach for those seeking to get out into the famous waves of Sri Lanka's southern coast.
After your morning on the beach, head up the steps next door to the Randiya Sea View Hotel to reach the gorgeous Kandavahari Temple with stunning views back towards Mirissa Beach and over towards Weligama Bay. A number of yoga retreats and sweet guesthouses are dotted around.
Haggle with a tuk-tuk to drive you along the coast to Tangalle, as the train doesn't go that far. The drive is approximately 1.5 hours and should set you back about 3000 Rs. Check in to your beachfront escape for two nights in Tangalle, a serene and hidden beach paradise yet to be overrun with businesses, tourism and the general bustle of daily life.
Where to Stay: Randiya Sea View Hotel
Day 4 & 5: Tangalle
Read my complete guide to the beach paradise of Tangalle here!
Spend your days relaxing and unwinding from your first few days of mayhem and explorations! There are miles of stunning beach for you to wander at leisure. When it gets too hot, hang out in the safety of the rock pools, before retreating under the cover of hotel coffee bars and hammocks.
Where to Stay: Serein Beach Hotel, aka our favourite hotel of the trip
Day 6: Safari in Uda Walawe National Park
Read my complete guide on how to go on safari at Uda Walawe here!
Arrange with your guesthouse to have their driver pick you up early to drive to Uda Walawe National Park. There, haggle with a jeep driver to take you inside the park for a fantastic three-hour safari with an almost 100% guarantee of spotting elephants! During your safari at Uda Walawe, one of Sri Lanka's biggest and most famous parks, you may also spot numerous birds, deer, foxes, crocodiles, water buffalo and bats.
Have your driver from the morning wait for you while you are on safari then continue to drive on to Ella to check in for two nights in a local guesthouse.
Day 7: Hiking in Ella
Read my complete guide to the three hikes you must do in Ella!
Wake up early to hike the famous Ella Rock, a grueling 4-hour round-trip hike to a rock perch with panoramic views over all of Ella Valley. Avoid spending much time in the town of Ella, an unfortunate victim of over-tourism and hastily built hotels.
After your long morning hike, refuel with a lunchtime curry and then head out of town a bit along Passera Road to Little Adam's Peak, an excellent alternative to the larger Adam's Peak. A quick-paced 45-minute scramble along stunning tea fields will wind through the Ella Valley leading to gorgeous views of the misty mountains. After you head back down from the summit, continue up Passera Road to Nine Arches Bridge where, if you time it with the crossing of a train, is a big celebration and cheer-fest!
Day 8: Train from Ella to Kandy
Read my complete guide on taking the world's most beautiful train ride here!
Wake up at approximately 4am to get to the Ella Train Station and be first in line to line up for tickets on the world's most beautiful train ride from Ella to Kandy. Departing just before 7am, this train ride takes approximately seven hours and winds through tea plantations, rolling hills, over steep mountains, through tunnels and in the heart of the jungle. Be first on board to nab a seat and ensure you aren't standing squished between the hundreds of other people on board oggling out the window for a good view. 2nd class unreserved tickets go for just 240 Rs per person.
Arrive in Kandy and haggle a tuk-tuk to take you to your guesthouse for one night.
Where to Stay: Amanda Hills Guesthouse
Day 9: Kandy
Read my complete city guide to Kandy and the Temple of the Tooth here!
Spend your morning exploring the highlights of Sri Lanka's cultural capital: wander around the lake, explore the famous Temple of the Sacred Tooth Relic and the surrounding museums in the grounds of the temple and stop for a photo at the massive Buddha statue in the centre of town. Arrange a driver to take you to Sigiriya to check in for two nights.
Day 10: Sigiriya
Read my complete guide to hiking in Sigiriya here!
Wake up before sunrise to hike up Pidurangala Rock in the dark. Watch sunrise from the summit with the famous Sigiriya Rock still on the landscape view. Save a pretty penny too by choosing the less-traveled Pidurangala instead! Spend the rest of your day explore Sigiriya's small town and visit the local craftsmen.
Where to Stay: Sinhagiri Villa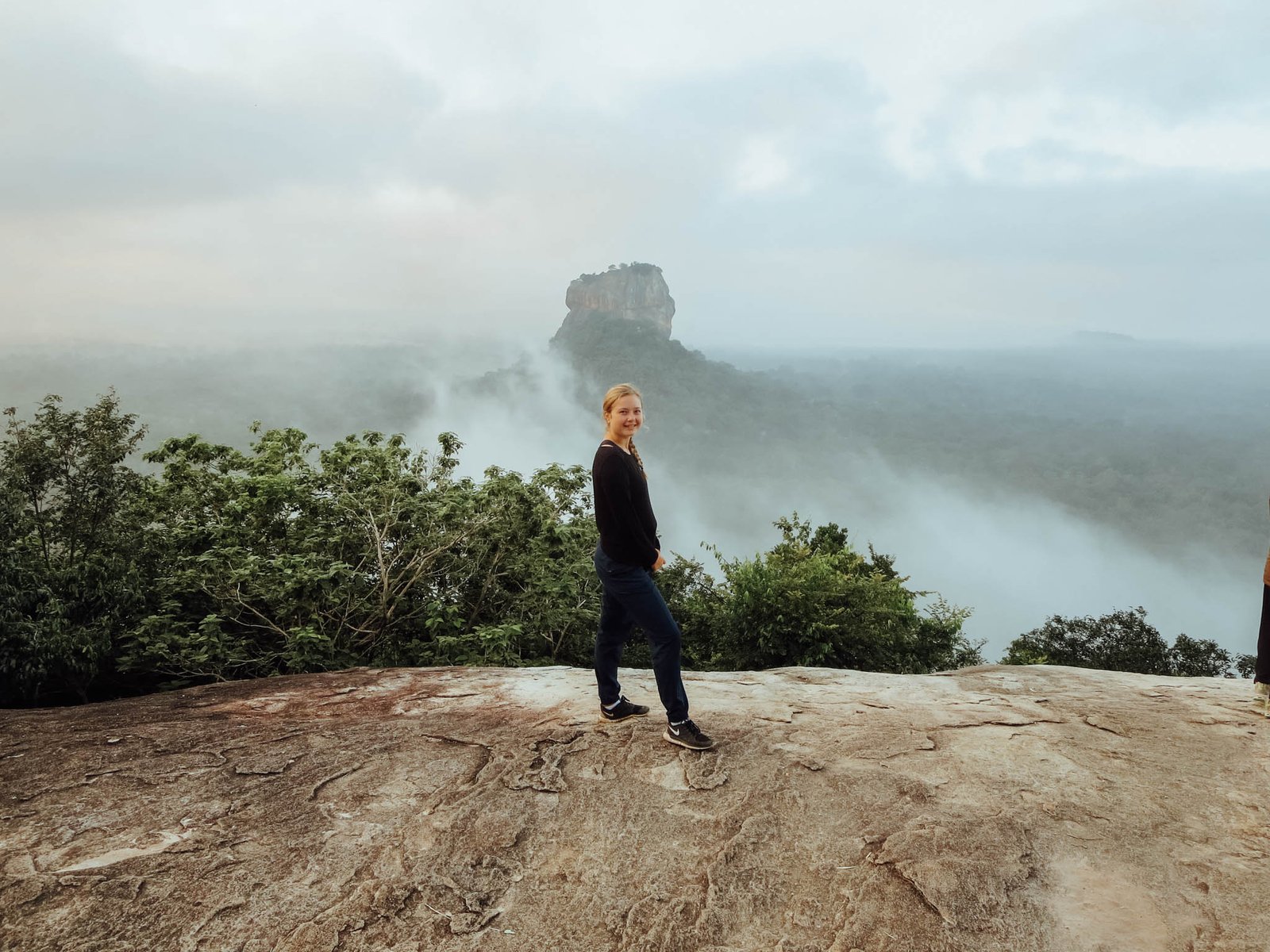 Day 11: Polonnaruwa
Enjoy a relaxed breakfast before arranging a driver to Polonnaruwa. Check in for two nights and then spend the rest of your day relaxing lakeside, going for an Ayurvedic Spa treatment, a highlight of Sri Lanka, and dipping your toes in the pool.
Where to Stay: Hotel Sudu Araliya
Day 12: Polonnaruwa Ruins
Read my complete guide to visiting the Ancient City of Polonnaruwa here!
Rent a bike from your hotel or guesthouse and spend the day exploring the famous ruins of the ancient city of Polonnaruwa. Entrance prices to the museum and ruins comes in at $25 USD per person, so make the most of your time by biking all the way along the guided route and stopping to enjoy all the incredible old structures.
Day 13: Colombo
Catch an overnight train or a cross-country bus to spend your last day in Sri Lanka unwinding back in the capital city. Spend your day exploring the wealthy neighbourhood and markets of Cinnamon Gardens. Explore the National Museum, home to detailed exhibits about Sri Lanka's history, spotting all the bits you discovered on your adventures. Return for a sunset dip in your hotel's pool before heading out to the airport for your evening flight home.