Kandy is known as the cultural capital of Sri Lanka, a busy city centred around the famous Temple of the Tooth. Personally, we found Kandy to be crowded and we felt that the Tooth Relic that is a 'must-see' on everyone's list is really just a money grab because you can't even see it. Regardless, we made the most of our day in Kandy and thought it was very cool to be in a temple experiencing how prayers and offerings take place.
---
How to Get to Kandy
We arrived by train from Ella, after having taken what is widely regarded as the most beautiful train ride in the world. Immediately, you will be greeted by a bustling city and many tuk tuk drivers who, unfortunately, were probably some of the most sour ones we encountered in any single place. We haggled with two different drivers who tried to get us to pay more because of the heavy traffic but we managed to haggle our way down to 400 Rs for a tuk tuk to take us from the station to our hotel just 3km away.
---
Where to Stay in Kandy
Kandy is full of guest-houses, especially concentrated on Saranankara Road, a steep road leading away from the centre of town. We checked in for one night to Amanda Hills Guesthouse, a faded green guesthouse home to many monkeys lounging in the trees outside our window. Aside from an ant problem in the bathroom, the place was spacious, it was in perfect walking distance to town and the temple and breakfast was seemingly bottomless.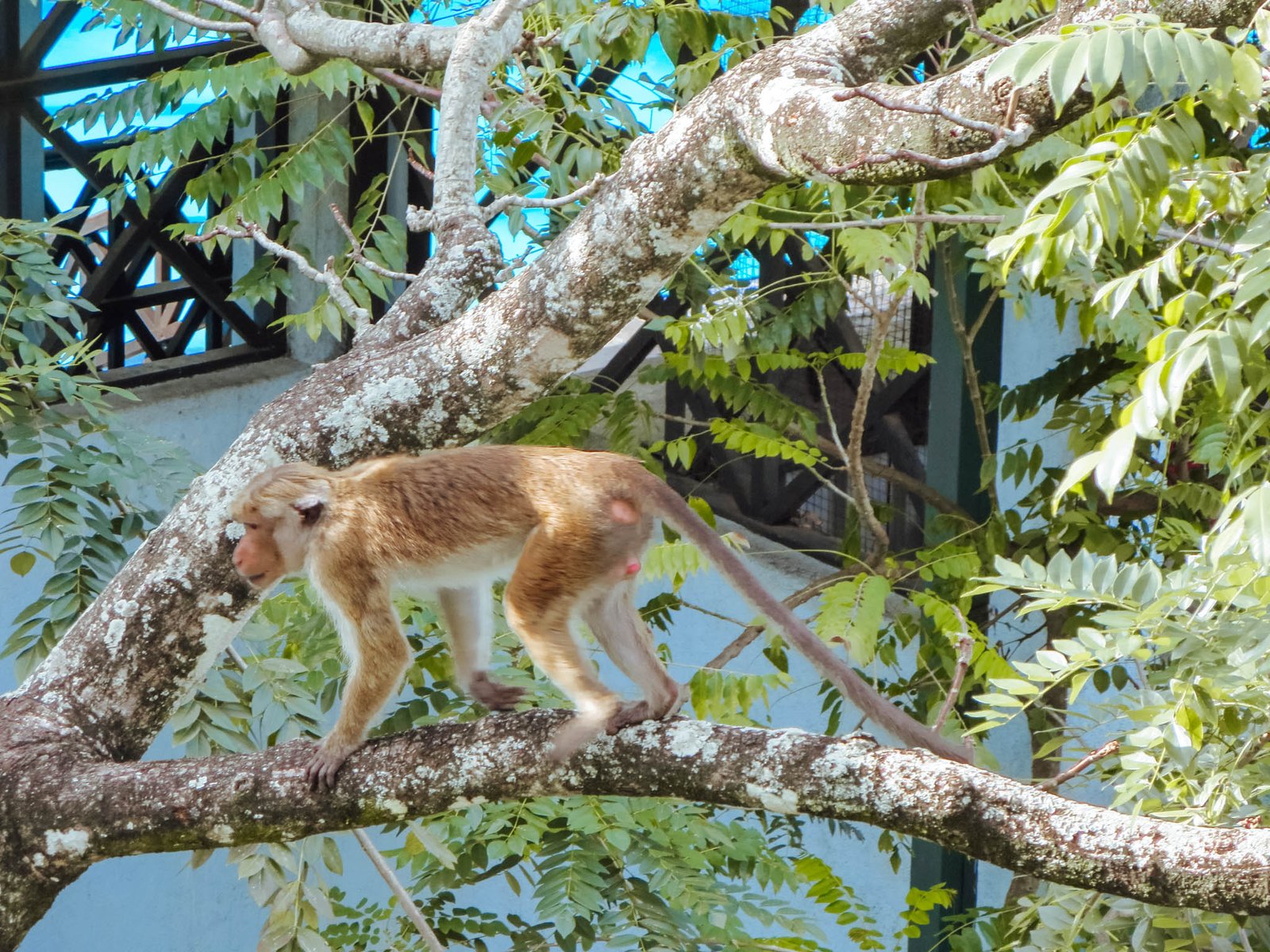 ---
Where to Eat in Kandy
At the number one restaurant recommended by the Lonely Planet with all the other foreigners! This is a pink restaurant called the Empire Cafe and is conveniently located next to the Temple of the Tooth. Be warned, their curry is particularly spicy!
---
Things to Do in Kandy
Kandy Lake
Kandy Lake is in the centre of the city, with Kandy sort of expanding in all directions from it. It's the perfect place to go for a wander and maybe spot a metre-long lizard or two in the grass!
Temple of the Sacred Tooth Relic
Kandy's most important place is the Temple of the Tooth where Buddha's Sacred Tooth Relic supposedly rests. The temple is on the shores of Kandy Lake. You must be fully covered in order to be allowed to enter - full-length skirts or pants as well as covered mid-riff and shoulders - and I recommend wearing white during puja. You will be expected to go barefeet but don't pay the ridiculous 'shoe-watching' fee (mandatory for foreigners only, of course). Instead, just tuck your shoes inside your bag.
Entrance to the Temple is 1500 Rs per person, and that will pay for you to have a wander around the impressive structure and to then carefully walk past the centre of puja or prayer. Many will be leaving lotus flower offerings on the table here. TV screens hang overhead showing you where the Tooth Relic supposedly lives...and then that's it. You don't actually get to see it, you just get to 'be in its presence'. Bit of a scam, no?
Regardless, there is a neat history behind the Tooth Relic which Lonely Planet explains brilliantly. Essentially, the tooth was taken from Buddha in 4 AD and smuggled into Sri Lanka where it was transported from place to place so that no-one knew where it was, including a few times when people were convinced there was a copy of the tooth being moved around while the real tooth was stored secretly somewhere. The tooth relic has been in Kandy since 1592.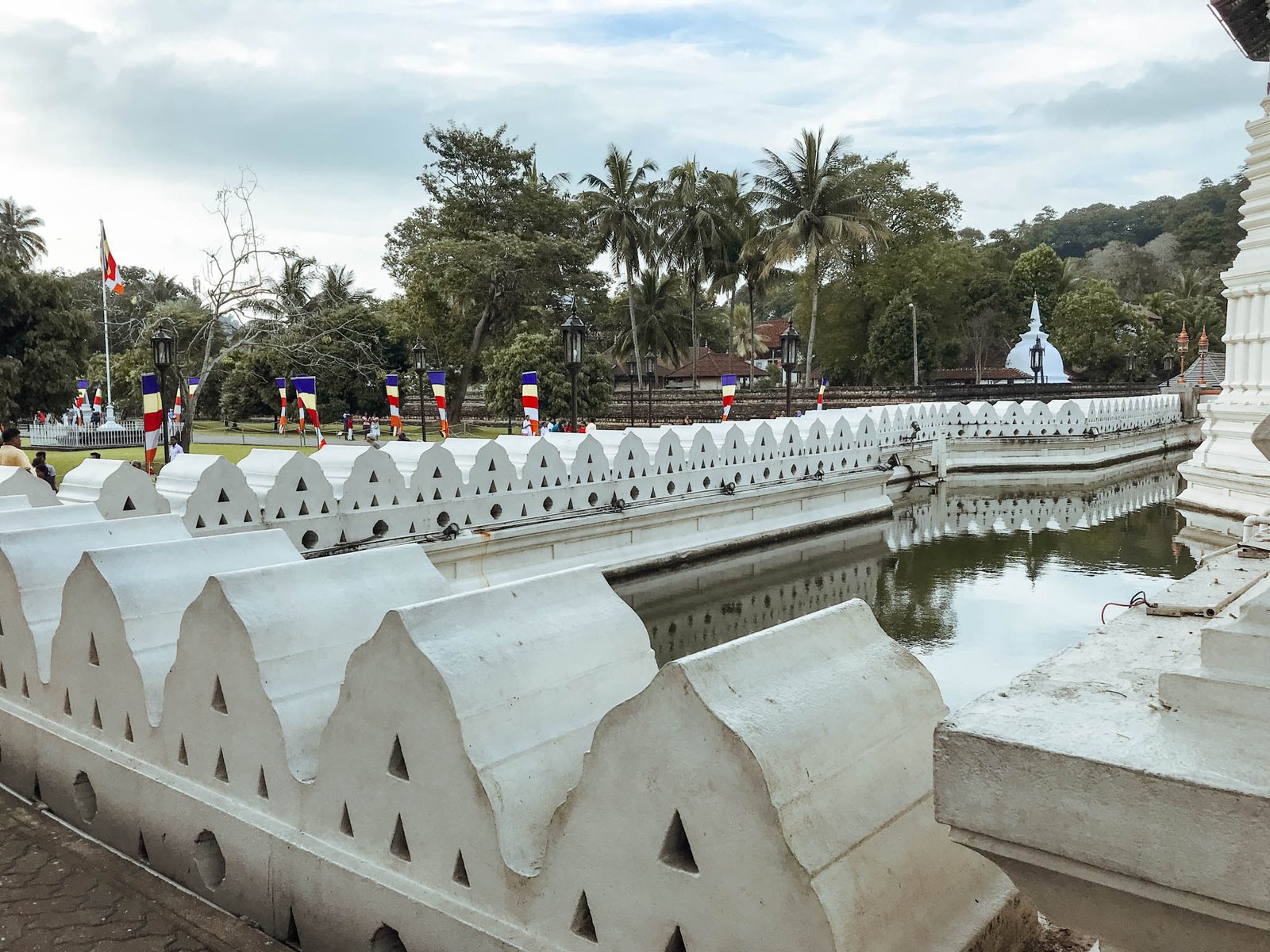 Alut Maligawa
In the temple grounds this impressive building features dozens of Buddha statues. Remember to never take a photo with your back to a Buddha, it's highly disrespectful.
Raja Tusker Museum
A taxidermy of the elephant who carried the tooth for 50 years during the Esala Perahera procession is housed here along with a photographic timeline of his life.
This post includes affiliate links, which means I may receive a commission if you click a link and buy something I have recommended. It won't cost you any extra money, but helps keep this blog going!