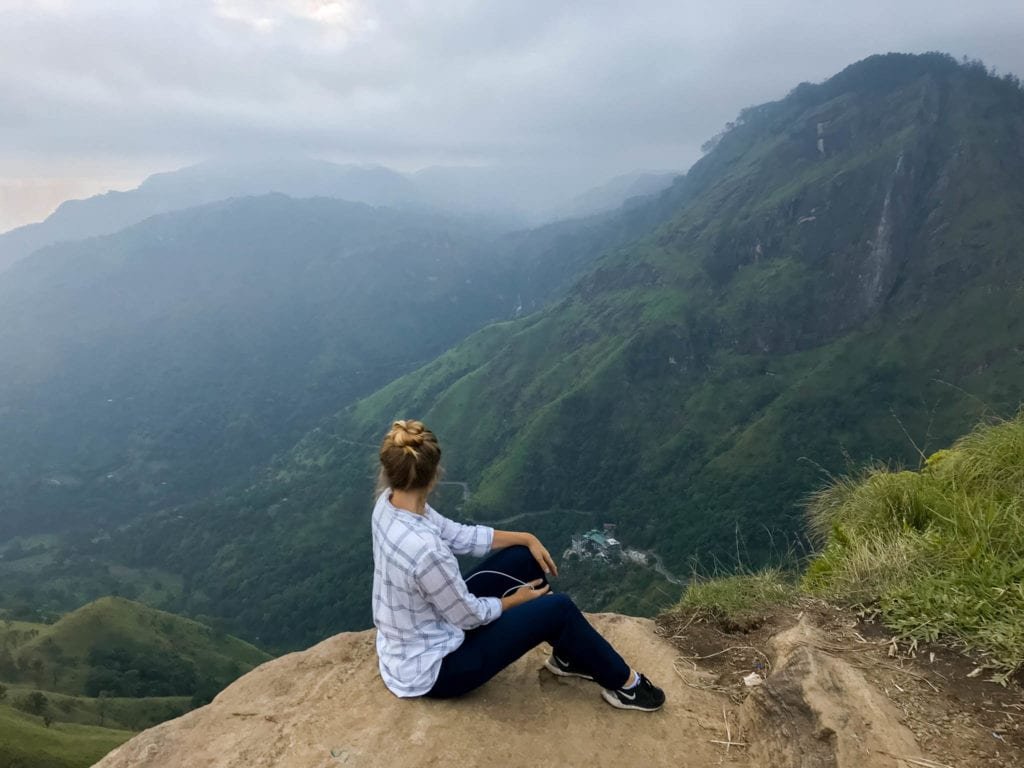 Some of Sri Lanka's best hiking is to be found in Ella, which is probably, aside from traveling, my all-time favourite activity. Ironically, Ella was our least favourite place in Sri Lanka. Described by the Lonely Planet as a secret mountainside haven, we very quickly realized it was not much more than a shamble collection of 'green eco-bliss homestays' offering a serene nature escape shrouded in diesel fumes, surrounded by half-finished construction projects and buried in rubbish.
Unfortunately, this is the direct impact of over-tourism. The first businesses to operate in Ella boomed so quickly with tourists flocking to the natural beauty of the area that locals picked up on their success and began hastily building their own hotels and restaurants. The result is an over-crowded ongoing construction project of not-very-well built places to stay. Garbage litters the street and since Ella is on a mountain, trucks and buses exert extra fumes in pushing their way up the steep hill.
Ella will continue to draw tourists thanks to the fabulous hiking in the area which is what this post is all about. But be warned, expect bad service in the majority of the hotels (because they don't need to provide fantastic service to guarantee No Vacancy, unfortunately). Now, in most of my travel posts I also provide a suggestion on where to stay, but our experience was so bad (dirty floors, rude staff, lacking in basic amenities, etc.) I don't even want to mention where we stayed.
Having said all that, let's focus on the three beautiful parts of Ella that I truly loved. And hopefully you'll be able to find a nicer place to stay further out of town to capture a tiny bit of what's left of the 'mountain serenity'.
---
Ella Hike #1: Little Adam's Peak
1 hour
Little Adam's Peak (also known as Mini Adam's Peak, Small Adam's Peak, Adam's Little Peak...) is an easy hike close to town. Walk for a while along Passara Road to the entrance to Little Adam's Peak, just past the Flower Garden Resort. It's clearly marked, and then you follow the dirt path all the way up through tea plantations, past valley views and then finally up a set of switchbacks to a gorgeous panorama over Ella. The hike took us no more than an hour for the round-trip.
---
Ella Hike #2: Ella Rock
4 hours
In order to avoid the crowds, start your hike to Ella Rock before 7am. By mid-day, this place is teeming with tourists - and those who have paid for guides are regretting their decision as the steady flow of people means it is impossible to get lost. At 7am however, the route can be a little tricky to find and the Lonely Planet route isn't very clear, so I've tried to explain the trail as best I can here.
Begin in town and head up the hill across the street from Passera Road. Follow the road to the train tracks then turn left at the signs pointing towards Ella Rock. Follow the train tracks for about 45 minutes crossing over a metal bridge, a shrine (where touts love to sit and try to convince you you need a guide for the rest of the way - ignore them), a train station and keep walking almost to the 166 1/4 sign.
Turn left after a two-sided embankment onto a very obvious path. Follow it over a concrete bridge over small falls, then up the dirt hill on the left side. Young children will be running around here and may ask you for a pen or a pencil to draw you a map (for which you will then have to pay) so politely say you don't have one. From there, it's a clear, well-trodden path through the jungle. Always go straight ahead, don't turn.
You will emerge from the jungle and need to pass a small shop selling coca cola and curry and the likes before making your way up a rocky section. From there, head straight up the steep path covered in roots and rocks surrounded by tall trees before you make your way to the summit, a large rocky outcrop with stunning views looking down deep into Ella Valley. Return the way you came.
---
Ella Hike #3: Nine Arches Bridge
45 minutes
Time this hike with when the trains are due to cross on their way to Ella Station. Go up Passera Road past the start of the Little Adam's Peak hike to what looks like a shrine entrance with a well-paved path on the left side. This path quickly turns into a dirt road; follow it and turn left to go downhill. Follow the path all the way through the jungle, including a steep and root-filled trek downwards until you reach the famous Nine Arches Bridges. True to its name, there are nine grand arches in this bridge. If you do time it with a train crossing, you'll be joining in a big cheer celebration when all the passengers wave and all the onlookers scream and wave back. So weird, but so good. Return the way you came.
This post includes affiliate links, which means I may receive a commission if you click a link and buy something I have recommended. It won't cost you any extra money, but helps keep this blog going!