While Komodo National Park may have been one of the most naturally beautiful places I have visited, the experience of getting there was less than beautiful.
---
Booking the Trip
Arriving in the port city of Labuan Bajo, on the western coast of Flores, we were greeted with sneers, whistles and general harassment from groups of men. The surroundings were equally unwelcoming, from dirty streets to trash-filled beaches, restaurants teeming with flies and unhelpful service, and overpriced and tacky souvenir shops lining the route - the effects of tourism at its worst. I lost count of the number of times someone would sidle up on their motorbike, flash a grin and offer a ride, immediately turning sour when turned down. We hadn't encountered this level of unpleasantness before and really didn't want to spend more time here than necessary.
The only way to visit Komodo National Park is by a guided tour (diving or snorkeling) or with a privately chartered boat. Yet we found no reputable tour shops in Labuan Bajo that felt like a legitimate place to spend close to a million rupiah (tours costing around $70-$100)! None of the representatives could give an exact price on entrance fees to the park (excluded from the tour costs). One man rudely asked if I could read or know what taxes were, another was asleep shirtless at his desk, and yet another shop was crowded with local teenagers on their cell phones who had no interest in serving us.
For such a world-renowned destination, drawing visitors from around the globe, I was more than a little disappointed.
We finally ended up at a tour office called Labuan Bajo Trip, one of the few to be properly outfitted with a desk and seating areas and with representatives who spoke English. We thought we had finally lucked out.
---
The Morning of the Trip
Rising at 4:30am to supposedly meet the rest of our group at the office to head to the harbour, we arrived and were promptly told that "there's no boat".
What ensued was an unfriendly encounter with a local who laughed at us, told us we had bought a tour that didn't exist, there was no space on any boat for us and finished with a f*** you. All this in the early hours of the morning following a headache of an evening.
Having had our deposit money thrown back in our face, we walked down the street and began to ask anyone we saw for space on their boat. At least 30 locals swarmed us, each with different answers:
"There's no space on any boat." "That company doesn't exist." "We don't ever have Labuan Bajo Trip on our list of companies." "There's nothing we can do." "I own these boats and they're already over capacity."
We were about to give up when we spotted an authoritative looking man with a walkie-talkie (as if that speaks volumes). He informed us he owned the tour and, if we paid him 750,000 IDR each (400 for the tour + 350 for Komodo National Park, the exact price we expected - a total of about $70 CAD), he would get us on a boat. We had no choice but to trust him.
---
A Day Visiting Komodo National Park
The sun came up and somehow, we were on board the largest of four boats that would be heading out to the park that day totaling approximately 80 passengers plus crew.
In the end, the man with the walkie-talkie was truly wonderful – he gave us lunches intended for his staff, provided snacks and water all day even though we hadn't been accounted for, checked in with us after each stop to make sure we enjoyed ourselves and at the end of the day, hugged us as we disembarked, informing us we may have been the luckiest girls in the world that day. We couldn't agree more.
Komodo National Park is truly a visual sensation. Everything we saw exceeded our expectations and, aside from our nightmarish morning, was an incredible day.
---
Trip Details
COMPANY: I can't tell you the answer to this, aside from to warn you against booking with Labuan Bajo Trip, a total scam of a company. All of the tour companies sell spots on the same boat so you will end up on one of four boats with people who booked with all the various companies in town. Pick one you feel is pleasant to deal with, well-mannered, can answer your questions and speaks decent English. Pay no more than 400,000 IDR ($37.30 CAD) per person – you'll all be on the same tour no matter if you pay more.
PRICE: The price for the tour including transport, lunch, snacks, water, tea, coffee and snorkeling gear should be approximately 400,000 IDR. The price for entrance into all the different spots in Komodo National Park for one day added up to 350,000 IDR ($32.65 CAD) but we heard differed numbers from each tour operator we spoke to. Budget for anywhere between 300-500,000 IDR.
TIME: Boats leave the harbour at around 6am, returning at around 7pm. The journey is approximately 2 hours to Padar Island, another hour to Komodo Island and then 3 hours return, plus time spent at each place. We never felt rushed at any of the locations.
---
Places to See in Komodo National Park
Padar Island
Perhaps one of the most well-known viewpoints in Indonesia, the hike up to Padar Island is truly spectacular. Even looking back at the photos now, it is hard to believe we got to experience this place – it may have been even more beautiful in real life. Comfortable shoes are a good idea, but I walked the stone steps to the summit in Birks and was totally fine. There is zero shade on the 20-minute walk up so wear plenty of sunscreen.
Long Beach
The first of two snorkeling spots, Long Beach was incredible. Crystal clear blue waters, a warm pink beach, brightly coloured corals, swarms of fish… we were enthralled by this spot. It was like being in a screensaver.
Komodo Island
The main island in Komodo National Park is Komodo Island, home to the famous Komodo Dragons that give this park its namesake. We were greeted by a naturalist guide who led us on a 2.5km walking loop through the forest while telling us all about the fascinating lives of Komodo Dragons. They're cannibals (the mothers eat their babies), they aren't fully grown until the age of 35 and the young ones spend the first 2-3 years of life living in trees to avoid being eaten. Their diet consists of the wild deer, boar and snakes that roam the island.
We spotted one young baby Komodo in the forest and then three fully grown adults near the beach (they smell the food from the beachfront cafeteria and are attracted to that even though – thankfully – they are never fed by the rangers). All I can say is wow.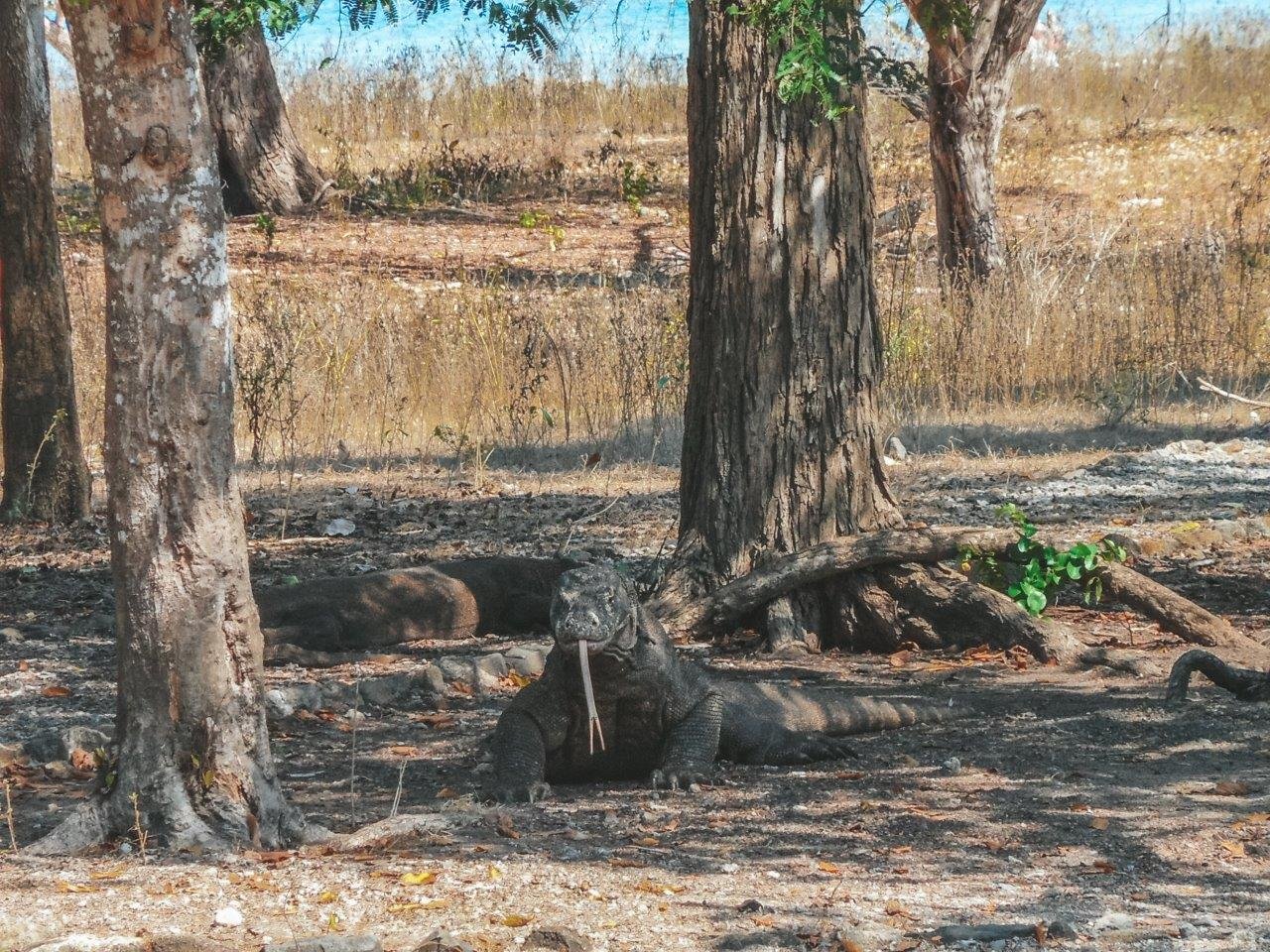 Pink Beach
Our final stop of the day was at Pink Beach which was surprisingly significantly less pink than Long Beach. The snorkeling here however was the best I have ever seen. I cannot even begin to appropriately describe the vibrancy of the colours, the clarity and cleanliness of the water and the incredible fish we swam with.
---
Final Thoughts
All in all, the day we spent in Komodo was a major highlight of Indonesia. The unfortunate process of getting there soured the entire event and I still simmer with frustration at the whole situation. I can only be grateful to the man with the walkie-talkie who turned our day around and made it all worthwhile.