Uluwatu occupies the southermost peninsula of the island of Bali in Indonesia, home to brilliant beaches with renowned surfing and a cliff-top temple that gives the region its namesake.
---
How to Get to Uluwatu
Once you've flown into Bali and arrived at the international airport in Denpasar, you will need to arrange transport to Uluwatu. We had a late night flight so opted to spend a night in Kuta before traveling south to Uluwatu; if you arrive earlier in the day, head straight for Uluwatu, skipping Kuta altogether.
The best way to travel from place to place with all your bags is to use the app Grab. It operates very similarly to Uber and will connect you with an English-speaking driver and good quality vehicles to get you from place to place. We paid 72,000 IDR ($6.70 CAD) from Kuta to Uluwatu.
---
Where to Stay in Uluwatu
We spent one night in Uluwatu, arriving early in the morning so that we would have the rest of the day to explore the peninsula. The Karma Backpacker Hostel is brilliant! They offer comfy beds, spacious common areas, access to scooters and the best part: free breakfast and dinner!
---
How to Get Around Uluwatu
As we have big backpacks with us, we chose to take a Grab car from Kuta to Uluwatu. However, once we arrived in Uluwatu and were able to leave our bags at our hostel, we realized that the easiest, cheapest and most convenient way by far of getting around is by scooter.
Our hostel offers 24-hour scooter rentals for 70,000 IDR ($6.50 CAD) including helmets. You must have an international license in order to drive a scooter - you can get fined without one. The roads in Uluwatu are well-paved and easy to drive, however you should drive slowly and cautiously at all times.
Use the offline map app Maps.Me in order to be able to get from place to place. It works just like Google Maps but without needing an internet connection!
---
Where to Go in Uluwatu
Hop on your scooter and follow this itinerary for how to spend a day exploring the highlights of Uluwatu!
Dreamland Beach
Head first to Dreamland Beach, a popular tourist spot with crystal clear waters and white, sandy beaches. My tip is to keep walking past the rocks on the far side and away from all the tourists and the beach clubs; it's likely that you'll get the beach to yourself! It's also a hotspot for surfing.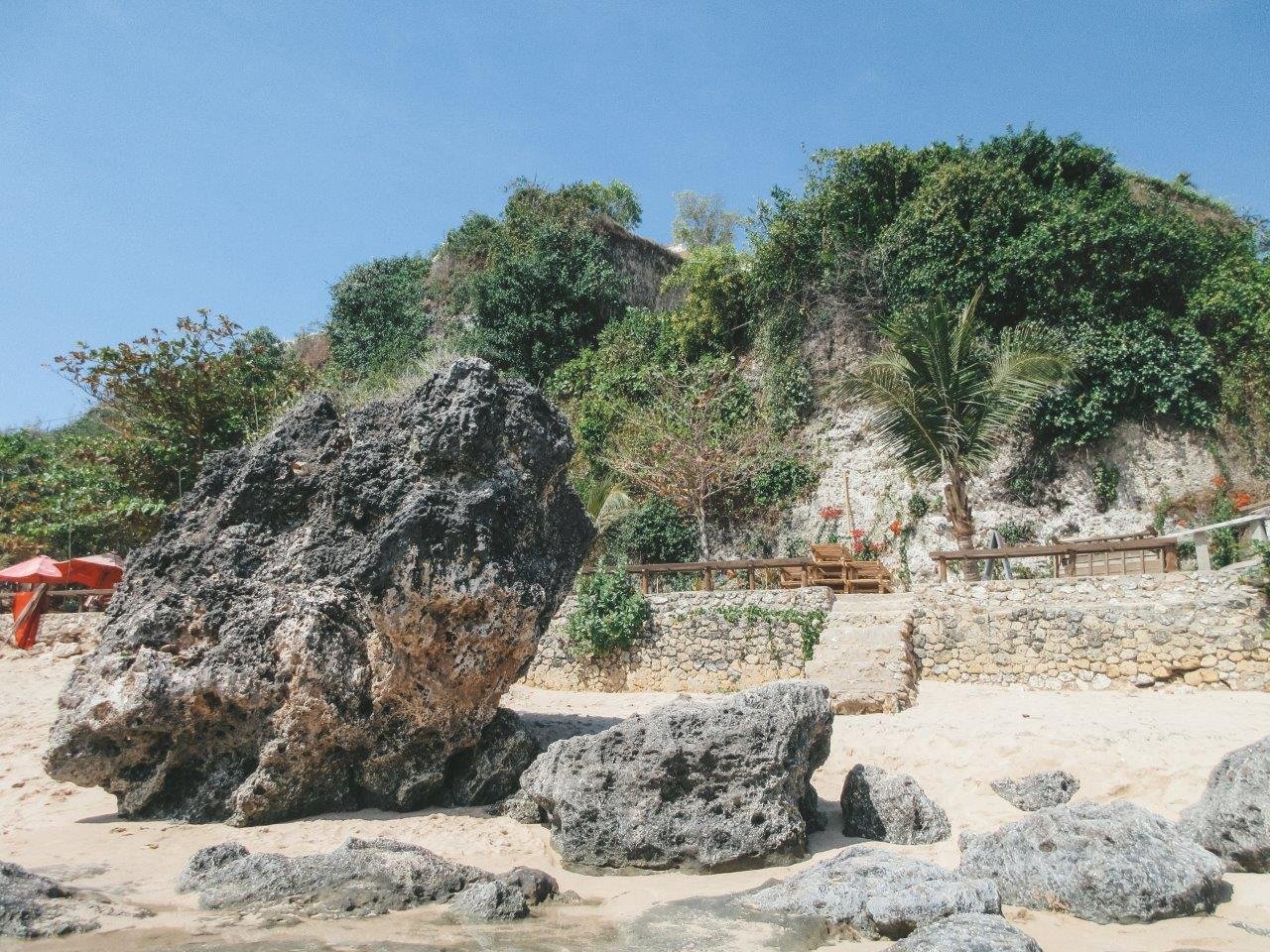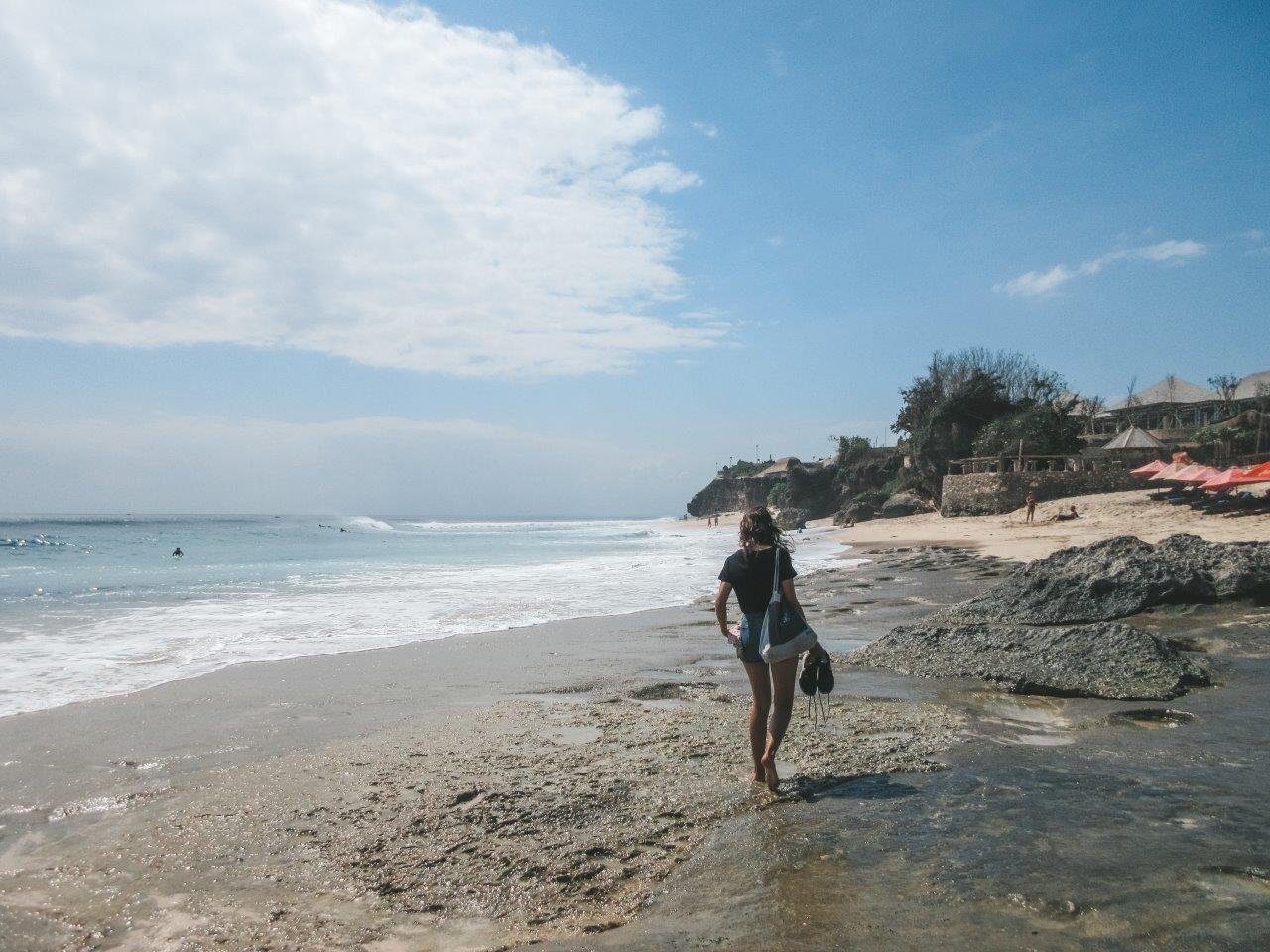 Thomas Beach
Skip Padang Padang Beach that's going to be full of tourists and charges a 15,000 IDR entrance fee ($1.40 CAD) and head instead for Thomas Beach, its southern neighbour. Find calm waters for swimming and beginner surfing as well as pretty pastel-coloured sun umbrellas that make for a great photo op at the top of the steep set of cliff stairs you have to walk down to find the beach.
Uluwatu Temple
The most famous attraction in Uluwatu and the namesake of the region, Uluwatu Temple is situated high up on a cliff top on the southwestern corner of the peninsula. Parking is 10,000 IDR ($0.93 CAD) for buses, 5,000 IDR ($0.47 CAD) for cars and 1,000 IDR ($0.09 CAD) for scooters. Entrance to the temple is 50,000 IDR ($4.70 CAD). You are required to wear a sarong that covers your knees - they provide brightly coloured ones at the entrance in case you forget your own. Spend the afternoon wandering the high cliff tops and enjoying the serenity of the space.