Lombok is a large island situated to the east of Bali. Many travelers visit the Gili Islands but plenty leave Lombok untouched. We felt Lombok to be much more wild and natural than touristy Bali.
How to Get to Lombok
We arrived in Lombok from Gili Air. There is a public ferry that shuttles back and forth between the two, departing from about 8am once there are 40 confirmed passengers. We caught the second ferry of the day just after 8:45am for just 12,000 IDR ($1.10 CAD) each.
The ferry crossing takes about fifteen minutes and is easy and smooth. Be warned, the taxi and shuttle hagglers at the Bangsal harbour in Lombok are very aggressive! We were harassed all the way up the street with people trying to sell us seats in their cars and buses even after we said "no thank you" numerous times, ending with me being told to f*** off. Not pleasant.
My suggestion is to ignore all of them and walk up the main road until you reach the Bluebird Taxi Station where you can safely bargain with the drivers or use their metres to get where you need to go. A much more pleasant experience.
Senaru
We first based ourselves in Senaru, home to some of the prettiest waterfalls in Lombok.
How to Get to Senaru: We used a Bluebird Taxi to travel from Bangsal to our first stop in Senaru for 250,000 IDR ($23.30 CAD).
Where to Stay in Senaru: Blue Mountain Cottage is a nice little family-run homestay with good food and a perfect location to explore the waterfalls and do the overnight trek up Mount Rinjani if that's what you're after. Book your stay here.
Waterfalls to See in Senaru
The two main waterfalls in the area are Tiu Kelep Waterfall and Sedang Gile Waterfall. There are two entrances; one is the official and will charge 10,000 IDR ($0.93 CAD) per person. The other one (marked as 'free entrance' on Maps.Me) is unofficial and does not have tickets thus they have no right to charge you. They will try to get your money regardless and like to get quite aggressive.
Sembalun
How to Get to Sembalun: From Senaru, we haggled with a driver that our guesthouse contacted to take us both for 200,000 IDR ($18.65 CAD) in an open-back small truck on the 1-hour drive east across the mountains.
Where to Stay in Sembalun: The Radiya Guesthouse is a lovely family homestay where you sleep in raised huts. They have seemingly bottomless tea and a great breakfast although no wifi or dinner. There's a good little warung next door. Book your stay here.
Hikes to Do in Sembalun
The main reason to come to this area for us was to visit Bukit Selong, a viewpoint overlooking the local vegetable fields, and to hike Pergasingan Hill with panoramic views over Sembalun and the surrounding mountains. We enjoyed exploring the local villages, saying hello a thousand times and waving at all the locals. The children seemed particularly intrigued by us!
Both Bukit Selong and Pergasingan Hill are free. An unofficial ticket man will try and sell you 50,000 IDR ($4.70 CAD) tickets to climb the hill. If you follow Maps.Me from Bukit Selong, you can go for a beautiful walk around the vegetable fields to avoid paying and you can use the free entrance. Be warned that this adds about 6km to your trek and requires a bit of bushwhacking and fence climbing/shimmying. Maps.Me is surprisingly easy to follow, even in the faded dirt!
We climbed the old entrance to Pergasingan Hill up the broken stone steps and found it much easier than the new entrance we climbed back down. We would have climbed back down the broken steps but couldn't find the path at the top of the ridge so had to head back the other way. The path is clear but be wary that we ended covered head to toe in filth as you will need to slide down the path at some points – it's steep and not very easy to descend! There are also monkeys living in the trees so keep an eye on your belongings and don't have anything easy to grab!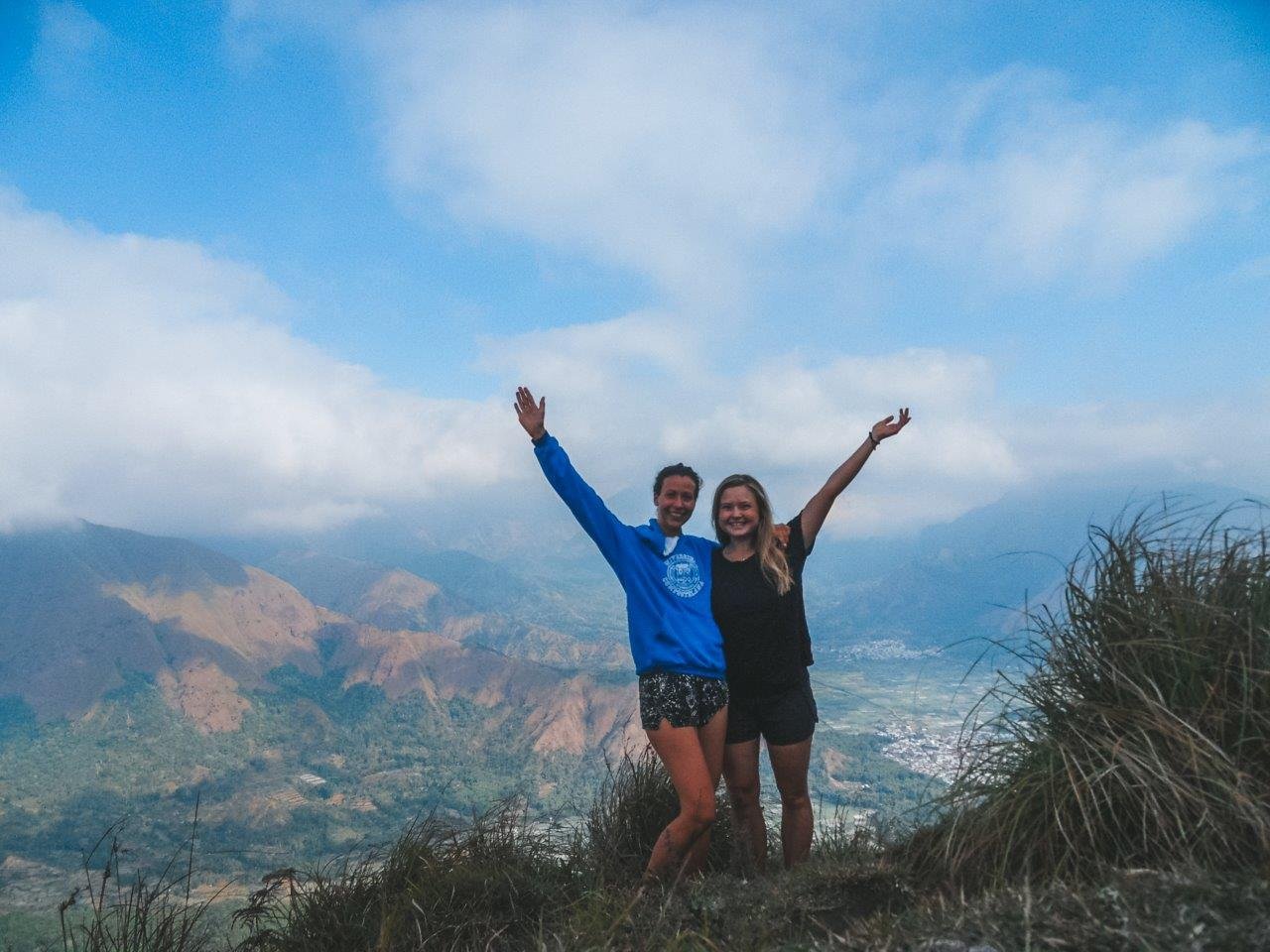 Kuta
Not to be confused with Kuta on Bali which is over-touristy and mostly to be avoided, Kuta Lombok is a nice little town, still mostly undeveloped and filled with local and cultural nuances.
How to Get to Kuta: From Sembalun, we made an epic journey of four open-back trucks taking six hours. We haggled from our guesthouse to Masgabik (25K or $2.30 CAD each), then on to Kopang (10K or $0.93 CAD each), then Praya (7.5K or $0.70 CAD each) before finally arriving in Kuta (50K each). In each truck, we hung out with locals, waved at children running alongside, smiled and said hello t0 those passing by, enjoyed the views and were even given 18 bananas for free from two lovely ladies returning from market!
You can take a private car or taxi but these may see you spending over 500,000 IDR ($47 CAD)!
Where to Stay in Kuta: We checked into the J.A Hostel for a night which is a little north of central Kuta in a rural area. It's quiet, clean, spacious, comfy and has really great wifi. They can also help you with scooter rentals to explore the local area. Book your stay here.
Things to Do in Kuta
Kuta Lombok is known for its ocean access; the beaches here are beautiful and nowhere near as busy or touristy as others we have visited. Tanjung Aan is a short yet bumpy scooter ride out of town and is the perfect place to hang out - think white sand, blue water and gorgeous surrounding landscapes. You do not need to pay for Tanjung Aan and ensure you pass the first parking lot to avoid having to pay for parking either.
Nearby, you can do a small walk up Merese Hill, best at sunset, to view the waves lapping up the rocks. Again, this is a free attraction!