Ubud is a bustling, lively city in the heart of Bali, the perfect place from which to base yourself for explorations to waterfalls, temples, rice fields and hikes in the region.
---
How to Get to Ubud
We arrived in Ubud from Canggu. The best way to travel from place to place with all your bags is to use the apps Grab or Go Jek. They operate very similarly to Uber and will connect you with an English-speaking driver and good quality vehicles to get you from place to place. We paid 123,000 IDR ($11.50 CAD) from Canggu to Ubud.
The closest international airport is in Denpasar.
---
How to Get Around Ubud
As we have big backpacks with us, we chose to take a Go Jek car from Canggu. However, once we arrived in Ubud and were able to leave our bags at our hostel, the easiest, cheapest and most convenient way by far of getting around is by scooter.
Our hostel offered daily rentals for 60,000 IDR ($5.60 CAD). You must have an international license in order to drive a scooter - you can get fined without one. The roads in Ubud are really well-paved and relatively easy to drive, however you should drive slowly and cautiously at all times.
Use the offline map app Maps.Me in order to be able to get from place to place. It works just like Google Maps but without needing an internet connection!
---
Where to Stay Ubud
We spent a night at the Kayuni Hostel, a lovely small little place right in the centre of Ubud. We enjoyed comfy beds, big lockers, free wifi, free breakfast, coffee and tea and a balcony view over the streets of Ubud. Prices start at 50,000 IDR ($4.70 CAD) for a dorm bed.
We also spent two nights at WW Backpackers, which is a bit further out of the centre of town meaning it's quiet, has a big open common space looking onto the jungle, an outdoor shower (!), free breakfast and wifi and access to use the gorgeous pool at the Ani's Villas Resort across the road! Prices start at 100,000 IDR ($9.30 CAD) for a dorm bed.
At the end of our trip, we returned to Ubud for a night and stayed at Uma Kutuh Bungalow, just outside Ubud with large, comfy beds, great wifi, lovely decor, free breakfast and access to a pool. Prices start at 49,000 IDR ($4.60 CAD) for a dorm bed.
---
Things to Do in Ubud
Streets and Markets
On our first day in Ubud, we decided just to get lost in the streets of Ubud. We wandered up and down various little market streets all crowded with locals trying to sell their wares. Surprisingly, I never felt overwhelmed by Ubud even though it's a bustling place. Enjoy the beautiful architecture, the bright colours and the delightful smells wafting out of local Warungs (restaurants).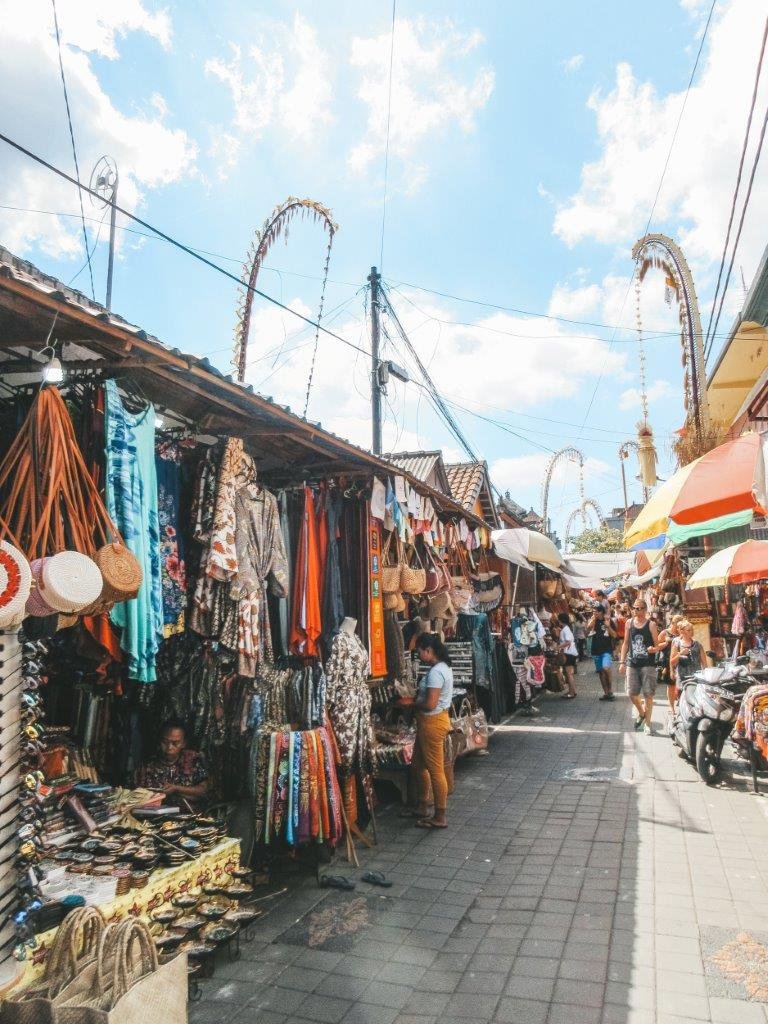 Ubud Palace
The Ubud Palace or Puri Saren Agung lies in the heart of Ubud, a beautiful open-spaced structure that was once the official residence of the royal family of Ubud. Spend some time wandering the gardens and spotting the intricate doors that fill the space.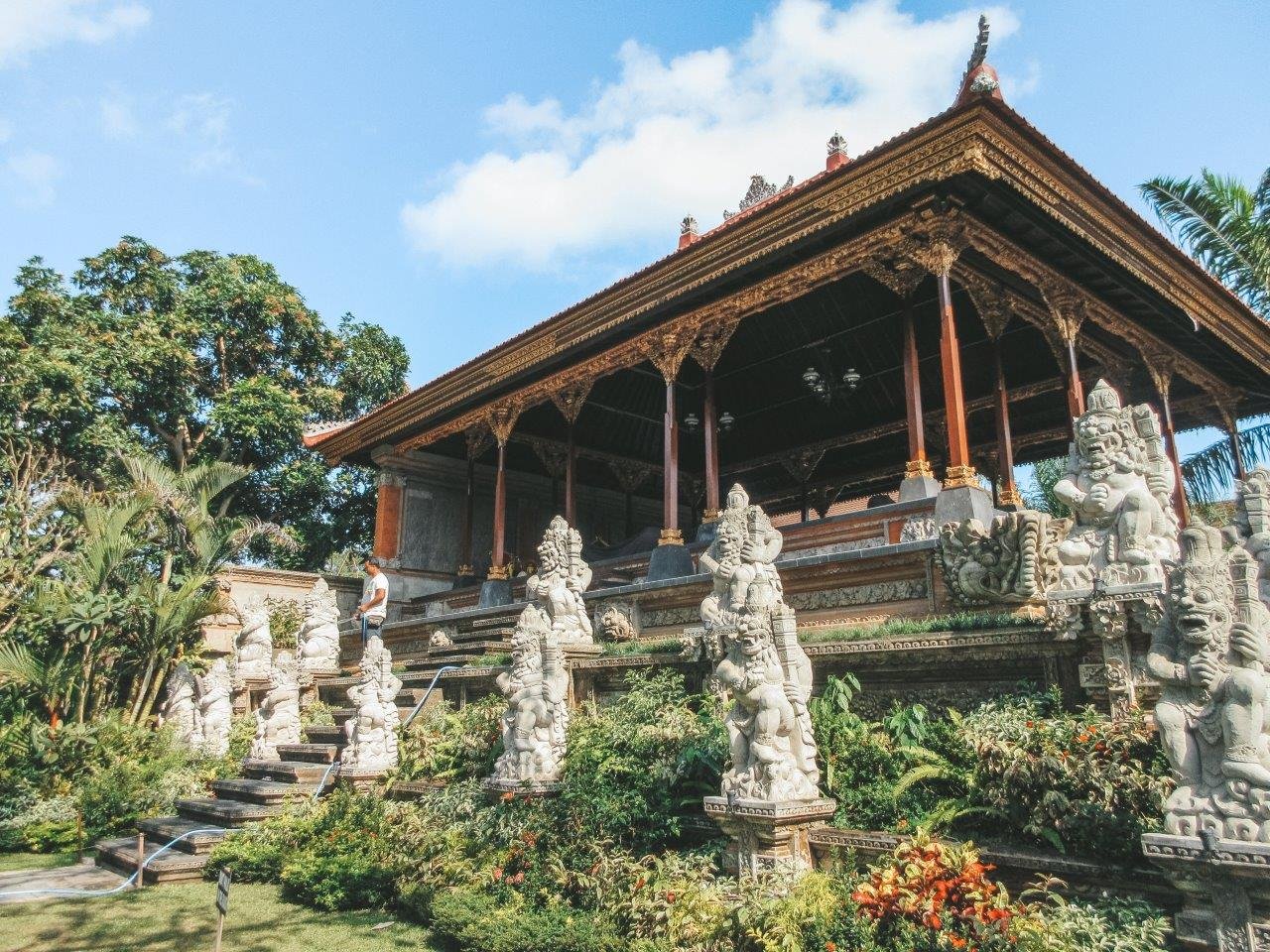 Saraswati Temple
The Saraswati Temple is now home to a Starbucks Coffee, of all things, but behind it lies an architecturally stunning temple surrounded by a lily pond.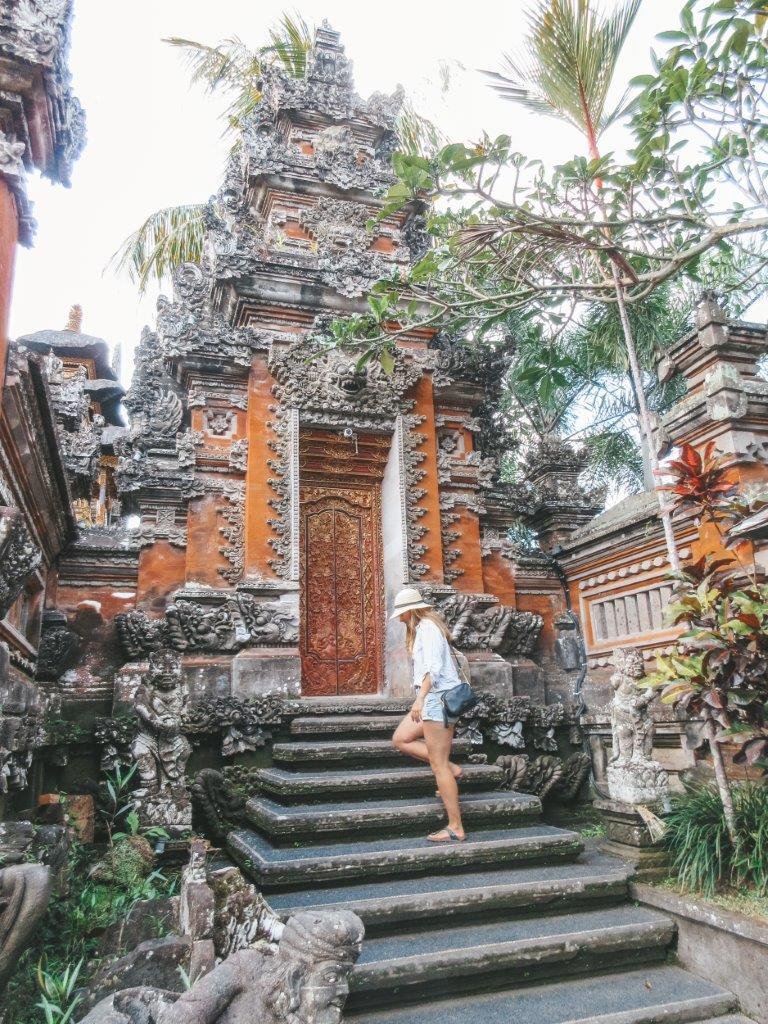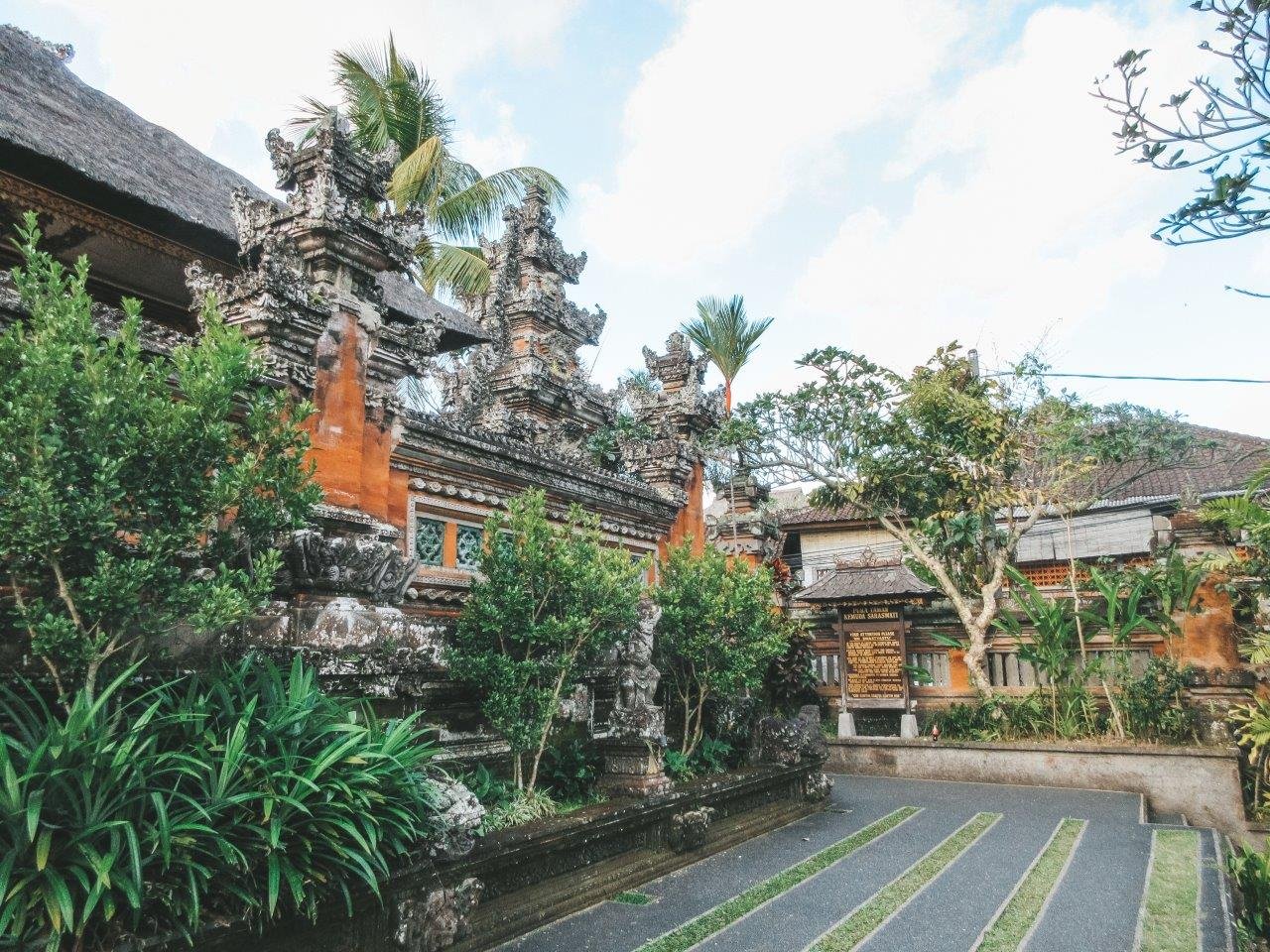 Campuhan Ridge Walk
If you continue walking on the road of the palace and the temple out of town, you'll come across the Campuhan Ridge Walk, an easy 2km route that winds along the ridge of a lovely tree-filled valley.
---
Where to Eat in Ubud
We found the food in Ubud to be absolutely delightful. The streets are full of little restaurants (warungs) all bursting with delicious Balinese meals and some other foods of the world. I also love how many vegetarian and vegan options there are here; every restaurant has something!
---
Day Trips and Places to Explore near Ubud
Ubud is the perfect place to base yourself for explorations around the region to waterfalls, temples, rice fields and hiking. I recommend renting a scooter and making your own itinerary!