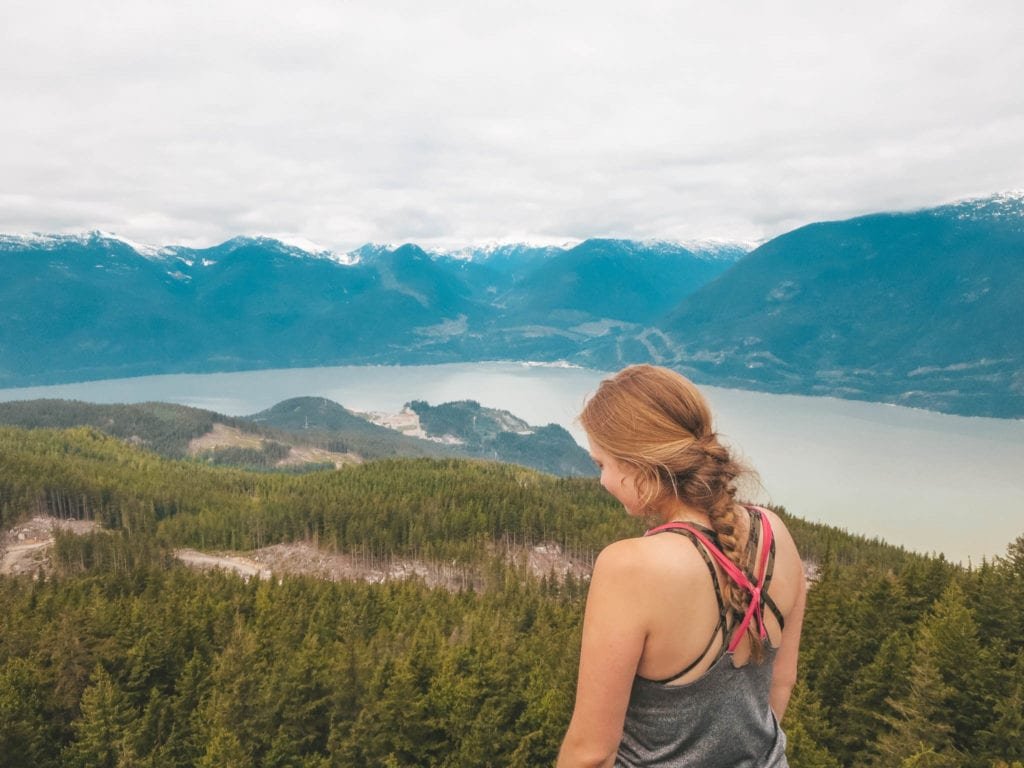 With it being May, most of the gorgeous alpine trails in Garibaldi and Whistler are still covered in snow and not yet open for hiking. A bit further south in Squamish, there are many more options for Spring hiking (see: Stawamus Chief and Tunnel Bluffs).
We chose Petgill Lake for this May long weekend hike, a fun and varied trail that treks up from the Sea to Sky Highway just north of Murrin Provincial Park. Park at the Murrin lot (arrive early to nab a spot!) and then walk a few minutes north up the Sea to Sky Highway. On the right hand side you will see a faded sign pointing to Petgill Lake; this is the trail head.
Right off the bat you'll come to the first difficult patch, whereby you're required to get on all-fours to pull yourself up a rock face. Be prepared to scramble! After this, the trail switches back through gorgeous forest and up and down ravines. The trail is very well marked on the way up - just keep your eyes on the orange markers. Eventually the path leads onto an old loggers road. Follow this road uphill until it turns left off into the forest again where you again begin a steep set of switchbacks up to the rocky lookout point over Petgill Lake.
Petgill Lake itself is not nearly as stunning as other local hotspots such as Garibaldi Lake, but the viewpoint just another 10 minutes along the train curving left up the hill makes the hike worth it, a perfect spot for lunch with views over Howe Sound!
Head back down the way you came, but be aware that the trail markers are a little more sparse on the way back down. Google Maps has a very good rendition of the trail route and is quite accurate. You shouldn't get lost (as some people seem to comment on various trail sites...) but this may be now due to upgraded trail conditions and additional markers installed.
PETGILL LAKE HIKE DETAILS
When: April to October
Where: Squamish, near Murrin Provincial Park
Difficulty: intermediate, with difficult patches
Length: 3.25 hours for 11km roundtrip
Directions: Vancouver Trails
Bathrooms: yes, at the parking lot
Public Transit: no