Mount Cook National Park is my favourite summertime destination in New Zealand. It's full of incredible hiking, stunning views and picturesque mountains that surround the valley in which Mount Cook Village is nestled.
You can read my detailed summer guide to Mount Cook here.
In winter, it's a completely transformed place! Snow covers the mountains (and sometimes even the trails!), frost is everywhere, the high up hikes are closed due to avalanche risk, the skies are crisp and clear and you can enjoy a different view and feel to the place.
How to Get to Mount Cook National Park
Mount Cook National Park is in the middle of New Zealand's South Island, about 3.5 hours from Queenstown to the west and 4.5 hours from Christchurch to the east. Nearby, you'll find the beautiful little town of Tekapo. The closest place to stop for supplies (there is one expensive gas station in Mount Cook Village but no grocery store) is Twizel.
The drive to Mount Cook Village winds along the stunning Lake Pukaki on one of the most picturesque roads in New Zealand.
Where to Stay in Mount Cook
As we are roadtripping around the South Island, we are sleeping in the car. The White Horse Hill Campsite is at the end of Hooker Valley Road, perfectly situated to most of the hikes in the park. You can stay here in a car/campervan for $13 per person.
Alternatively, if you find it too cold, there is ample accommodation from budget hostels to luxury hotels available in Mount Cook Village.
Things to do in Mount Cook in Winter
Hike to Kea Point
The awesome and challenging hikes of Sealy Tarns to Mueller Hut were closed due to avalanche risks in the winter, so we opted for the beautiful Kea Point track at a lower elevation. The 15-minute trail ends with a fantastic view of Mueller Lake with Mount Cook rising dramatically in the background.
Complete the Hooker Valley Track
My favourite hike in the summer at Mount Cook was not one of the challenging ones but rather, the easy Hooker Valley Track, a 10km return loop with minimal elevation gain. Typically, this is a hike that is available all year round as it does not get up to snow levels. I highly recommend this track for incredible views of Mueller Lake, Hooker Lake and of course the iconic Mount Cook. You can read my detailed hiking guide here.
Hooker Valley Track was closed in winter 2019 beyond the first bridge due to the track being washed out for floods. Please check the DOC website for updates.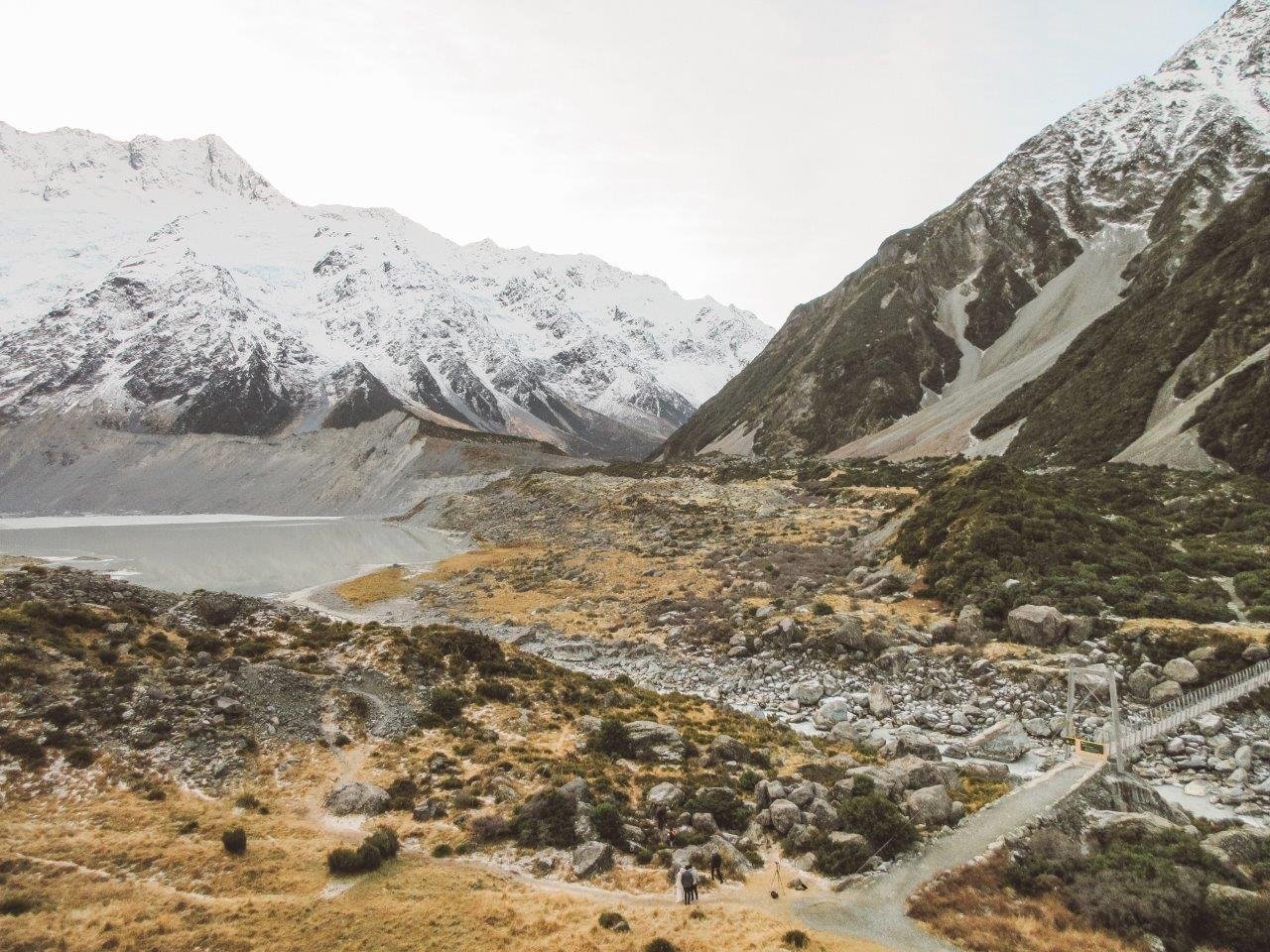 See the Tasman Glacier
The Tasman Glacier lies at the end of the 8km Tasman Valley Road, the other prong in the fork alongside Hooker Valley Road. The glacier viewpoint is at the top of a 20-minute staircase and you can enjoy a panoramic shot of the incredible glacial lake with the mountains all around.