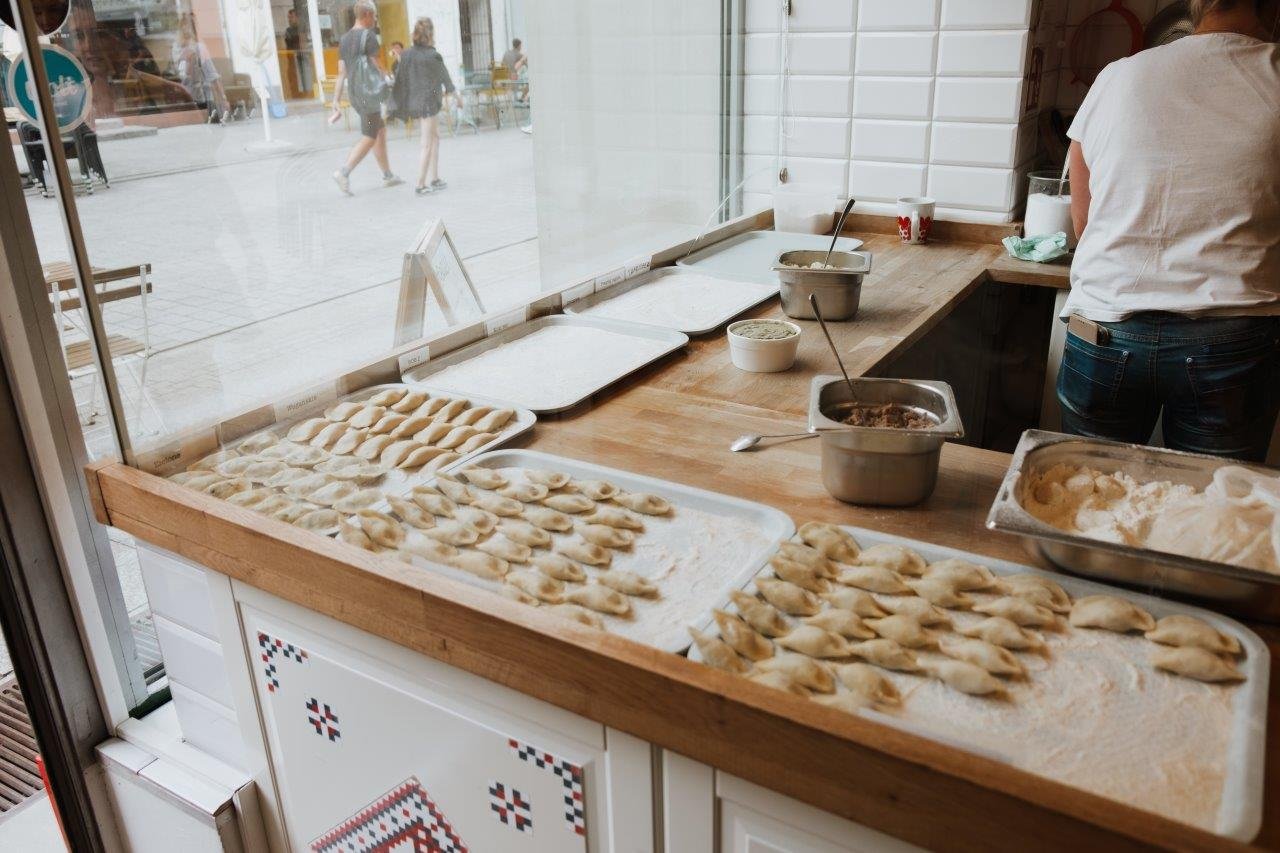 Vegan food in Poland?! People I spoke to before my trip wished me luck in a country traditionally known for its hearty meat and cheese-based dishes.
Well, you may be surprised to learn that Poland is considered one of the best countries in Europe for its vegan food scene, with National Geographic even naming Warsaw as one of the top eight cities in the whole world for vegan food, alongside other fantastic global cities. Who would have thought? They say in the article that "in Warsaw, veganism goes hand in hand with political activism, and wholefood co-ops and cafes are a great way into Poland's counterculture."
We visited six cities in Poland during our ten-day trip across the country, and in each spot sought out the best vegan restaurants - some traditional Polish and some featuring cuisine from around the world. If you're a plant-based eater (or are simply curious!), here are my top vegan picks for Poznań, Wrocław, Kraków, Zakopane, Warsaw and Gdańsk.
---
Poznań
wegańskie pierogis - filled with a delicious blend of lentils, chickpeas, ginger, chilli, garlic and peanut butter
vegenutella pierogis - filled with sweet potatoes, peanut butter, cocoa and chia seeds
When you're in Poznań, the absolute best homemade pierogis come from a little hole-in-the-wall shop on Wrocławska street, just off the Old Market Square where they whip up all manner of delicious, freshly rolled dumplings which you can mix and match all your favouite flavours off the menu.
zraz z kaszy - mushroom meatloaf with mashed potatoes drizzled with gravy
pieczen z seitanu - tofu seitan served with a bulger-like grain and plenty of thick tomato sauce
Vega is the very first vegan restaurant in all of Poland and was the perfect place for lunch in Wrocław. It is situated right in the middle of the Market Square and absolutely everything on the menu is 100% vegan. I have no photos of the meal, but if you skip to 3:38 in my Wrocław video, you can see it there!
a massive plate of 6 mixed salads, prepared fresh daily - think marinated beetroot, pasta salads, groats, beans, potatoes, chickpeas...mmmmm
We walked past this place without even knowing about it but wow are we glad we stopped. This was our favourite vegan food in all of Kraków - a massive plate of 6 mixed homemade fresh dishes for just 22 PLN. I could eat here every day. I have no photos of the meal, but if you skip to 6:59 in my Kraków video, you can see it there!
the vegan feast - scrambled tofu, vegan sausages, bread, pickles, roasted vegetables, spinach, hummus
Famous for its big brunch selection, this delightful spot is located in the eastern side of the city and offers both non-vegan and vegan choices aplenty. Sadly the vegan pancakes have disappeared, but the vegan feast hits the spot.
vegan coconut chocolate cake
This fantastic café is a book lovers delight. Featuring an array of rooms all beautifully decorated floor-to-ceiling with books and serving up unique and delicious drinks (think lavender mint lemonade) and cakes, this is the ultimate café to bring your laptop to and get some stuff done for a few hours.
groats with broccoli and corn
groats with tomato and onion
white cabbage salad
They have a few vegan dishes on the menu, all variations on the same basic dish of groats with vegetables mixed in and a cabbage salad. Surprisingly yummy.
vegan chocolate mousse
they also have a vegan cauliflower cream soup and vegan burger which looked yum!
This place has a handful of vegan options on their menu; we mostly loved this place because it was also an internet café and since our AirBnB didn't have wifi, it was a godsend.
vegan curry - a yummy comforting dish with coconut cream and cauliflower
vegan brigos - a Polish dish of sauerkraut, mushrooms and plums
A tiny vegan/vegetarian hole-in-the-wall on the edge of town offering a variety of global dishes in a comfy little space.
Panzerotti Fritti - dough dumplings filled with dried tomatoes, smoked tofu, capers, garlic and basil
Con Spinaci E Salmone - noodles with a creamy sauce, smoked carrot, spinach, cashew and vegan parmesan
This delightful Italian place is 100% plant-based and absolutely nailed the menu. Every single thing we ordered was mouth-wateringly delicious.
spinach & tofu vegan pierogi
lentil tomato soup
spicy curry noodle soup
This is the one that National Geographic recommends and I can tell you for a fact that the vegan pierogi here are the best we tried in the whole country. There's five delightful flavours to indulge in. I could eat here ALL THE TIME.
Cauliflower, sunflower and bean burrito - with homemade guacamole, fresh coriander, rice, vegan cheese, vegan soy cream
Marinated seitan burger - with pak choy, carrot, pickles, BBQ sauce, béchamel sauce
Featuring a collection of delicious dishes inspired by cuisine and culture from around the world, this is the perfect refueling stop as you explore your way around the city. Also, all the descriptions of their food are just fabulous. Read their menu for yourself to see what I mean!