Kraków is a vibrant and fun city in Poland's south, and the most popular tourist destination in the country, given its proximity to the Museum at Auschwitz-Birkenau. With just 24 hours in the city to check off as many things as possible off my list, we could have easily spent much more time exploring this great place.
There's plenty to do and a lively atmosphere to be felt - while it's quite touristy, it offers a varied history, tons of yummy local (and vegan!) food to try, beautiful architecture, and is home to Wawel Castle and Cathedral, considered Poland's most important building, which just so happens to be one of the world's first UNESCO World Heritage Sites.
We arrived in Kraków from Wrocław, a 2.5 hour train ride south. To continue the sagas of complications on this trip, our AirBnB host called us to let us know that he would be arriving late and wouldn't have time to clean up after the previous guests before we arrived. It seems that every AirBnB in Poland is causing us some issue or another! Luckily, the location of our AirBnB was absolutely fabulous, so we had lots of late night café options around us to take advantage of - check out my recommendations at the bottom of this post.
The next day, we spent a sunny day exploring the city and here's what we got up to:
---
VISITING Kraków
The main train station is in the northwestern point of the city, making access to the city super easy. Kraków Główny is one of the largest stations in the country and unlike most of the rest, the workers here are pretty fluent in English - we reckon it's because of the high tourist popularity. The tourist attractions and old town, including the market square and Wawel Castle and Cathedral, are all in walking distance of the train station.
The only thing we didn't get to do on our list in Kraków was to visit Oskar Schindler's Enamel Factory, featured in the famous WWII film Schindler's List, as you have to book in advance as it's always booked out. We would have loved to learn the history here.
---
Rynek Główny
The central old market square of Kraków is a bustling destination, popular with tourists and locals alike. Booths of souvenirs and flower stalls line the square, while restaurants aplenty are full of chatter. Not as picturesque as the one in Poznań, this massive place is the heart of the city (also pictured above).
---
St. Mary's Basilica
Situated right in the old market square is the beautiful Roman Catholic St. Mary's Basilica, of Gothic architecture, where, every hour on the hour, a trumpeter plays over the square.
---
Saints Peter and Paul Church
An important crypt in Kraków, this is also a crucial spot of religious symbolism to the city, given that Pope Jana Paweł II (John Paul)'s parents were married in this very church. Ornate statues adorn the welcoming exterior.
---
Wawel Royal Castle & Cathedral
The Wawel Complex is widely considered the most important set of buildings in all of Poland, home to the crown jewels, opulent state rooms, a cathedral with sweeping views of the city, and the infamous tapestries, the largest single order in the world. The first Cathedral on the site was built in 1000AD and has seen the crowning of thiry-five Polish rulers from Władysław the Short (1306-1333) on January 20, 1319 all the way through to the last monarchs in the 17th century.
The Wawel Royal Castle & Cathedral were on the first list of UNESCO World Heritage Sites. When the capital of Poland moved to Warsaw in 1596, the buildings fell into disrepair, changing hands many times between the Austrians and Germans, meaning that the architecture of the complex includes many of those who occupied the space.
Check out my detailed guide to visiting Wawel Royal Castle & Cathedral and the story of the Wawel tapestries here!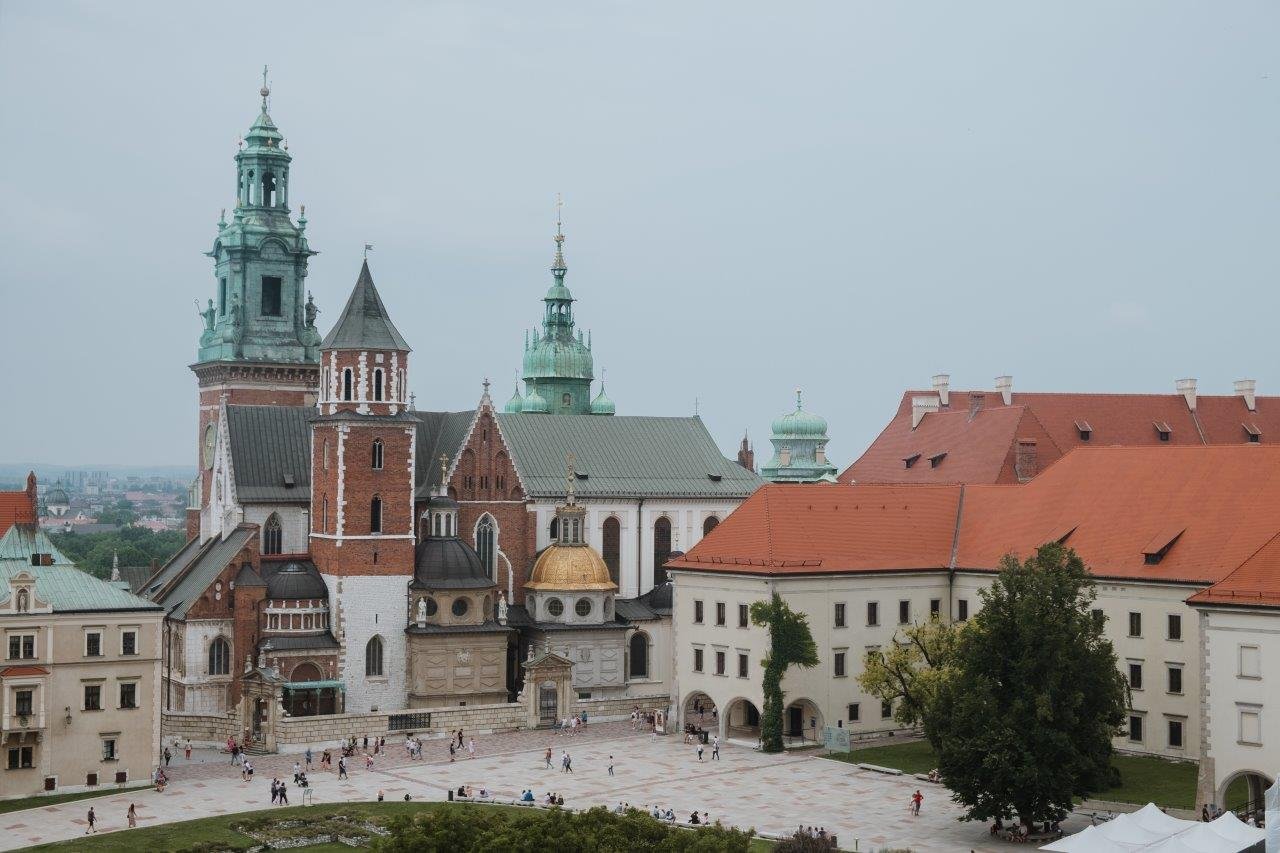 ---
THE BEST VEGAN FOOD IN Kraków
The vegan food scene in Kraków is thriving! There's SO many fabulous options in this city, which being widely regarded as the best tourist destination in the country, is likely due to high demand for vegan/vegetarian choices.
Przystanek Pierogarnia
I have no photos of this one but this little hole in the wall is home to the best pierogis I've ever had, including a vegan lentil and carrot savoury pierogi and a sweet strawberry dessert one. I cannot say enough good things about this spot, but think stuffed goodness that melts in your mouth. YUM. Prepare for lines and not a lot of seating (so go early, like me, right when they open!).
Address: Bonerowska 14 | website
Runa Game Café & Pub
Okay, this one isn't exactly vegan, but it's a game pub tucked down in a cozy cellar in the Jewish quarter where you buy drinks (non-alcoholic is available) and can play board games to your hearts content. We spent our first evening here and loved it.
Address: Brzozowa 4 | website
Momo
We walked past this place without even knowing about it but wow are we glad we stopped. This was our favourite vegan food in all of Kraków - a massive plate of 6 mixed homemade fresh dishes (think marinated beetroot, pasta salads, groats, beans, potatoes, chickpeas...mmmmm) for just 22 PLN. I could eat here every day.
Address: Józefa Dietla 49 | website
Mo-ja Café & Bistro
Famous for its big brunch selection, this delightful spot is located in the eastern side of the city and offers both non-vegan and vegan choices aplenty. Sadly the vegan pancakes have disappeared, but the vegan feast hits the spot.
Address: Starowiślna 14 | website
Cytat Café
This fantastic café is a book lovers delight. Featuring an array of rooms all beautifully decorated floor-to-ceiling with books and serving up unique and delicious drinks (think lavender mint lemonade) and vegan coconut chocolate cake, this is the ultimate café to bring your laptop to and get some stuff done for a few hours.
Address: Miodowa 23 | website
---
CHECK OUT MY VLOG OF Kraków HERE!
---
PIN THIS POST TO REFER BACK TO LATER!