After a summer filled with hikes, lakes, waterfalls, views and sunsets, Sam and I decided to end our adventures with a six-day roadtrip from Vancouver to Calgary. We drove north from Vancouver via Whistler, Kamloops and Clearwater to Mount Robson and then down the Icefields Parkway through Jasper and Banff National Parks, before visiting Yoho National Park and then on to Calgary. We jam-packed our days with hikes, explorations, adventures and stunning lakes. We camped each night in a tent at a different campsite, and temporarily lived out of our jeep for six days.
---
What to Pack for a Roadtrip
Swimwear
Sweatpants for at night
2 sweaters, a rain jacket, workout attire for hikes
Underwear and enough dry socks to for the week
5 shirts of varying thickness
Summer dress
Towel
1 tarp with rope
1 air mattress with foot pump
2 sleeping bags, 2 blankets, 4 pillows, 2 lanterns
Hiking boots, running shoes, shower flip flops, sandals
Portable stove with gas tanks
Pot, mugs, plates, cutlery, a jug of water for cooking and washing, wash cloths
Water, food
Toothbrush & toothpaste, hairbrush, contacts, glasses, sunglasses, suncream
Notebook, book
Camera & tripod, charging gear, laptop, AUX cord
---
Day 1 - Vancouver-Whistler-Pemberton-Lillooet-Kamloops
560km in 12 hours
Stop 1: Green Lake, Whistler
Just north of Whistler Village, right on the side of the Sea to Sky Highway, sits the aptly named Green Lake, a reflective shade of minty green.
Stop 2: Nairn Falls, Pemberton
This glacial runoff is nestled just off the road as you leave Pemberton. A ten-minute scramble alongside the pearly water ends at views over gushing falls that let off a cool spray to anyone standing close by.
Stop 3: Keyhole Hot Springs, Pemberton
Although the actual hot springs were closed for bear warnings, which we only found out after driving 39km up the gravel road, Pemberton Meadows still offered jaw-dropping views out of the dusty car windows.
Stop 4: Mount Currie, Pemberton
We stopped in town to fill up on gas, food and roadtrip supplies and caught site of the impressive Mount Currie directly from the Parking Lot. Pemberton is a bit of a sleepy town wrapped entirely up by mountains of all shapes and sizes - Currie is just one of the loveliest.
Stop 5: Duffey Lake, Pemberton
Duffey Lake is impossible to miss - its sheer length means you spend a substantial amount of time driving along it on the highway until you reach the parking lot at the very end of the lake. A log jam enables those of us with the more daring bones in our bodies to scramble from one side of the lake to the other.
Stop 6: Seton Lake, Lillooet
One of my favourite places from my Sea to Sky Roadtrip last summer, the clear water of Seton Lake lies between two valleys that come together in an impressive v-shape.
Stop 7: Naxwit Picnic Site, Lillooet
Home to the BC Hydro Dam that Lillooet is well known for, this picnic site is home to some of the cleanest and bluest water in this province. Last year I spotted three little white mountain goats bounding across the mountain side - this year, a baby black bear was foraging for food on the opposite river bank. Next year? Who knows!
Campground Day 1: Pinegrove Campground, McLure
Although our original itinerary had us staying at the free campground at Seton Lake for our first night, we had cut down on our time at both the Keyhole Hot Springs (closed for bear warnings) as well as Joffre Lakes (far too busy). We made it to Kamloops that night and set up our tent under a drizzly, rainy sky at Pinegrove Campground.
---
Day 2 - Wells Gray Provincial Park
481km in 12 hours
Stop 1: Mahood Trail, Wells Gray Provincial Park
Wells Gray Provincial Park is just outside of Clearwater. The park is well sign-posted at the roundabout in the centre of town and offers a number of pit stops and hikes and waterfalls that are well worth a day. We didn't intend to drive the Mahood Trail as it turned out to be an hour up and down a pothole-filled gravel road but we still enjoyed our lunch at the water's edge, alone except for a fisherman and his dog.
Stop 2: Spahats Creek Falls, Wells Gray Provincial Park
Wells Gray turned out to be bursting with roadside pit stops, short hikes and impressive waterfalls. We pulled into the first lot we saw and took a brief walk down to the massive Spahats Falls. It reminded me a bit of Brandywine so I'm sure the locals know the secret way to the bottom!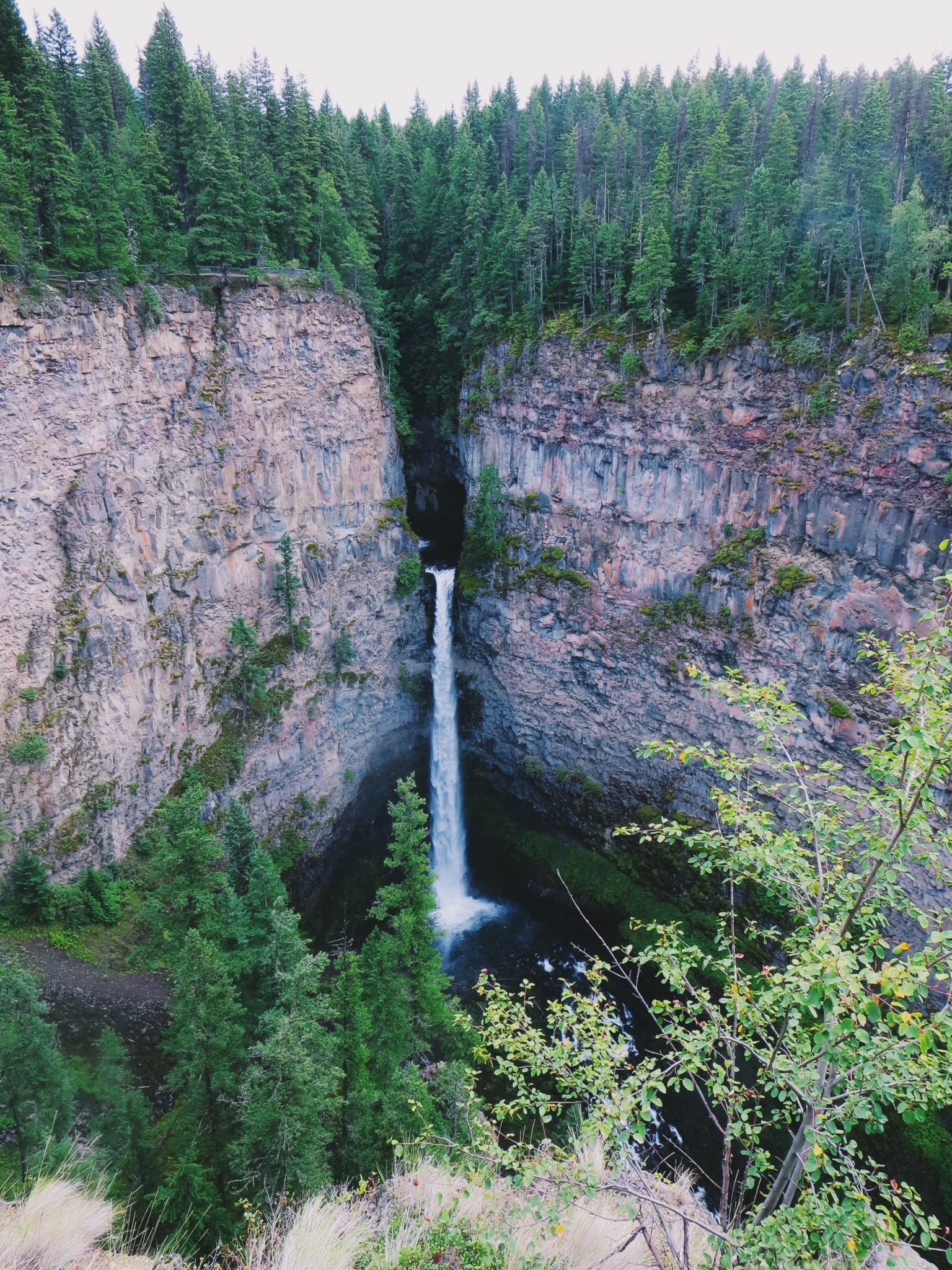 Stop 3: Shaden Viewpoint, Wells Gray Provincial Park
Heading back out of the Spahats lot and onto the main road into the park, we came upon a viewpoint offering breathtaking views as far as the eye could see all across the park. It was one of those "everything the light touches" moments.
Stop 4: Helmcken Falls, Wells Gray Provincial Park
This one is insta-famous, so of course we had to make a stop. The water has carved a huge bowl out of the ground and it is simply massive. Head past the fence on the far right to get a bit of a risque walk on the cliffs edge.
Stop 5: Murtle River Bridge, Wells Gray Provincial Park
This single lane bridge tends to be full more of people than of cars. There's a little shoulder where you can pull over and wander back down to the bridge to take in the spray and falls. A little gap in the trees allows the more adventurous souls to scramble down under to find the trolls that may be lurking below.
Stop 6: Dawson Falls, Wells Gray Provincial Park
Hands down one of the most impressive waterfalls I've seen, this one stretches wide across the river and cascades down in multi-tiered falls. There are a few hidden trails down to the edge of the falls where one can feel quite small standing next to such a powerful feat of nature.
Campground Day 2: Robson Shadows, Mount Robson
We pulled into the Robson Shadows Campground just past Valemount as the already-grey skies were getting darker. This campground was easily the nicest one we stayed at on the whole trip – our lot sat right on the waters edge and we awoke to clear glacial runoff.
---
Day 3 - Mount Robson & Jasper National Park
300km in 11 hours
Stop 1: Mount Robson
Although we never did actually see the peak, which would be the tallest point of the Canadian Rockies, the glacier-fed waterfalls coming down the side of the mountain were still impressive. The parking lot was full of adventurous hikers prepping to take on the multi-day Berg Lake trail, one I want to come back and take on.
Stop 2: Rearguard Falls
Fondly nicknamed by Sam as Bum Protector Falls, I fell in love with this gushing waterfall the moment I saw it. Known for the last pit stop of a hefty salmon run, Rearguard Falls offers visitors a jungle gym of metal railings with views of stunning blue waterfalls.
Stop 3: Moose Lake
It was Moose Lake where we first laid our eyes on the turquoise blue that was to be so prevalent during the subsequent days of our roadtrip. It was Moose Lake where we met three Slovenian motorcyclists biking cross country. It was Moose Lake where we did not see any moose.
Stop 4: Yellowhead Lake
Although visible from the road, the road access is not so clear. We traipsed our way through overgrowth after struggling to even find the parking lot. It was well worth it, however, as we took in the greeny-yellow reflections without a single other soul in sight.
Stop 5: Yellowhead Pass
Driving through Yellowhead Pass was the first time I had crossed Canadian province borders on land. It was also my first step ever into Alberta, which is a place I have been dying to visit for years now. Jasper and Banff have been on the top of my places to see ever since I downloaded Instagram five years ago. And the trip was finally coming to fruition. Cue the emotions. We purchased our National Park Pass at the entrance to Jasper National Park for $65, required for all wishing to visit the parks.
Stop 6: Maligne Canyon, Jasper National Park
A beautiful multi-bridge stack of canyons and swirling rivers, Maligne Canyon is quite busy! Sam and I explored the different paths between the various lookouts and bridges.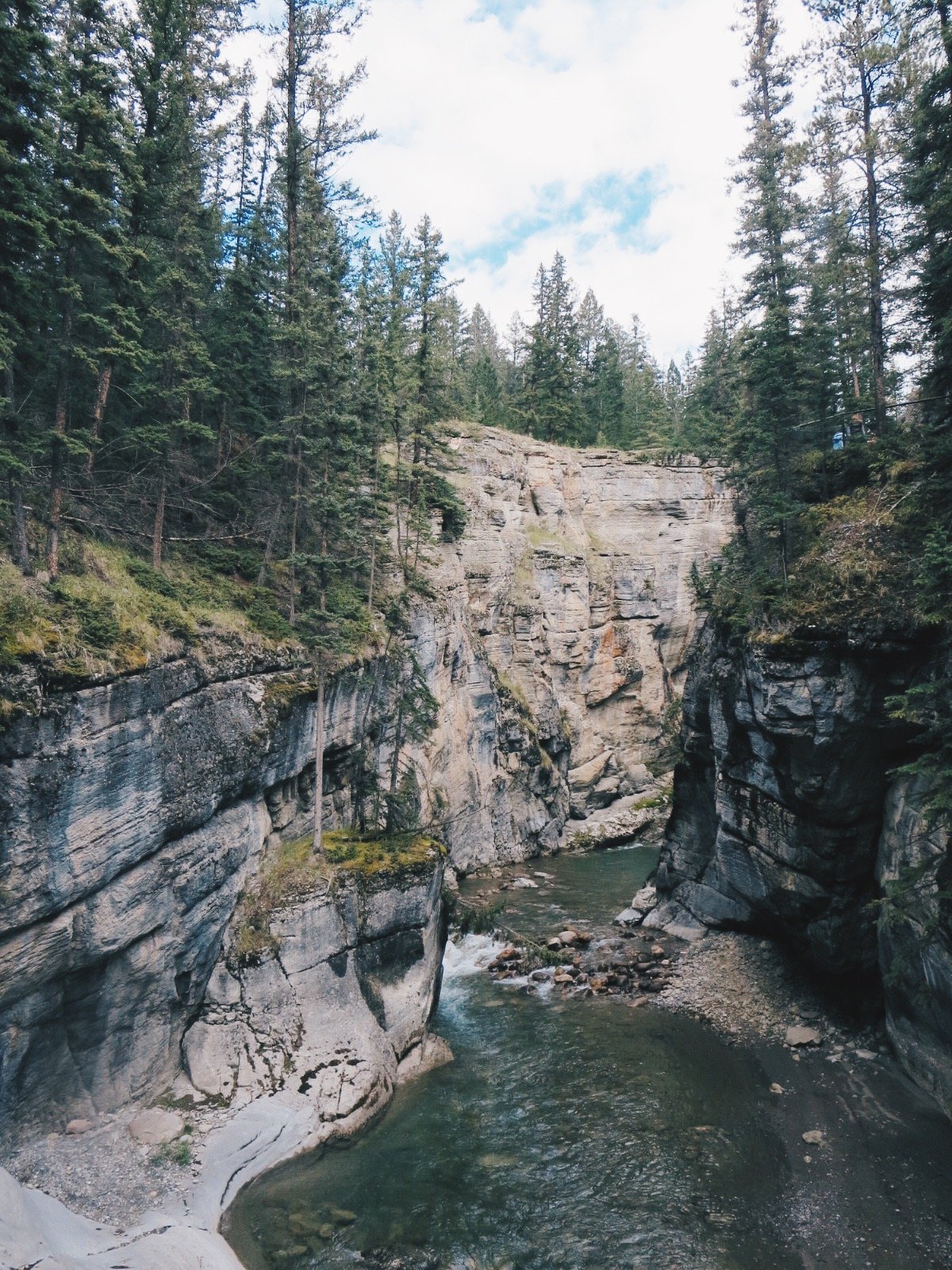 Stop 7: Jasper
The beautiful little town of Jasper is nestled in the mountains of the park and offers hungry, tired and supply-needing travelers a range of goods and services. I learnt how to fill up the gas in a car in Jasper. Memorable, to say the least!
Stop 8: Medicine Lake, Jasper National Park
I can't put into words what Medicine Lake feels like when you first lay eyes on it. The lake itself stretches far beyond what you can see, wrapped entirely by road and sheer mountain faces. Sam and I enjoyed our lunches perched on crumbled rocks at the water's edge with a view like no other.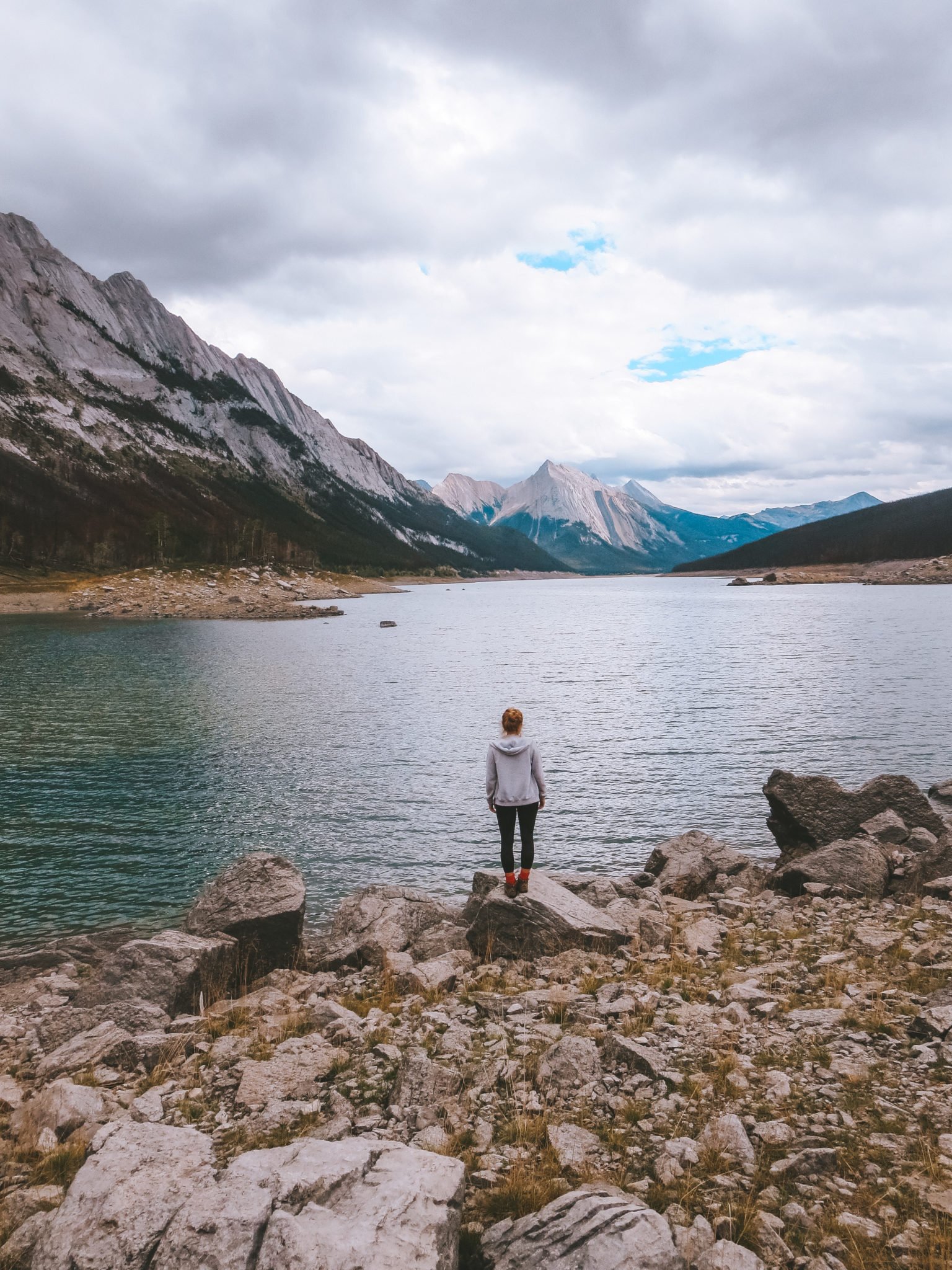 Stop 9: Maligne Lake, Jasper National Park
Home to the famous Spirit Island, Maligne Lake is serene. We went for a wander around the lakeside paths and I dipped my toes in while Sam went fully under. He promptly came right back out, shivering but grinning.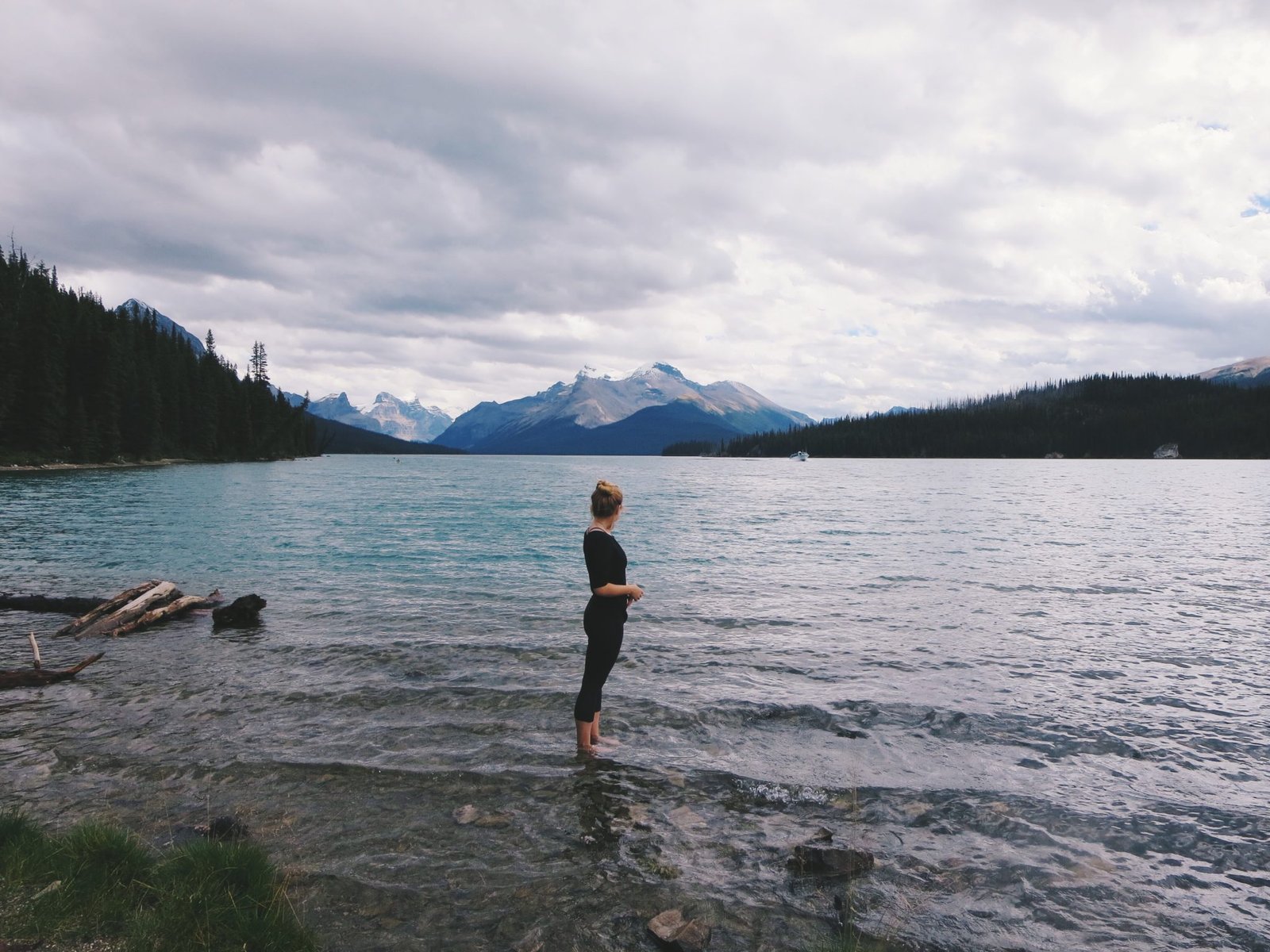 Stop 10: Athabasca River, Jasper National Park
Right after turning onto the Icefields Parkway out of Jasper, there's a little shoulder where you can pull over and scramble down to the riverfront. The River here gurgles past, offering travelers the most gorgeous blue colours best seen on a sunshiney day.
Stop 11: Edith Cavell Glacier, Jasper National Park
The drive up to the Glacier, a little road just off the Icefields Parkway, offered jaw-dropping views before we even arrived at the final destination. I was in absolute awe and more than once I made Sam pull over to the side so I could stand up in my seat through the sun roof to take photos. We met two Texan motorcyclists at the top who graciously took a number of photos of us in front of the most incredible glacial site.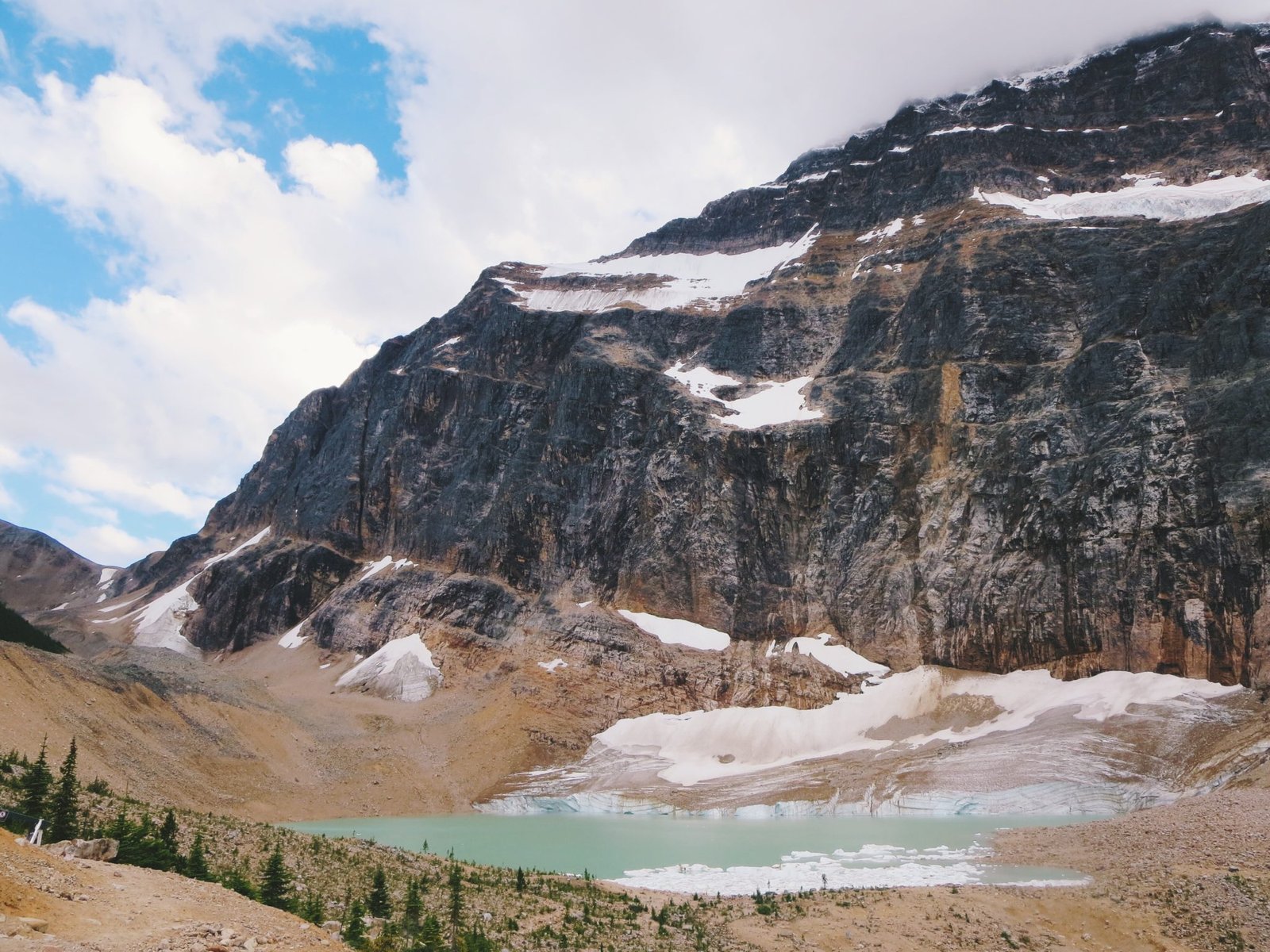 Stop 12: Icefields Parkway, Jasper National Park
Hands down the most beautiful road I've ever driven on, and I've driven on some incredible roads, Icefields Parkway is famous for having an unlimited supply of views in every single direction, each more jaw-dropping than the last.
Campground Day 3: Mount Kerkeslin Campground, Jasper National Park
Mount Kerkeslin is an unmanned campground which basically means you have to pay by filling out a form and dropping it in a locked box and then pinning your stub and proof of campfire purchase to a stump at the edge of your site. It's quite peaceful, actually. This was by the far the largest lot we stayed in and the river rushed past right close by.
---
Day 4 - Jasper & Banff National Parks
350km in 9 hours
Stop 1: Athabasca Falls, Jasper National Park
One of Jasper's most famous sights, the falls at Athabasca are an impressive gushing of water. Sam and I arrived before 8am to an empty parking lot and an empty viewing deck where the walkways wander between carved out rock and various falls. I suggest first thing in the morning for the peace and calm of being the only souls wandering the walkways.
Stop 2: Horseshoe Lake, Jasper National Park
We would have missed this lake entirely if it weren't for Sam pulling the car over into what seemed just like a dirt shoulder on the road. It was on my list of places to stop at from my research prior to the trip, so we were keeping an eye out, but a complete lack of signage meant sheer luck was the only thing that brought us to this beautiful sunrise perch.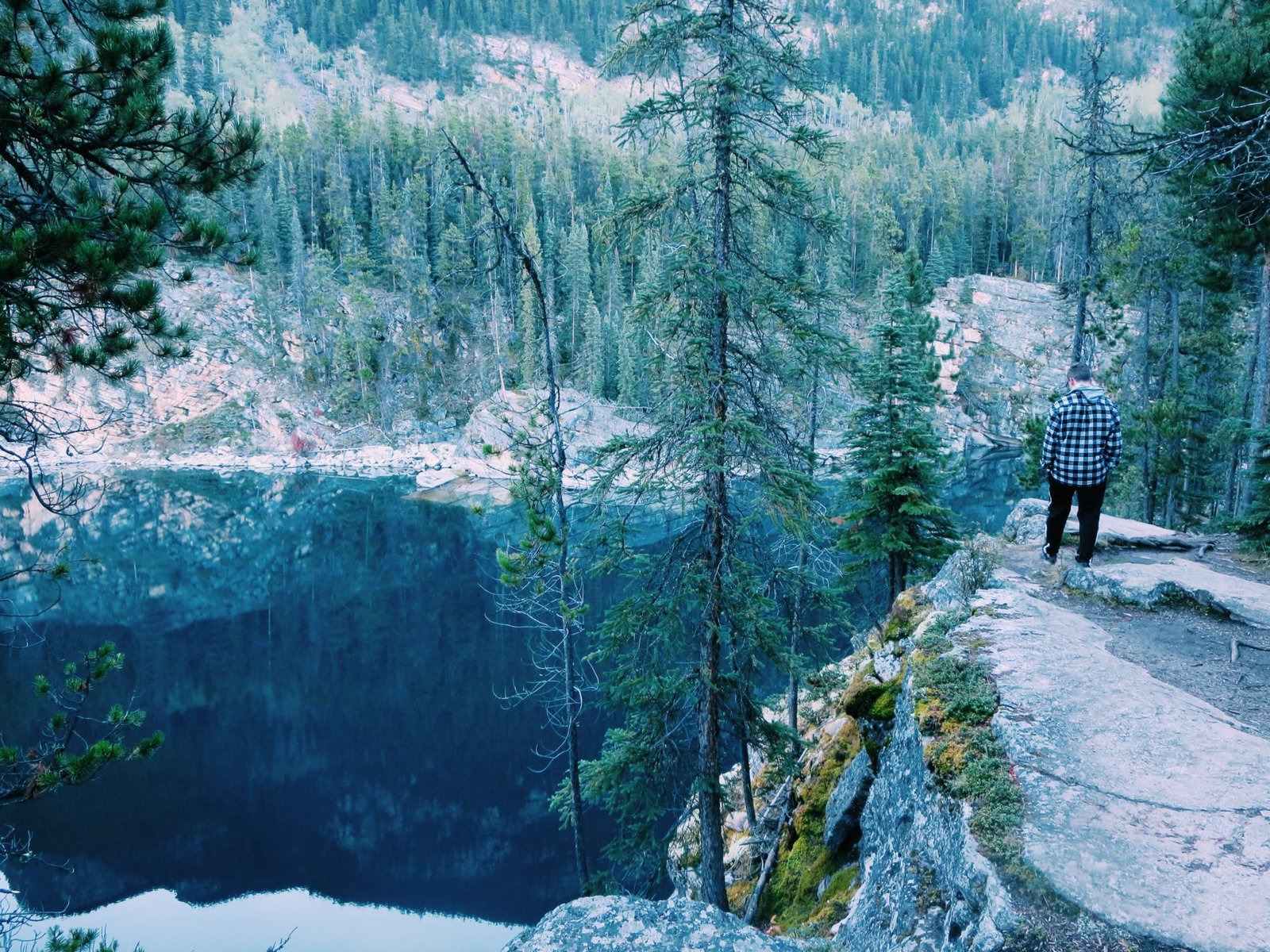 Stop 3: Sunwapta Falls, Jasper National Park
Sunwapta Falls focuses on the water rushing around the little island and down into the ravine. There is one main bridge from where you can view the falls, so not as big as Athabasca, but still stunning. It's a quick 3-minute walk down from the parking lot.
Stop 4: Tangle Creek, Jasper National Park
I loved this one especially as it summed up what the entire roadside views of the Icefields Parkway really is. We literally didn't have to leave the car for these views and joined the other roadside visitors to take in the landscape.
Stop 5: Athabasca Glacier & Columbia Icefield, Jasper National Park
This was by far one of my favourite stops of the trip. A number of paid guided tours are available that allow you to walk on the actual glacier, but we just trekked up the roped off walkway to the foot of the glacier and took in the most beautiful views. I have never been so close to a glacier so 'the most-visited glacier in North America' was a great first time!
Stop 6: Mistaya Canyon, Banff National Park
We crossed over into the equally gorgeous Banff National Park and stopped first at Mistaya, a beautiful and quiet stop where you can wander right down to the water's edge to enjoy the beauty.
Stop 7: Waterfowl Lakes, Banff National Park
Famous for being some of the bluest lakes in the national parks, Waterfowl did not disappoint. Sam even attempted a dip in the freezing water which I watched comfortably from the shore!
Stop 8: Peyto Lake, Banff National Park
More commonly known as the Fox Lake, this impressive feat of nature can only be viewed from afar. This view doesn't disappoint as it offers visitors the iconic look at the fox-like shape of the shores.
Stop 9: Bow Lake, Banff National Park
One of the harder places to photograph, I found, was Bow Lake. The bridge was sweet and we snapped pictures crossing over there, but I found Bow to be a bit less impressive than some of the other stops from today.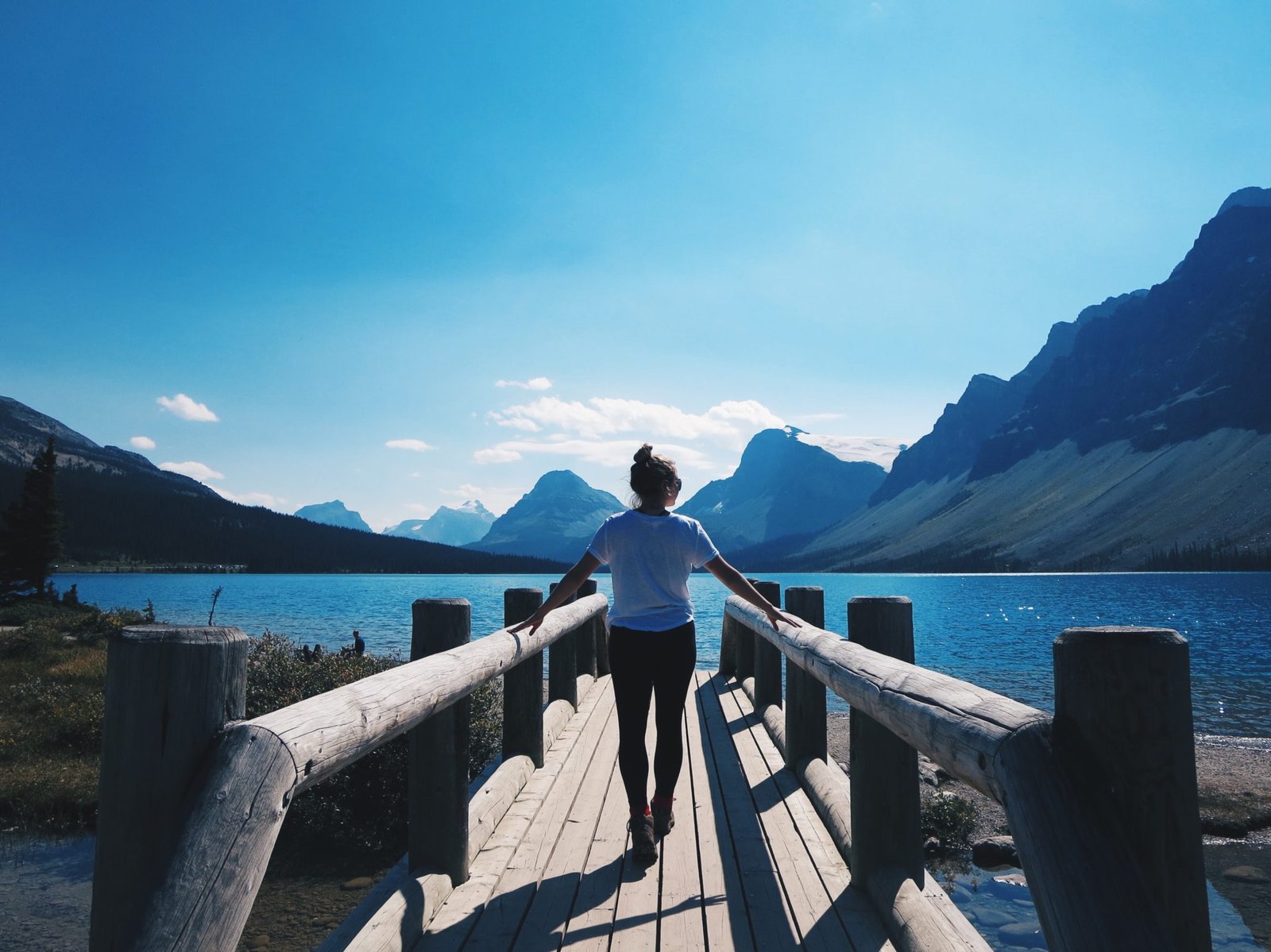 Stop 10: Crowfoot Glacier, Banff National Park
Another one of those right-on-the-road-side views, this glacier takes on the shape of a crow's foot with a three-pronged foot of ice stretching across the mountainside.
Stop 11: Herbert Lake, Banff National Park
After not showering for three days, we took advantage of the swimming at Herbert Lake to give ourselves a good wash. We swam across the lake then jumped back in and swam back – right beside the Icefields Parkway!
Stop 12: Lake Louise, Banff National Park
When we arrived at Lake Louise, we were met with throngs of people, a jam-packed parking lot and views that took my breath away. I've dreamed of Lake Louise for years and it was everything I had hoped for.
Stop 13: Moraine Lake, Banff National Park
This beautiful spot is famous for its tooth-like mountain range stretching across the lake like a backdrop. A rock pile offers visitors a top-angle view – don't be fooled by those climbing the side closest to the parking lot as there is a trail that wraps around the back side and is substantially safer! This was my absolute favourite place from the whole trip.
Campground Day 4: Two Jack Campground, Banff National Park
We spent the night at Two Jack Campground tucked away in the forest behind Two Jack Lake in Banff. We spotted a number of wildlife here including three black bears and an elk crossing the road right in front of us! Two Jack was a massive campground so one of the more expensive ones at about $30 including campfire permit, but was a lovely place to spend the night.
---
Day 5 - Banff & Yoho National Parks
380km in 8 hours
Stop 1: Two Jack Lake, Banff National Park
We had spent the night at the campground just behind this lake and drove down first thing to catch the light over the early-morning paddle-boarders and fishermen. Two Jack is famous for it's impressive double reflection of the mountain that sleeps behind it.
Stop 2: Bow Falls, Banff National Park
We were greeted with a number of tour-bus groups here as this stop is right in the town of Banff. We walked from the parking lot the whole way up the river and into town - mostly to seek out a bathroom, but also because it was beautiful.
Stop 3: Vermilion Lakes, Banff National Park
As Sam said, "is it called Vermillion because there's a million lakes?" And it does feel like that as the road alongside the lakes seems to go on for ages and the various pools of water seem to never end. Banff's famous slanted mountain graces the horizon line.
Stop 4: Johnston Canyon, Banff National Park
Lower and Upper Falls make up Johnston Canyon, plus a secret off-road trail that takes you down the creek to the source of the waterfall. There's a thrill factor involved in the fact that you're literally walking on bits of metal nailed to the face of a rock.
Stop 5: Takakkaw Falls, Yoho National Park
We passed through Kicking Horse Pass completely shrouded in fog to get into Yoho National Park so I didn't even realize we had crossed the border into BC. These falls are seven times higher than Niagara Falls and if you get even half way from the parking lot towards the base of the falls, you will find yourself and your camera drenched.
Stop 6: Natural Bridge, Yoho National Park
A neighbour of Emerald Lake, this would have only been cooler if we were actually able to walk across the natural bridge.
Stop 7: Emerald Lake, Yoho National Park
The most gorgeous stop in Yoho National Park, we were lucky that there were hardly any others around so that we could appreciate the truly emerald colour of this water all to ourselves.
Stop 8: Kicking Horse Bridge, Yoho National Park
This is the longest free-standing timber bridge in Canada, which is just so typically Canadian! We were pretty tired at this point in the day and were happy to finish our day off here and search for a bed for the night.
Campground Day 5: Golden Municipal Campground, Golden
We stayed near the riverbank right in town at a slightly smaller and slightly more crowded campground than any others of the trip. Not my favourite place that we stayed at, but we were able to have a campfire and it certainly did the job!
---
Day 6 - Glacier & Yoho National Parks & Canmore
550km in 9 hours
Stop 1: Rogers Pass, Glacier National Park
Right in the middle of Glacier National Park is the iconic Rogers Pass, once used by the Canadian Pacific Railway to trek through the Selkirk Mountains.
Stop 2: Glacier National Park
Although weather prevented decent explorations, we enjoyed our drive right through the centre of the park.
Stop 3: Wapta Falls, Yoho National Park
An absolutely magnificent waterfall rewards the slippery, clay-covered hike down from the badly signposted and pot-holed parking lots. We got absolutely drenched with icy cold water spray as we stood proudly at the summit of the rock pile.
Stop 4: Banff
Sam and I both share a love for the little town in the mountains. We stayed just outside town a few nights ago, but it was nice to stop back and wander town a bit.
Stop 5: Grassi Lakes, Canmore
Something in the water makes Grassi Lakes almost fluorescent bluey-green, a stunning sight to take in as you climb high above Canmore.
Stop 6: Calgary
As we approached Calgary, I noticed how ridiculously flat and spread out everything is and I immediately missed the mountains of the National Parks the moment we entered the city.
That's the end of our road-trip! We didn't camp the last night as we were moving Sam into his dorm at university and stayed there. I hope this itinerary is useful to you, and inspires you to take on your own National Parks adventure!
This post includes affiliate links, which means I may receive a commission if you click a link and buy something I have recommended. It won't cost you any extra money, but helps keep this blog going!