Coming from a wonderful three-day trip to the Azores where I spent my days roaming the island, hiking, taking in every viewpoint and generally just having a really good time, I was a bit let down by the other island cluster belonging to Portugal: Madeira.
I did stay in a delightful hostel in the perfect location in Funchal, Maderia's capital, near the grocery store and the waterfront on a cute little street packed with restaurants and a stone's throw from the famous cable car. I highly recommend Santa Maria Hostel if you're here.
However, I am going to be honest - something I pride myself on across my blog in general as I don't believe in pretending something was great and encouraging others to do it, when it truly isn't. The main thing worth coming to Madeira for is the hiking. I did two fantastic hikes on the island: Pico Ruivo and Ponta de São Lourenço. The mountains here are spectacular.
I felt that the rest - the cities, villages, viewpoints the two tours I did - was just not worth my time. Especially Funchal, the capital of Madeira, where most tourists stay. When you Google "things to do in Funchal," under that "People also ask:" section, the first question that comes up is "Is Funchal boring?" I mean, that speaks for itself!
Aside from an overpriced and frankly, lame cable car experience (which for some reason, multiple other travel bloggers have gushed over...), just about the only thing to do in Funchal is to eat. The focus is so heavily on restaurant culture - street after street is lined with restaurants, each with a paid member of staff standing outside whose entire job it is to convince you to come inside.
Every other viewpoint, town and village I visited offered nothing beyond overpriced tacky tourist shops. It seems the island tours, which all claim to give you the authentic island experience, are neatly designed to bring as many visitors as possible to as many of these souvenir shops as possible.
If you do find yourself on this island, I beg you to avoid the cities and villages and most definitely don't bother spending money on island tours. Pack your hiking shoes and get out into the mountains instead - they do make the trip to Madeira worth it. Just do your best to wade through all the nonsense beforehand.
And, if for some reason, none of what I just said convinced you that this probably isn't the best spot to take your next vacation and you still want to make it out here, here's the things I saw and did, in case you'd like to add them to your itinerary too:
---
Funchal Cable Car
This wouldn't be a guide to Madeira without including the famous Funchal Cable Car. It's pricey for what you get - at the time of writing, it was €11 per adult one way and €16 for a round-trip ticket - and you'll get to ride above the city for about fifteen minutes from Funchal on the coast to the neighbourhood of Monte 4km up the mountain where you can visit (an equally overpriced) botanical garden. It's about the only thing to do in the city. Go if you're keen to see the views, but if you don't want to fork out the cash, know you're not missing much.
---
Funchal Waterfront
There's no beach in Funchal but there is a good waterfront to wander along which gives a nice view over the ocean at sunset.
---
Baía de Câmara de Lobos
On my first full day on Madeira, I joined a tour of the west side of the island, which took us around and dropped us off at various viewpoints and villages along the way. While I found the tour lacking in depth and information, it gave a lay of the land. Our first stop was the little fishing village of Baía de Câmara de Lobos, with a small harbour to watch the boats coming in and out.
---
Cabo Girão Skywalk
This epic sea cliff is actually the tallest in Europe at 589 metres, and one of the tallest in the whole world. You can stand on the glass viewing deck above the ocean far below.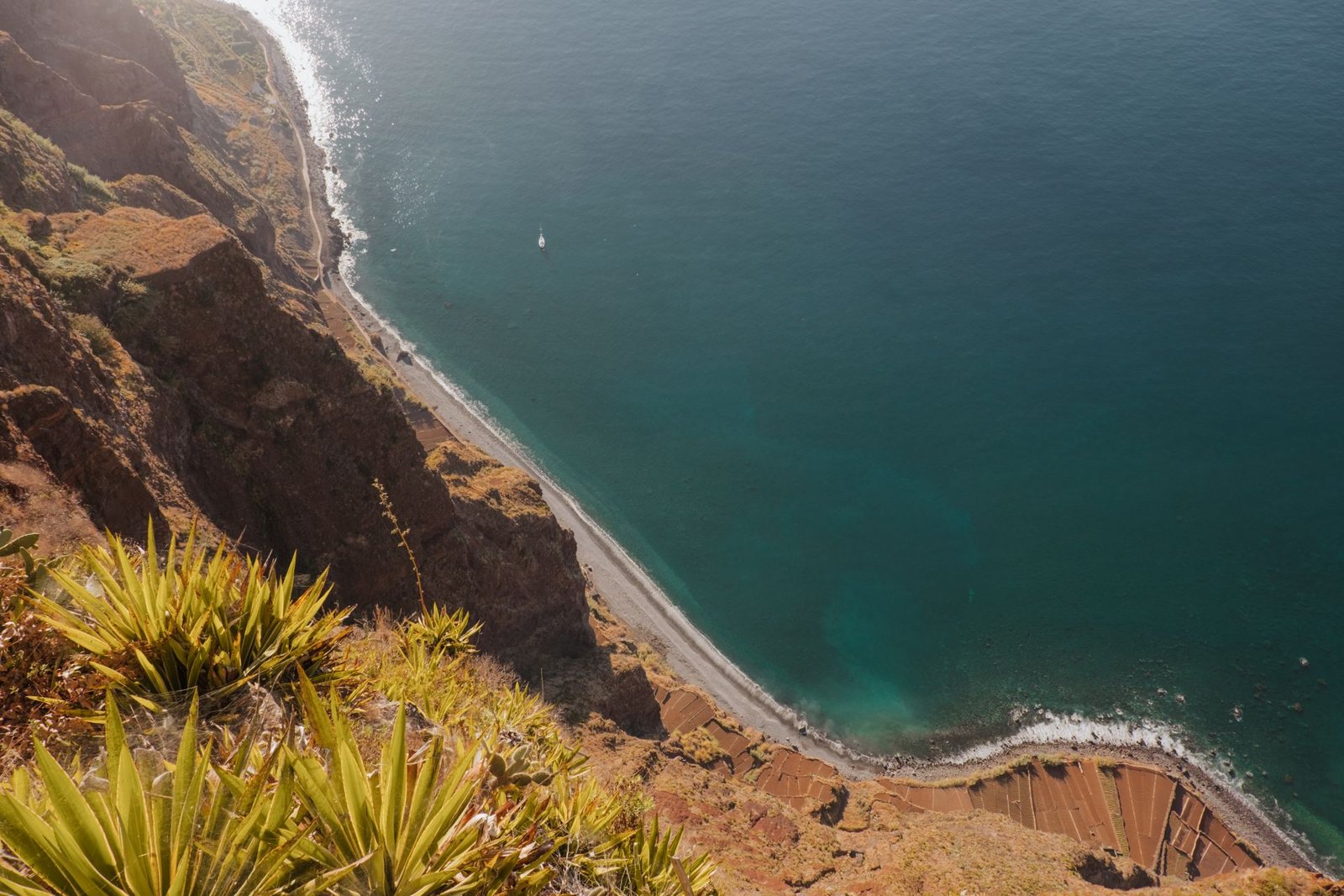 ---
Igreja Matriz da Ribeira Brava
This little coastal village is known for its huge chandeliers that hang in the local church.
---
Miradouro da Eira da Achada
One of the best coastal viewpoints of the island.
---
Mirador Ilheus da Ribeira da Janela
This little rocky beachfront looks out onto three islets just off the coast.
Piscinas Naturais Velhas / Porto Moniz Natural Swimming Pools
Probably the best spot on the whole island (aside from the hikes!) are these natural swimming pools on the coast in Porto Moniz where you can splash around. I would say skip the tour and just head straight here for the day; a bus runs in the morning from Funchal and back in the afternoon, taking about three hours each way.
---
Miradouro do Véu da Noiva
From this viewpoint you get a great view of a waterfall tumbling off the island and into the ocean below.
---
São Vicente Church
Another town we stopped in with another little church to wander.
---
Pico Ruivo
This was by far the best thing I did on the entire island of Maderia. The hike goes from Pico Arieiro, Madeira's third-highest peak, across to Pico Ruivo, the island's tallest. It's an incredible landscape you'll walk through and one of the best hikes I've done in a long time.
---
Miradouro Pico do Barcelos
I did another small half-day tour of the Nun's Valley; the first place we stopped was this view.
Miradouro Eira do Serrado
This view point gives the best car accessible view over Nun's Valley. Having said that, the view from the trail to Pico Ruivo was much better!
---
Curral das Freiras
The main village in Nun's Valley. There's lots of souvenir shops and a half-decent view of the valley.
---
Ponta de São Lourenço
Saving the best for last! This was a fantastic hike on the easternmost part of the island, where you can also take a dip in the delightfully warm Atlantic Ocean after your sweaty trek.
---
CHECK OUT MY VLOG OF MADEIRA HERE!
---
PIN THIS POST TO REFER BACK TO LATER!