I booked a spontaneous trip to France for two weeks in July and with no plans, I boarded my flight to Paris. With a "well, let's just see how it goes" mindset, I boarded my Air Transat flight to Paris. I must say, that it was not a good start to the trip - the staff were rude and enjoyed a good eye roll when I asked for things like no ice in my drinks or an extra napkin. Dinner was a sandwich and breakfast was a thin slice of soggy carrot cake. Compare this to my United Airlines flight back in March from San Fran to London where we had two fully cooked meals, endless snacks and bottomless drinks? Disappointing.
To say nothing of Charles de Gaulle Airport which looks less like an airport and more like a shipping container depot. The airplanes don't attach to the terminals and instead, slow-moving buses take 20 minutes to transport passengers a few hundred metres from the plane to the terminal doors. Once inside, bare walls greet arrivals to go through passport control and walk into the big empty space that is Terminal 2. Terminal 3 is a 15-minute walk away. But, I was in Paris.
---
How to Get Around Paris
Metro: this is by far the easiest and most convenient way to get around Paris. Once you take the time to understand how to look up where you're going and how to use the many different lines to get yourself there, the system reveals itself to be very logical and straightforward. A single ride costs 1,90 euro with single and multi day passes also available. A trip from the airport into Paris Gare du Nord will cost you 10 euro.
TGV: if you're heading out of Paris, you'll need to get on a high-speed regional or international train. Always check the schedules in advance and plan accordingly. The price of these tickets doesn't fluctuate so you can purchase them right before you climb on board to save having to plan too far in advance.
Walk: once you've hopped off the metro at your chosen destination, walking is by far the ultimate way to see the city and all its sights. I averaged 20,000 steps per day just by wandering the streets and getting around! Paris is huge and it's one of those cities that has so much to see that you can walk endlessly and still never see it all.
Bike: many Parisians love to get around by bike and the city is absolutely packed with them. An alternative if you don't want to be the one pedaling is to get one of those bikes that has the big seats behind it where you can pay 15 euro to be carted around.
Autocar: an alternative to trains, these look like tour buses and while sometimes may take longer than a train are excellent ways of getting yourself around the country for cheap.
---
Where to Stay in Paris
Paris is home to accommodation types of every single sort – from low budget to high budget and everything in between. I was in Paris for the first two nights and my last night of my trip and stayed both times at the Generator Hostel. While not in the centre of the city and thus not in walking distance to anything, the Colonel Fabian metro station right across the street meaning that everything is accessible. Rooms can be single or mixed gender – I stayed in a 4-bed and in an 8-bed room.
They have a restaurant open for all meals of the day, and a filling breakfast for just 5 euro (book the night before for a discount). The rooms are clean, the bathrooms are great, the beds are very comfortable and while the area isn't the best, it means it's relatively cheap (30-60 euro a night, depending on room/luck/time of booking). And, they have a rooftop bar with a view of the Sacre Coeur in Montmartre. Neat!!
---
Things to See & Do in Paris
Finally, here comes the fun part! I saw as much of Paris as I possibly could in the two and a half days I ended up spending there during my trip.
The Notre Dame
Hop off the metro at Cite and put away the map to allow yourself to get lost on the little island that the Notre Dame is situated on. Be aware that unless you're in line first thing in the morning this place is going to be packed – the square outside is just a long snaking line-up. I also noticed many police and military personnel in full garb carrying machine guns in groups of 4 which took away a bit from the touristy experience as they constantly drew my attention. I understand their necessity however, given last year's events. Closest metro line: Cite.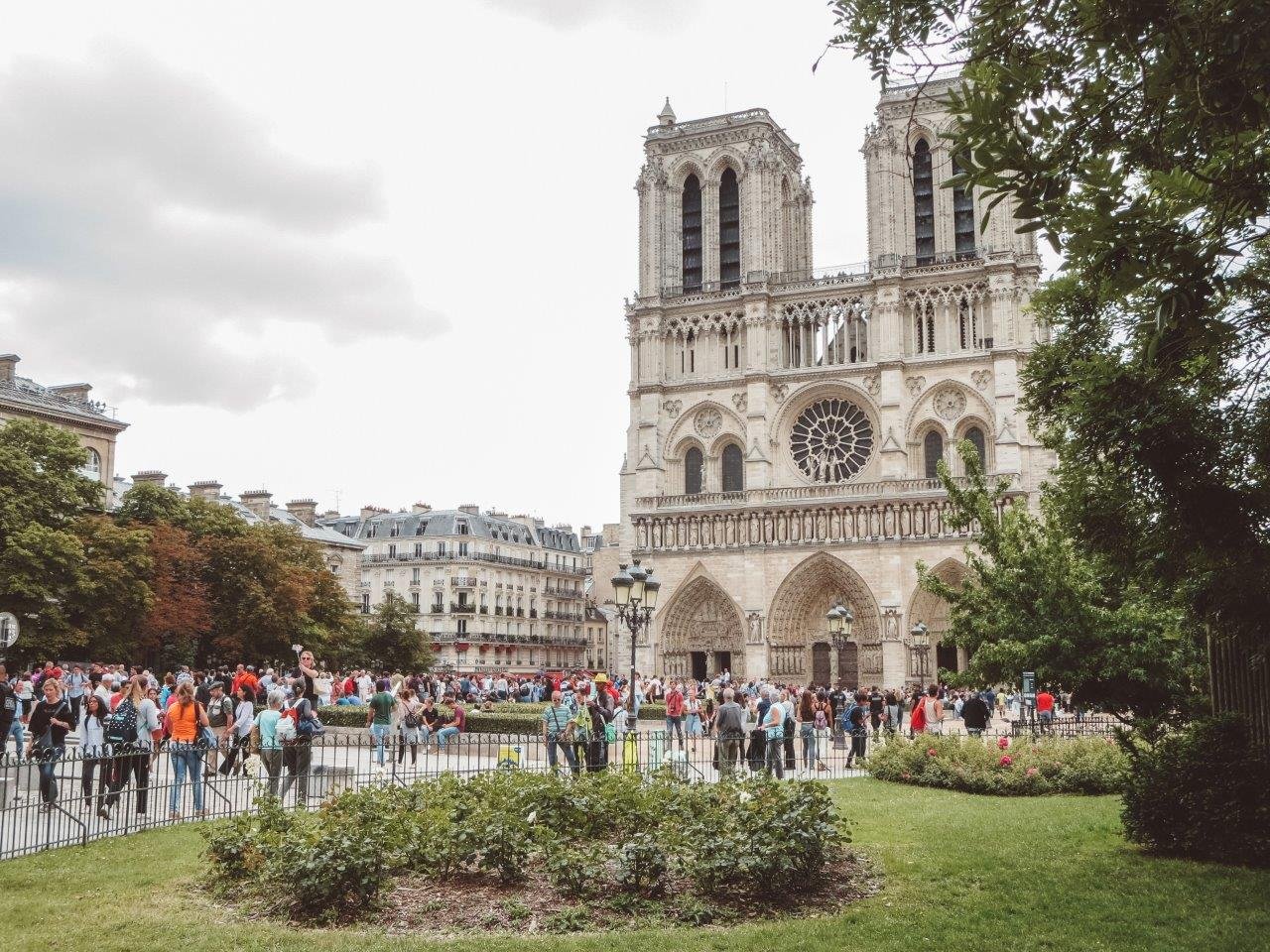 Pont Neuf
From the Notre Dame on one end of the little island, walk to the other end where you will find the iconic Place du Pont Neuf, or the Love Lock Bridge. It's not actually a bridge that goes over water as it has become too heavy in recent years with all the additional locks, but is now a square overlooking a park that divides the river in two. I came here on my very last day in Paris to leave a lock for me and my boyfriend Sam – I couldn't not! Closest metro line: Pont Neuf.
Pont des Arts
This wooden bridge is the next one along from Pont Neuf and connects the Place de l'Institut with the Louvre Museum. Closest metro line: Louvre Rivoli or Pont Neuf.
The Musee de Louvre
The iconic Parisian museum that is home to some fantastic glass-paneled pyramids and the Da Vinci painting of Mona Lisa, if you're willing to wait a couple hours in line! From pictures I had seen, I never registered the size of the Louvre – there's a massive courtyard you can walk through which demonstrates the sheer massiveness of the galleries. According to my Lonely Planet guide, there are over 35,000 works of art crossing four floors and three wings. Plan your route before you go in and start early! Closest metro line: Louvre Rivoli or Palais Royal Musee du Louvre.
Jardin des Tuileries
From the Louvre you can wander your way down through the Jardin des Tuilieries, a Parisian garden featuring a mini version of the Arc de Triomphe called the Arc de Triomphe du Carrousel with pink marble columns, a Ferris wheel, views of the Eiffel Tower, many little cafes and restaurants and lots of young men walking around carrying naf French trinkets like metal Eiffel Towers begging you to purchase them for 'just 1 euro!'. Closest metro line: Louvre Rivoli.
Pont Alexandre III
This iconic bridge is home to two grand golden statues and a beautiful view of the Eiffel Tower. If you cut along to the Seine after visiting the Jardin des Tuileries before the Champs-Elysees, you can see this bridge. Closest metro line: Invalides.
Champs-Elysees
You cannot visit Paris without wandering down the iconic Champs-Elysees…or can you? When I envisioned Champs-Elysees prior to my visit, I thought of haute couture and expensive taste, so while I did spot a 4-story Louis Vuitton store and the beautiful original Laduree, I was underwhelmed. The fact that half of the street was covered in fencing in preparation for Bastille Day and the Tour de France didn't help its case plus the teeming crowds. If I had had the time and the money to explore some of the shops, I'm sure this would have been a more memorable experience. Closest metro line: Champs-Elysees Clemenceau.
Arc de Triomphe
I spent quite a bit of time sitting on a bench watching the Arc de Triomphe and its bizarre traffic circle. There are neither lanes nor traffic lights and it's merely a matter of who can honk their horn the loudest, who can squeeze through gaps and who can cut in front of other cars the fastest. The best shots of the Arc are from the side corners, not only showing the depth of the building, but are also rarely as crowded with people and their selfie sticks as the front view. A tunnel dedicated to the ease of access leads directly to the centre of the circle to save people risking their lives cutting across the crazy traffic.
Entrance to the top of the Arc is 12 euro for an adult or free for EU passport holders aged 18-25. You then climb up a never-ending circle staircase to the very top where you are greeted with the most incredible view of the entire Parisian landscape. You can see down all twelve avenues, meaning you can capture photos of every street, French window, pale yellow building, iconic landmark and of course the Eiffel Tower, bold on the skyline. It was for this reason that we didn't bother climbing the Eiffel Tower, because what is Paris from above if you cannot see the tower you're standing on? That being said, the funniest view at the Arc was the man in his military uniform taking a selfie with his selfie stick in front of the massive French flag hanging down from the Arc for Bastille Day! Closest metro line: Charles de Gaulle-Etoile.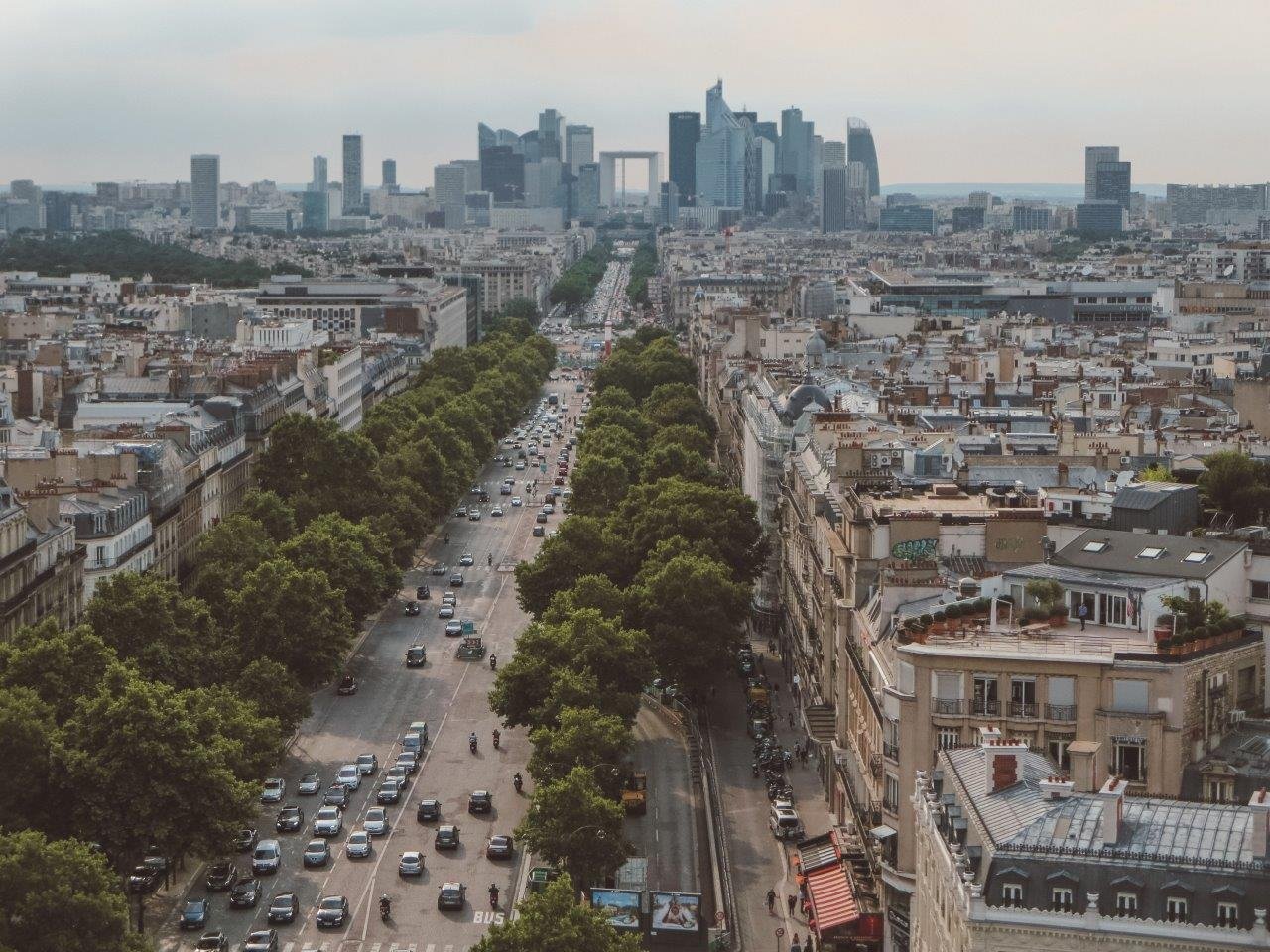 The Trocadero
From the Arc, take a walk along Avenue Kleber to reach what is arguably the best spot to view the Eiffel Tower from the ground. Massive marble platforms beckon for photographs and memory makers cluster in every open spot. This was the first time I truly felt awe as I saw the massive structure neatly perched so close. You can tell however, which photo was taken in the early evening, bustling with people, and which one was taken at 6:30am the following morning, with only a few people in sight. TIP: if you want to go anywhere in Paris without fighting the crowds, go as early as possible. Closest metro line: Trocadero.
Parc du Champ de Mars
I came here at 6:30 in the morning to try and capture the Eiffel Tower sans crowds and it was a wonderful little spot to capture all the angels of the iconic tower. During the day time, be wary of the trinket sellers and also of the people throwing cardboard in your face claiming to be from the Deaf and Blind association – they're just asking for money. A firm 'no' will send them on their way; don't stop to talk to them. Closest metro line: Champ de Mars-Tour Eiffel.
Jardin du Luxembourg
One of the most well-known places in Paris, this is a relaxing little spot to find yourself one of those green metal chairs that everyone on Instagram seems to know so well and just enjoy the Parisian air. It is prettier in pictures than it is in real life, be warned. At certain times of year, the Musee du Luxembourg at one end of the garden is also open with specialized exhibits. Closest metro line: RER Luxembourg.
The Pantheon
A quick walk up from the Luxembourg Gardens leads to the Pantheon which, before 8am, is deserted and perfectly framed in the morning sunlight. Closest metro line: RER Luxembourg.
Musee d'Orsay
Home to some of the most well-known painters in the entire world, I felt that this museum was a better choice than the Louvre simply due to the fact that it wouldn't be a thousand people crammed in one room trying to stare at the Mona Lisa. My favourite painters include Van Gogh, Monet and Degas, so I was thrilled to discover that the Musee d'Orsay housed many of their paintings in a gorgeously renovated old train station. Highlights included Monet's water lilies (the very ones I had sat in in Giverny) and Degas' little dancer. She captured my heart, her skirt still stiff but yellowing with age. Growing up as a dancer, these paintings provided a source of beauty and inspiration.
Sacre Coeur
In the middle of the Montmartre district is the distinctive Sacre Coeur, an iconic basilica in Paris's skyline. Save yourself the clamber up to the top and snap some beautiful shots from the round staircase, flowers and all. Closest metro line: Anvers.
Montmartre
I went for a wander through Paris' famous art district, home to quirky musicians, bustling restaurants, far too many souvenir shops and fun streets. Be sure to snap a shot of the famous Moulin Rouge, though not quite as glitzy and glam as the movie. Closest metro line: Absesses or Anvers.
---
Where to Eat in Paris
La Malakoff Cafe
This little cafe nurtured conversations over travel, love, life, happiness and living in the moment with Tiffany and it's got a view directly over the Eiffel Tower. What more could you want? Almost every cafe is going to offer a near-identical breakfast (or 'petit dejeuner'): a croissant, perhaps a chocolate roll (or 'pain au chocolate'), orange juice (or 'jus d'orange') and either hot chocolate or coffee (or 'cafe au lait') as your hot drink of choice. Location: Trocadero.
Laduree
While in Paris, the hometown of the macaron, there is no better place to go than the original Laduree. While expensive, the first bite will remind you why you just dropped 2 euro on a single tiny cookie and you will then proceed to marvel at the genius who came up with the idea of building an empire based on two tiny cookies with some cream pressed between. Location: Champs-Elysees.
Cafe Angelina
Lavish green and gold interiors with plush red carpeting enticed both the high-society and the foodie fanatics in to have a sip of their secret recipe chocolat chaud. The first drop passed my lips and in that moment I knew no other hot chocolate would suffice again. I must say that the hazelnut patisserie was the winner on my table this morning; a flax seed base with layers of chocolate cake and hazelnut cream, a hazelnut icing, gold-coated hazelnuts and a thin slice of chocolate wrapped around. Are you drooling yet? Location: Jardin des Tuileries.
La Creperie
There's a sweet creperie a block down from the Pantheon with seats facing directly to the incredible structure where you can enjoy a sugar crepe for breakfast. Location: Pantheon.