Porto is delightful. I spent the end of September and much of October based here, wandering the streets, finding hidden gems around every corner and enjoying the lingering summer days. The streets bustle with locals and visitors alike, eager to discover the charm of the city. It quickly and easily became one of my favourite cities.
Porto is Portugal's second largest city, after Lisbon in the south, and dominates the northern part of the country. Situated on the Douro River and offering breathtaking views as well as an abundance of intricate architecture and tiled buildings that are so famous here, Porto invites everyone to come, explore, slow down and appreciate life a bit more.
To get to Porto from the airport, hop on the Metro E-line to Trindade, then you can transfer to the other lines (A, B, C, D) to your city destination. I recommend getting an AirBnB and basing yourself there to explore - there's tons of cute and affordable options. Porto is a hugely walkable city and everything is in close proximity of each other, which is perfect for packing lots in.
As I was here for a month, working remotely by day, exploring the city in the afternoons and traveling around the region on weekends, I've compiled a number of blog posts you may find useful for your own trip planning here. Perhaps you're looking for great cafes to work from, or where to find the best vegan bites in town, or the best viewpoints of Porto to get those amazing photos.
Otherwise, if you're after a guide to the best things things to see in the city, then you've landed in the right spot. And without further ado, here are my picks for what to see in Porto:
---
1. Streets of Porto
No list of Porto spots to see is complete without first acknowledging the beauty of the streets themselves. Lovely buildings, many topped with those iconic orange roofs, are clustered throughout the city, adorned with the famous tiles that seem to cover every spare wall. If you're curious as to the history of why so many buildings are tiled, The Anthrotarian has written a great post all about it.
---
2. São Bento Station
You may be wondering why a train station has made this list - when you walk into the entrance of São Bento Station, built on the site of the former Benedictine Convent of São Bento da Avé Maria in the late 19th and early 20th century, you'll see exactly why this is worth popping your head into and checking out some more of the beautiful tiling, depicting famous battles throughout Portuguese history.
---
3. São João National Theater
The first theatre on this site was officially opened in 1798, the first of its kind in Porto specifically designed for presenting theatre and stage performances. It was destroyed in a fire in April 1908 and rebuilt by José Marques da Silva in 1920 combining a style influenced strongly by Paris. Today, it is home to many artistic shows and workshops, and is owned by the Portuguese state.
---
4. Ponte Luís I // Luís I Bridge
This bridge, completed in 1886, is perhaps one of the most well-known icons of Porto with its arched support stretching across the Douro River. Closed to vehicle traffic, you can either walk or take a tram across this bridge. I highly recommend visiting near sunset as the views across the Ribeira are quite something.
You can get a great view of the bridge itself if you make your way up to the view point at the Mosteiro da Serra do Pilar.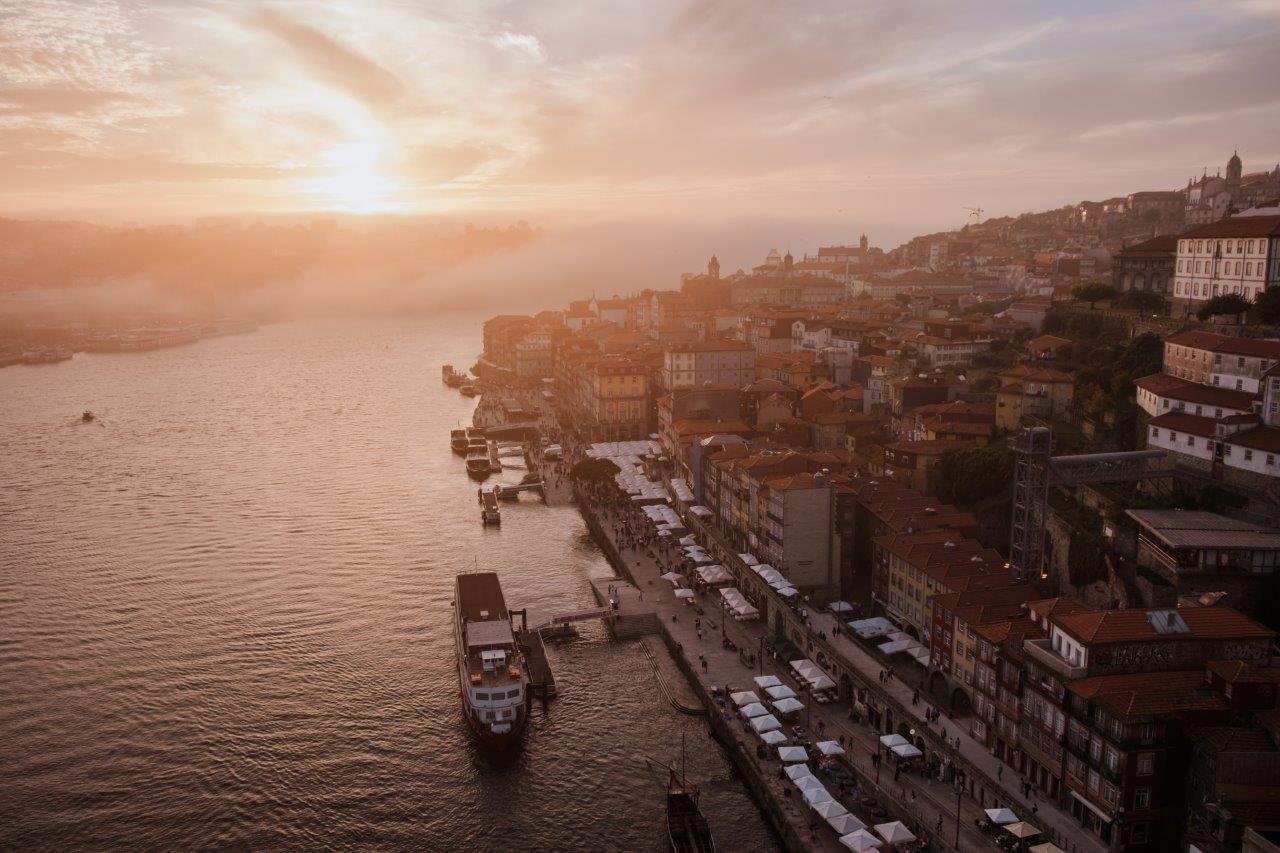 ---
5. Cais da Ribeira
Porto's bustling waterfront is home to plenty of restaurants, shops, live music and a wonderful atmosphere on a sunny day. You can get a great bird's eye view from Ponte Luís I. In the evening, this place comes alive. The gem of Porto, live music and twinkling lights make this one of the most romantic and endearing spots in the city. Wander along here, grab a bite to eat and sit and enjoy the views as the sun goes down.
---
6. Igreja Monumento de São Francisco // Monument Church Of St Francis
Built in the 14th century, this astonishing church is glittering in Baroque-style gold. You have to pay €8 to enter, which also gives access to the small museum and crypts attached. It is considered the most most prominent Gothic monument in the city.
---
7. Igreja do Carmo
This stunning church is famous for its blue tiled exterior. When an old rule prohibited two churches of different sects to share a wall, the tiniest houese in Porto was added between Igreja do Carmo and neighbouring Igreja dos Carmelitas Descalços as a loop hole to be enable them to be built on the same site.
---
8. Capela das Almas // Chapel of Souls
Another religious building built in the 18th century - and probably one of Porto's most photographed and recognizable - with those exquisite blue tiles adoring the outside.
---
9. JARDINS DO PALÁCIO DE CRISTAL
For a beautiful view looking over the Douro River under the Ponte da Arrábida bridge and on towards the ocean, head westward just out of the city to these 19th century gardens which are a pleasant place to sit for a while on a sunny afternoon.
---
10. Praça da Liberdade
The heart of the city, this square is home to notable statues including that of King Don Pedro IV and situated stretching out in front of Câmara Municipal do Porto (or city hall). Fun fact, it is in this square that you can also find the world's fanciest McDonald's - crystal chandeliers and all!
---
11. Fonte dos Leões
Situated in the square outside the Igreja do Carmo, this fountain features four lions that are said to have inspired the choice of Gryffindor for J. K. Rowling while she lived in Porto for her Harry Potter series!
---
12. MIRADOURO DA VITÓRIA
On the opposite side of the river from the beautiful Mosteiro da Serra do Pilar, at the end of R. de São Bento da Vitória, you'll find a secluded viewpoint with panoramic views towards Vila Nova de Gaia and great for sunset spotting!
---
13. Promenade Foz do Douro
If you have the time, take a few hours to walk from Porto all the way along the River Douro out to Foz do Douro, on the mouth of the river where it feeds into the Atlantic Ocean. Especially during the evening sun, this walk is lovely.
---
14. Felgueiras Lighthouse
Right on the edge of Foz do Douro, this 19th century lighthouse sits jutting out into the ocean. I highly recommend picking up some pastel de nata and watching the sunset here; it's magical.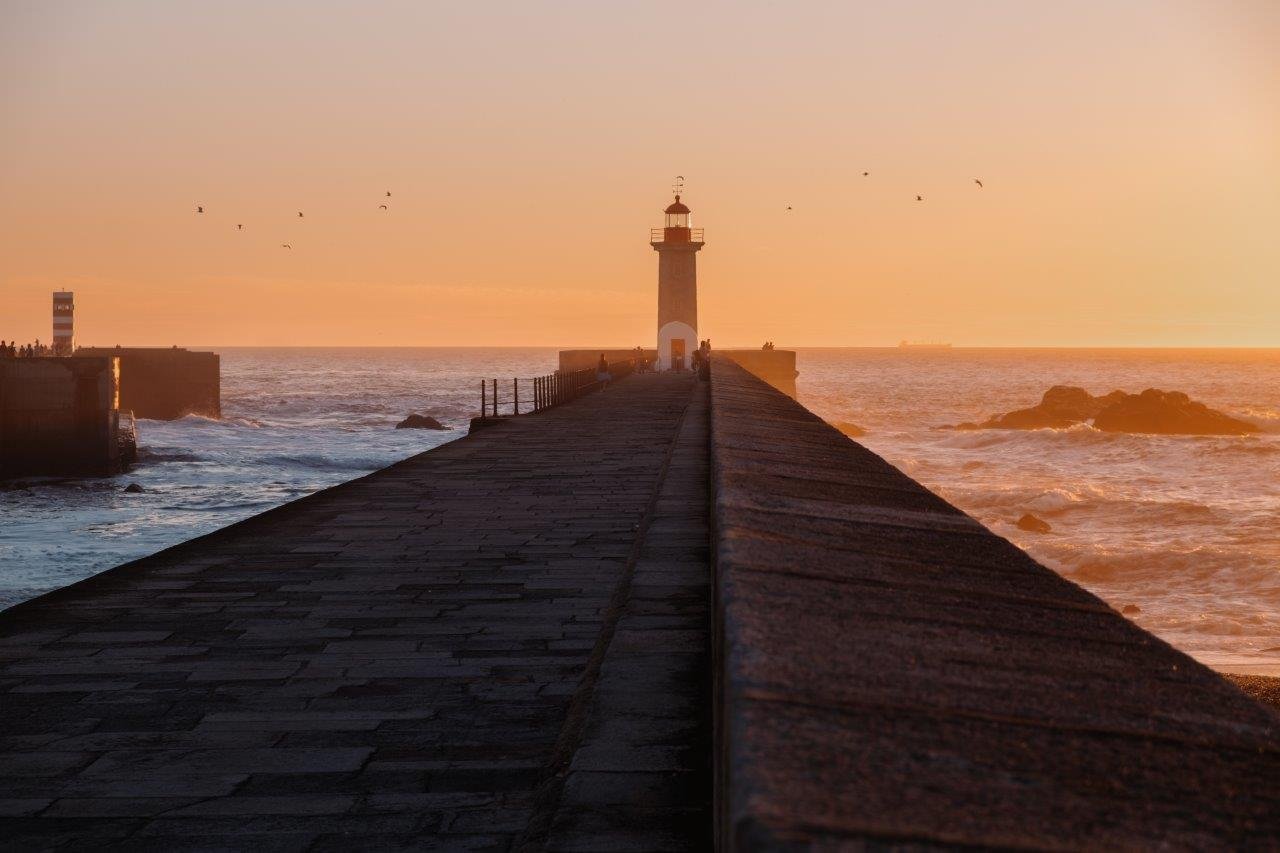 ---
15. Marginal de Gaia
If you walk from the Ribeira in Porto across the bridge (the bottom level), you'll come to the waterfront of Villa Nova de Gaia where live music, markets and fairs, and beautiful views back to Porto are in abundance. A perfect spot to enjoy sundown.
---
16. Palácio da Bolsa
One of Porto's most stunning buildings can be found just north of the Ribeira, Porto's waterfront, in the Infante D. Henrique Square. The Palácio da Bolsa or Bolsa Palace was never actually a palace for royals - it's the old stock exchange building of Porto where, to this day, economic business activity is conducted. The building is simply exquisite. Each room was more ornate, intricate and over the top than the one before.
Check out my detailed guide to visting the Palácio da Bolsa here!
---
17. PARQUE DO HORTO DAS VIRTUDES
A popular spot to catch buskers playing live music at sunset, this garden is a wonderful place to watch sunset and enjoy the views straight down along the river.
---
4 DAY TRIPS TO TAKE FROM PORTO
While based in Porto, I made sure to spend my weekends exploring the regions nearby, hopping on trains and buses to visit some of the beautiful castles, towns and cities. Click on each picture below for a full guide to each destination!
---
CHECK OUT MY VLOG OF TRAVELING TO PORTO HERE!
---
PIN THIS POST TO REFER BACK TO LATER!