Living in Brussels has been a wonderfully central place to get to visit easily all the rest that Belgium has to offer. The capital city is located in the heart of Belgium, providing easy access by train or by car to the rest of the country.
While living here, we've spent many weekends getting out of the city to escape the hustle and bustle in search of new sights and sounds. Here are my top destinations for a day trip from Brussels!
---
1. Mechelen
Time from Brussels: 30 minutes by train
A fairy tale-looking village in Belgium's Flemish region with quaint streets lined with beautiful historic architecture, Mechelen is also famously home to a UNESCO World Heritage Site - the Flemish Beguinages. This and the other darling spots I walked past made for a picture perfect day out. This place is bursting with beauty, it's peaceful and it's a wonderful place to uncover, so really, this place should be on everyone's Belgium bucket list.
---
2. Leuven
Time from Brussels: 30 minutes by train
We spent a wonderful day under the sun and blue skies in Leuven, Brussels' neighbour to the east. Just a thirty-minute train ride from Brussels Central Station will bring you to the outskirts of Leuven's bustling downtown, and the perfect walking distance to some of the city's best sights. We particularly enjoyed wandering through the Leuven Beguinage, now university accommodations, which brought a touch of magic to the autumn air.
---
3. Namur
Time from Brussels: 1 hour by train
Namur is a beautiful and historic town divided across the Rivers Meuse and Sambre. At the dividing point of these two rivers sits the impressive Citadel of Namur, the most well-known icon of the town and what visitors flock to to see and explore.
The Citadel was built on the confluence of the two rivers thanks to the strategically strong defensive position. In its glory days, the Citadel of Namur was considered one of the best in all of Europe. Throughout its history, the Citadel has been a fort, a castle, counts' residences, a King's summer home, leisure and cultural centre, sports stadium and, in the Second World War, barracks and underground fortifications were added. We absolutely loved exploring this enchanting place - two thousand years of history provide a deep-seated importance here and there's plenty to discover. Plus, the views from high up on the hill are quite something!
---
4. Liège
Time from Brussels: 1 hour by train
Liège is a great choice for a day trip from Brussels. The train from Brussels Central takes just over an hour through beautiful countryside. Liège is quite a large city, sitting on the banks of the Meuse River, and home to plenty of medieval landmarks. Get ready to hit the city!
---
5. Antwerp
Time from Brussels: 45 minutes by train
We absolutely adored Antwerp. We fell in love with the calmness, the exquisite architecture everywhere, the general sense of space and cleanliness that often goes amiss in busy Brussels, and the beautiful curated shops and attractions in the city centre. Just a forty-five minute train ride from central Brussels, Antwerp is easy to visit in a day, although you may find yourself wishing you had more time to visit!
---
6. DOMAINE RÉGIONAL SOLVAY
Time from Brussels: 20 minutes by car
Just twenty minutes south of Brussels lies the expansive Domaine Régional Solvay, a wonderful spot for a crisp winter's walk. In the heart of the park sits the 19th century Château de La Hulpe.
---
7. Dinant
Time from Brussels: 1 hour 45 minutes by train
The idyllic town of Dinant is often labelled as Belgium's most picturesque. We wandered along the river, popped in at the majestic cathedral and stared in wonder up at the famous Citadel on the cliff.
We particularly enjoyed visiting Château Fort de Crèvecœur. The ruins of this impressive castle have stumped historians as it seems the layout and purpose has changed many times over the years. Now, free to explore, the ruins offer a panoramic view over Dinant and the River Meuse. In fact, we skipped paying for the famous Dinant Citadel and opted for just the views from here, instead.
---
8. Bruges
Time from Brussels: 1 hour 10 minutes by train
Bruges is in the northwestern part of the country, in the heart of the Flemish region. Bruges is arguably the most beautiful city in the entire country. We found the architecture and buildings of Bruges to be unparalleled in idyllic beauty and quaint delight. The city is simply stunning, no matter which way you turn. Bruges should be on every traveler's list when they come to Belgium!
---
9. Ypres
Time from Brussels: 1 hour 45 minutes by train
Ypres in western Belgium is a massively important place historically speaking as a key point on the western front during WWI. Emphasis is heavily placed on honouring what happened here, with a number of military cemeteries, war memorials and museums based here. We found Ypres to be moving and humbling.
---
10. Ghent
Time from Brussels: 30 minutes by train
Ghent is Belgium's third largest city behind only Brussels and Antwerp, meaning there's plenty to do and see in this sprawling metropolis. The highlight of the day was visiting the STAM Museum, telling the vivid history of Ghent and its rich history as a cloth trading medieval city.
---
11. Tournai
Time from Brussels: 1 hour 15 minutes by train
Tournai is a city on the western side of Belgium, right on the French border. Home most famously to the Cathédrale Notre-Dame de Tournai and the 12th-century Belfry, both UNESCO sites, Tournai sits along the banks of the Schedlt river. It's a compact place, easy to wander and has beautiful architecture to witness and some interesting stories to tell.
We had hoped to spot the symbolic Bridge of Holes, a 13th century structure that once spanned the River Schedlt. Unfortunately, it was dismantled in 2019, much to the dismay of the locals, to make way for bigger barges to be able to travel down the river.
---
12. Mons
Time from Brussels: 1 hour by train
In search of sunshine and signs of spring, I went on a solo adventure out to Mons, a small town on the border with France, just south of Tournai. Having not heard or read much about it, I was pleasantly surprised by how lovely this place was. It doesn't show up commonly in research but those who do take the time to visit are greeted with beautiful architecture, quaint streets, pretty parks, plenty of views - and even a UNESCO site!
---
13. National Park Hoge Kempen
Time from Brussels: 1 hour 20 minutes by car
Belgium's only national park is in the east, near Maastricht in the Netherlands. It's the perfect place to find a bit of nature in a country traditionally lacking it and provides beautiful trails, lovely views and a sense of peace and calm.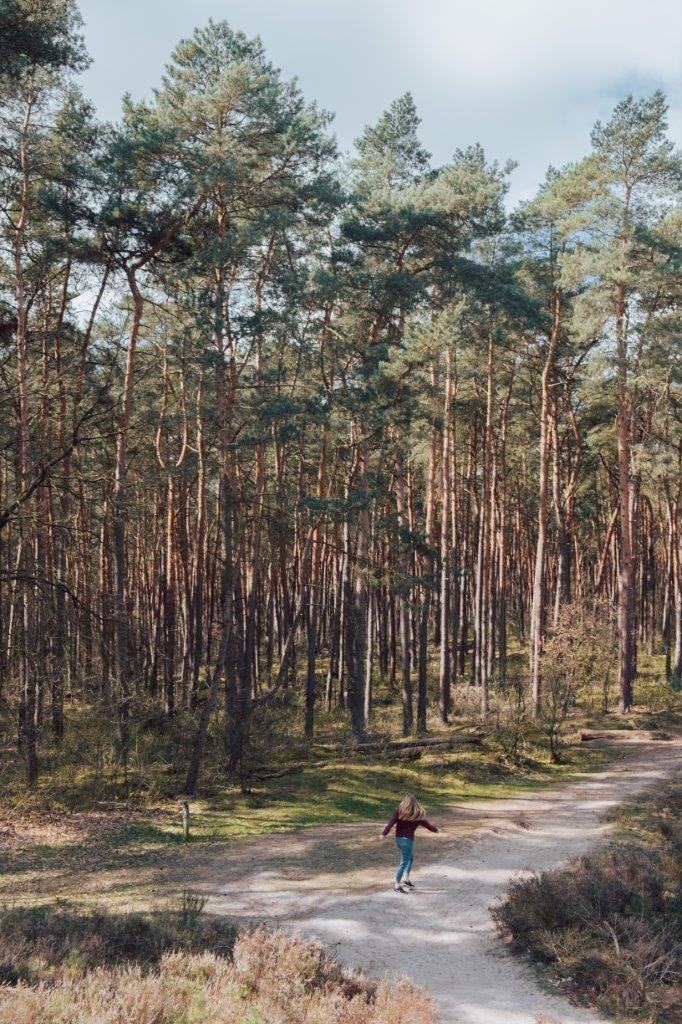 ---
14. Kortrijk
Time from Brussels: 1 hour 15 minutes by train
Perhaps most well-known visually by Broeltorens, a striking bridge with two towers, crossing the River Lys, Kortrijk is a sleepy and sweet place, with breathtaking architecture carefully maintained throughout. The heart of down is divided by this River Lys where to the south the old town boasts churches, a belfry and a simply delightful beguinage. My few hours wandering the streets, camera in hand, were a breath of fresh air.