Nusa Penida is an island just off the southwestern coast of Bali in Indonesia. Home to stunningly blue waters, breathtaking cliff tops, gorgeous temples, secret forest pools, lush waterfalls, incredible views... this has been an incredible two days! Nusa Penida truly feels like an island escape.
---
How to Get to Nusa Penida from Bali
We took a ferry from Bali to Nusa Penida. We booked the trip through our hostel; most accommodations can arrange this transport for you. For 250,000 IDR ($23.30 CAD) per person, we were picked up at our hostel in Ubud at 6:30am and driven to Sanur port in southern Bali. From there, you will collect a voucher for your ferry.
We took an 8:30am ferry from Bali to Nusa Penida which took about 1 1/2 hours (thanks to the fact that we had to cross boats in the middle of the ocean as our propeller failed!). The boat arrives in Toyapakeh.
We stayed at a hostel in Sampalan, so took a taxi for 120,000 IDR ($11.20 CAD) for 6 people which took about 20 minutes along the coast.
---
Where to Stay in Nusa Penida
We checked into the Packer Box Hostel for 2 nights, giving us a day on each side of the island. The Packer Box Hostel is centrally located to all the sights, features individual pod beds, has free breakfast and wifi and can help you book scooters/drivers/tours/ferries/etc.
---
How to Get Around Nusa Penida
The roads in Nusa Penida are much worse than Bali - think gravel, unpaved roads and very bumpy rides! You can scooter around the eastern side (although the final 2km to Diamond and Atuh Beach aren't fun!) as the roads are mostly paved, but you should hire a driver for the day for anything you want to see on the western side as the roads are really awful. Your accommodation can help book these forms of transport.
---
Where to Eat in Nusa Penida
There's an awesome Night Market that serves local street food every evening! We liked it so much that we went both nights we stayed here!
---
Things to See & Do in Nusa Penida
Giri Putri Cave Temple
This incredible temple is built into a cave on the eastern side of Nusa Penida. You'll need to crawl quite low to enter the cave; it's quite the adventure! Entrance is 20,000 IDR ($1.90 CAD) per person and you must be wearing a sarong to enter.
Atuh Beach
Atuh Beach overlooks some of the bluest water I've ever seen. Be wary of the final 2km to reach this place - it's unpaved and in very poor condition. You can climb down to the beach where clear pools are great for swimming. Check out my detailed post here!
Diamond Beach
Diamond Beach is stunning. It's home to that insta-famous staircase you've probably seen all over Instagram which leads to a very steep climb down stairs chiseled out off the cliff face. The beach offers pure white sand and gorgeous rock pools to explore. Check out my detailed post here!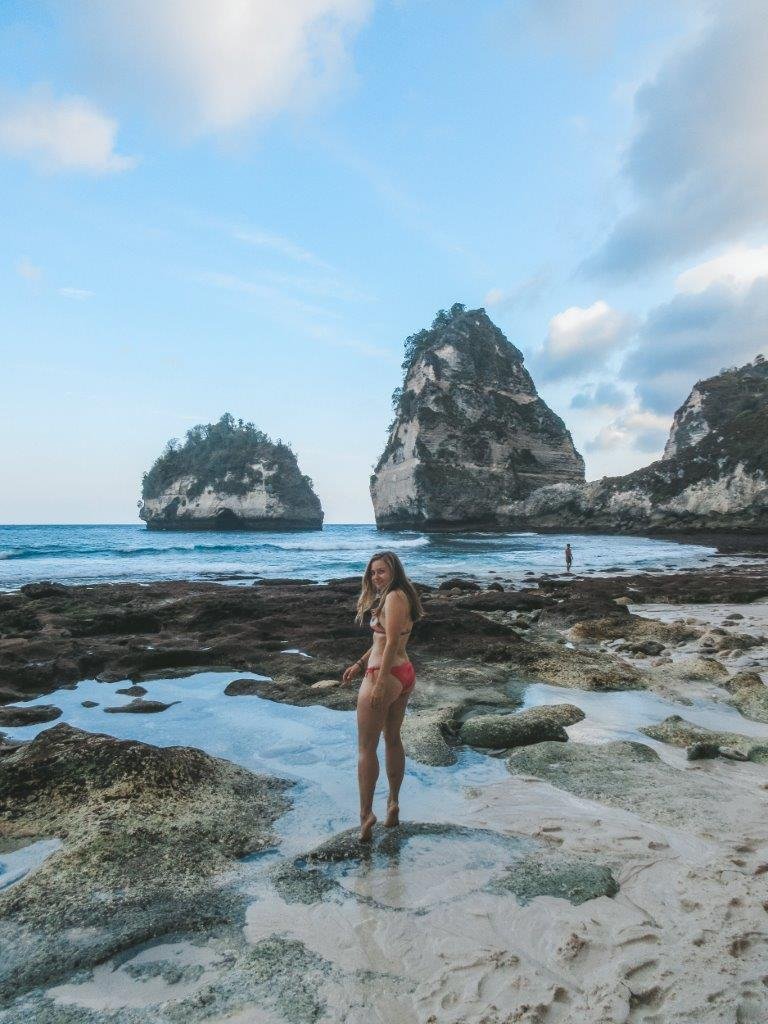 Crystal Bay
Crystal Bay is one of the best places I have ever snorkeled! The water is so clear you can see so far away and the beautiful corals are full of brightly coloured fish and turtles! Snorkels are available for hire at the beach. Check out my detailed post here!
Manta Bay
From Crystal Bay, you can take a snorkeling trip to Manta Bay to get in the water and swim with gorgeous manta rays up to 4 metres wide. A highlight of my trip so far! Check out my detailed post here!
Angel's Billabong
The road to Angel's Billabong and Broken Beach was probably the worst one we had to drive on the west coast! It's long and very busy. At the end, Angel's Billabong greets you with refreshingly clear green pools that are delightful to swim in if you don't mind hundreds of tourists staring down at you!
Broken Beach
Just up the path from Angel's Billabong you'll find Broken Beach, a pretty beach with bright blue water crashing in under an archway.
Kelingking Beach
Kelingking Beach might just be one of the most well-known views in all of Indonesia, thanks to Instagram. This beautiful beach famously looks like a t-rex and is home to quite possibly the bluest water I've ever seen. Check out my detailed post here!
Tembeling Natural Pools
The least touristy place we visited in Nusa Penida was one of the nicest. Tembeling Natural Pools are a pair of magical pools tucked into the forest where you can jump, float and swim to your heart's content near the ocean. It's magical! The final 3km of the road are too narrow for a car so you must haggle with the scooter drivers at the entrance who will drive you the rest of the way down.