The mysterious Mont Saint-Michel, home to the highest tides in Europe, is an isolated island commune off the northern coast of France. From our base in Pontorson, we spent an enchanting day exploring the nooks and crannies of this incredible place, home to over 1300 years of history.
How to Get to Mont Saint-Michel
Trains run from Paris to Rennes at a hefty price of 90 Euros one-way. If you're able to, research buses, Bla Bla cars (French carpooling) or hiring a car to make the trek. From Rennes, hop on an Autocar which looks like a tour bus to the town of Mont St Michel, where you can hop on the shuttle that will deposit you half-way along the bridge to the island.
Alternatively, if you're looking to spend some more time there rather than rush in and out, base yourself out of Pontorson just to the south. A shuttle goes back and forth between the Pontorson train station and Le Mont Saint-Michel every 1/2 hour or so for 2,80 Euros.
Once you arrive at the bridge crossing, a recent upgrade to aid visitors in secure access to the island, spend the rest of the day on foot. The streets of the island are narrow and winding meaning there is simply no other way to see it all.
Things to See on Mont Saint-Michel
The streets of the island are bustling with restaurants and tacky tourist shops and boutique hotels, all worth a wander. Go as early as possible in order to avoid the mid-day throngs that fill up the tiny streets. Somehow, even though the streets are overly busy, they still retain their old-world and quaint charm, with every corner calling for another small gasp of wonder.
Visiting the Mont Saint-Michel Abbey
Free to EU passport holders aged 18-25, or 10 euro for foreigners, the Abbey's history dates back to 708 when it was built as a sanctuary honouring the Archangel. Walking through so many years of history was an awe-inspiring experience. We slowed our pace to match the feeling – one that was so visibly different from the exuberance of Versailles or the gentle Giverny.
Tiffany spoke of how incredible it would be to hear the monks singing so that the walls of the Abbey would reverberate with their mournful and soulful songs. Under her breath she hummed and we imagined a world of prayer - of the days when it was the only stronghold not to fall in northern France, of the time when it served as an isolated prison leading the way to the design of Alcatraz and of the days when it was a single chamber on a rock and a popular pilgrimage destination for those brave enough to trek 1km across wet sand before the 15m tides rushed in at the speed of a galloping horse cutting the mount off from all those surrounding it.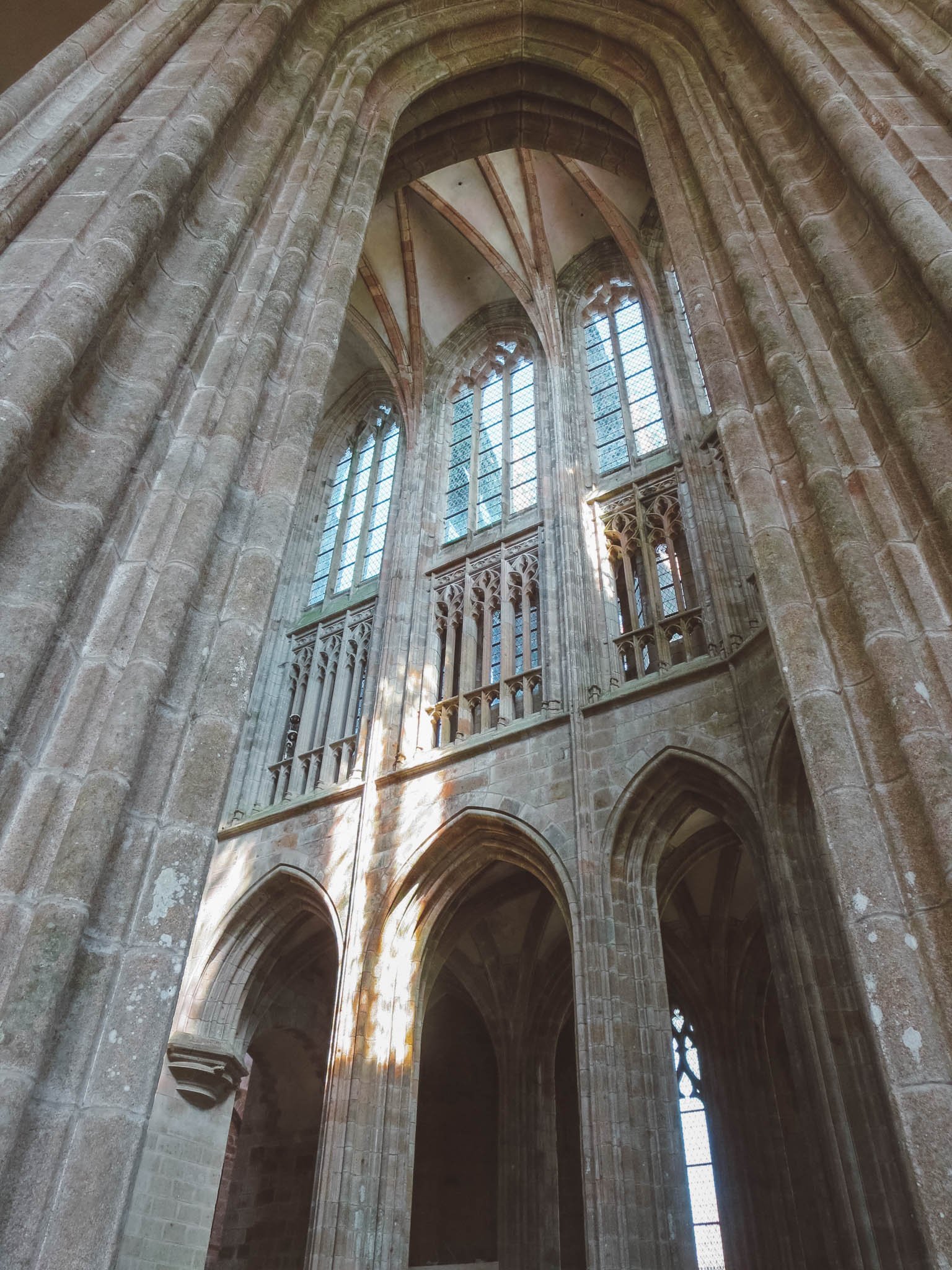 Where to Eat on Mont Saint-Michel
We chose a set menu at La Vieille Auberge with views across the bay, as their front door sign so kindly advertised. We weren't the only ones to notice that the other restaurants lacking in outdoor spaces were empty. A delightfully fresh and light salad was welcomed as a healthy change to our current diets of daily croissants and macarons. An array of salmon, rice and ratatouille, shared across our two plates, followed by a cool apple tart, ended up being cheaper than had we ordered just a salad each!
I've learnt so far on this French adventure to not always trust what you read – both the good and the bad. We had been hesitant on the food as online reviews told only of the overpriced and tasteless foods. Perhaps that may have been the case with some of the menu items, but choosing to share a three-course set menu not only gave a variety of dishes, but also cut the cost in half.
In France, you can sit for ages before any service is to be had. I enjoy this as you are not rushed through the stages of a meal – you have to call over a waiter to receive a menu, to order, to get the bill, and to pay. It leaves you with the space to enjoy and share your meal.
Where to Stay near Mont Saint-Michel
There are some boutique and high-class hotels you can stay in on the island, but for those of looking to stay on a budget, look no further than Pontorson, accessible by a bus directly at the train station.
We stayed at Au Jardin St Michel, a sweet little boutique hotel with a not-so-sweet receptionist who was frustrated with us for booking so last minute. We also chose a room that was listed at 45 Euros and upon arrival we were told that room was unavailable and that we would have to have a room that was 55 Euros because the toilet was inside the room. He did give us a 5 Euro discount, but only after a lot of back-and-forth using Google translate as we were both unable to properly express our thoughts.