My day out in Évora was nothing short of lovely. I originally went to bed on Friday evening with plans to visit Tomar, a few hours to the north, but for some reason when I woke up early on Saturday morning, I felt drawn to visit Évora instead and changed my mind last minute, catching a bus and then a train out east instead.
I made the right decision - bright blue skies and beaming sunshine welcomed me in the most delightful city with whitewashed houses complete with yellow accents throughout the entire city and the most intriguing monuments to visit. I was so happy to be wandering around; my day here was one of my best in all of Portugal.
Évora is easily reachable by train from Lisbon, taking one and a half hours direct, however the trains do not run very frequently. You can check out the timetable and ticket prices here.
In Évora, autumn is late to arrive and the summer days linger on and, even though the sun now sets shortly after 5pm, the days are warm and bright. The leaves are just beginning to turn yellow around their radiant green centres and the scent of the new season is just noticeable on the breeze. It's a welcome change from what most of my November's have been and I feel lucky to get to be exploring as much as I do.
Here's what I got up to during my day in Évora:
---
Ruínas Fingidas in Jardim Público de Évora
These beautiful little ruins are nestled in a delightful central city garden which is bustling with market goers, people having a stroll or an ice-cream in the shade, and loads of peacocks running wild!
---
Capela dos Ossos // Chapel of Bones
One of the most famous sights in the city, this 16th century former monastery features an intricate Chapel of Bones which, quite literally, is covered floor to ceiling with bones of the deceased brothers. It's eerie - yet also a solemn reminder that life is short and we all die in the end. The inscription as you enter reads in Portuguese, "We the bones that are here, for yours we are waiting." It's apparently linked to the annual reminder on Lent of "Remember, oh man, that you are dust and to the dust you will return."
---
Igreja e Mosteiro de São Francisco // Church and Monastery of Saint Francis
This Franciscan church and monastery was dedicated to the values of the Saint Francis which there is a great little museum about included in the entry fee to the Chapel of Bones. Sweeping, airy ceilings make for an impressive central church in the heart of the city.
---
Streets of Évora
Probably the nicest part of my whole day was just wandering through the cobblestoned winding streets, turning down the prettiest ones and enjoying the pallette of whites and yellows throughout. These photos were taken on R. dos Três Senhores.
---
Cathedral of Évora
For a small entrance fee, you can climb to the highest view point in the city, offering 360 degree views looking out over the whitewashed houses and bursts of colour below. The cloisters are also awe-inspiring, with their grand ceilings and stunning courtyard. I loved this spot.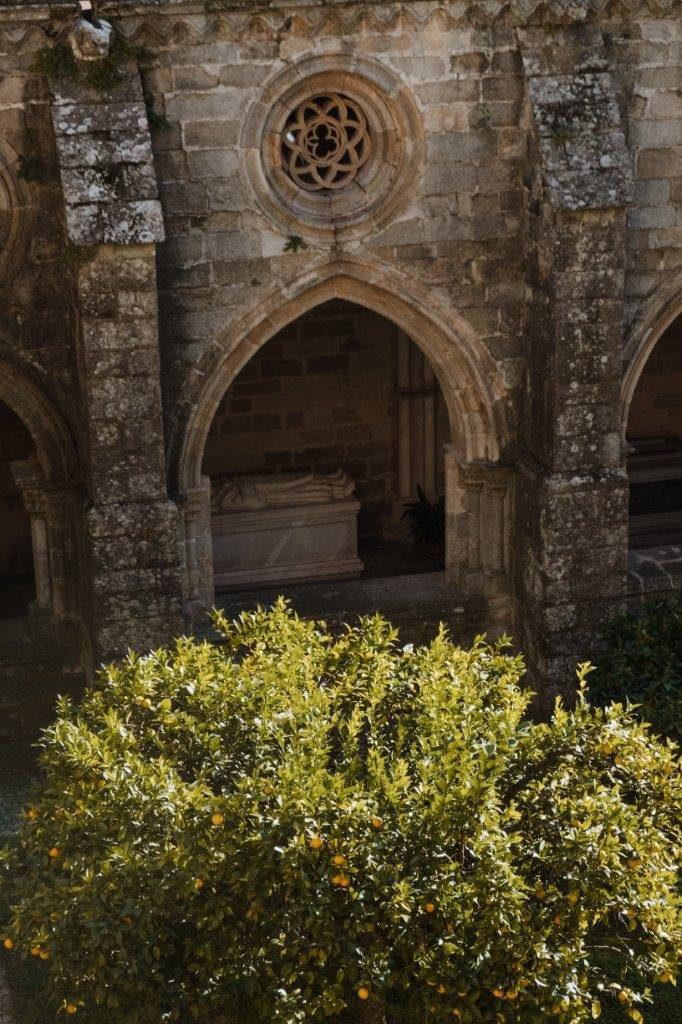 ---
Templo Romano
Once believed to have been dedicated to the Goddess Diana, we now know this temple built in the 1st century AD was dedicated to the Emperor at the time.
---
Aqueduto da Água de Prata
Built in the 1530s, this aqueduct used to supply the city with water. It has been maintained and nowadays, provides architectural features of the city, even with houses being built in between the archways!
---
CHECK OUT MY VLOG OF Évora HERE!
---
PIN THIS POST TO REFER BACK TO LATER!