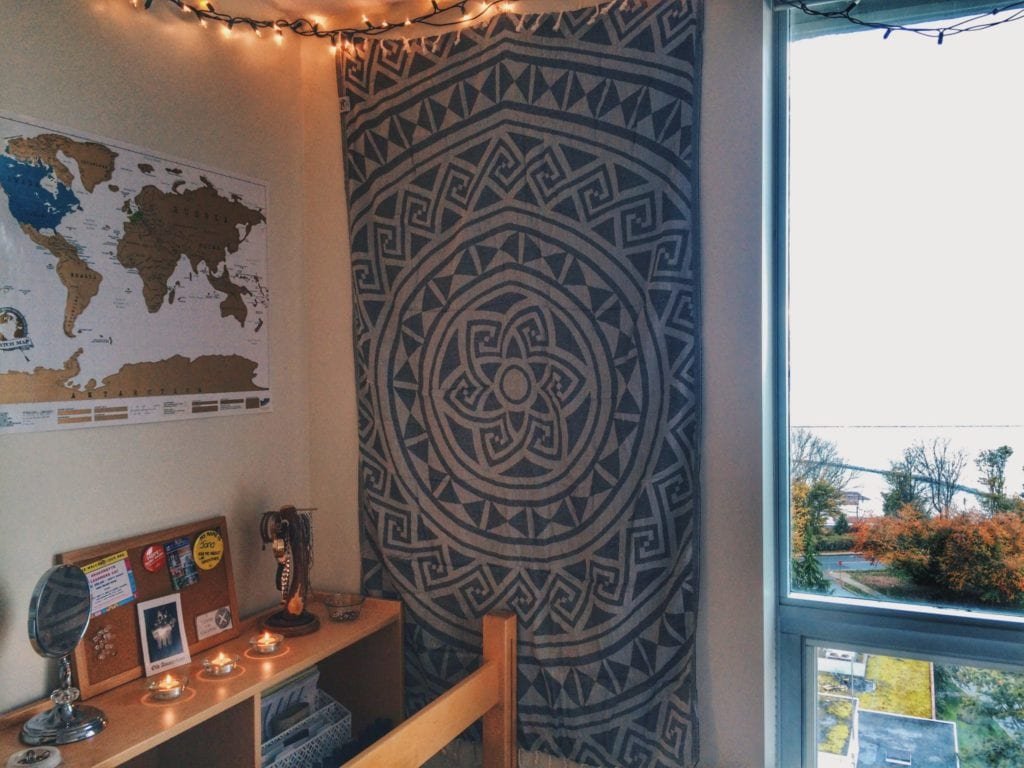 A while ago, I signed up for the email list of a fantastic site called MyMorningRoutine.com. Basically once a week or every couple days, I get an email to my inbox with someone's morning routine. The entire site is dedicated to finding interesting people around the world with interesting mornings. They feature the mornings of CEOs, top athletes, start-up founders, teachers and world travelers in the hopes of giving people inspiration in how to best start their days. I thought I could write my own answers to the questions here:
1. What is your morning routine?
My alarm goes off at 6:30am and the first thing I do is plug in the little fairy lights that hang around my room to lighten up my room. Then I stretch and crack my back and hips (ex-dancer life) before getting out of bed. I then immediately make my bed; if it looks comfy and snuggly it's so much more tempting. A clean bed is much easier to leave untouched.
If it's a chilly morning, I'll pull on a sweater and then turn on my Spotify tunes. I then use toner and Kiehl's face moisturizer to really wake up my skin. Then I brush my teeth, put on workout clothes (Nikes, leggings, sports bra and loose top). My gym is a 5-minute walk from my house so just before 7am I head out the door for a 1-2 hour workout. At the gym, I drink a full bottle of water to stay hydrated.
After my workout, I'll walk back home, jump in the shower and get dressed. While I wait for my hair to dry, I'll make a smoothie bowl for breakfast and put the coffee on to brew. During breakfast, I check my emails and social media - I try not to do this before breakfast to stay focused and take some 'me-time'! After breakfast, I'll blow-dry my hair, brush my teeth again and do my makeup. By this time, it's time to head out the door to work!
2. How has your morning routine changed over the years?
After I graduated university I stopped going to the gym because I moved off campus and never got around to signing up for a new one. My passion for the outdoors (hiking, skiing, etc.) has pushed me back into the fit life!
3. What time do you go to sleep?
I usually switch off everything by 10pm to get ready for bed. I take off my makeup and wash my face and try to read at least a chapter of whichever book I'm currently in the middle of. I typically fall asleep by 11pm so that I can have a solid 7.5 hour sleep.
4. Do you do anything before going to bed to make your morning easier?
Yes! I lay out my workout clothes for the next day, because I'm not awake enough in the morning to dig around in my closet for clothes. I also find that reading (a real book, not a screen) and putting my phone away leads to a much better sleep.
5. Do you use an alarm to wake you up in the morning, and if so do you ever hit the snooze button?
Yes. If I didn't have an alarm, I'd be sleeping in until 9am, easily. And yes, usually I hit the snooze button which is 8 minutes of extra bliss.
6. How soon after waking up do you have breakfast, and what do you typically have?
I don't eat before the gym because I can't workout on a full stomach that early in the day. I drink a bottle of water at the gym and then once I am home and showered, I'll have a smoothie bowl and a big cup of coffee.
7. Do you have a morning workout routine?
Yes! I'm in the gym by 7am for 1-2 hours every weekday morning. I always start off with 30 or so minutes of high intensity running to get the blood pumping and my body warm and sweaty. Then I work my way through differing sets of exercises depending on the day (legs, arms, abs). The very last thing before I leave the gym each day, and probably the most important, is to stretch! I do a full body stretch every day to make sure none of my muscles tense up and that everything is fluid and loose before I head home. Saturdays are my rest day and then on Sundays I typically love to head outside and go for a hike.
8. Do you have a morning meditation routine, and if so what kind of meditation do you practice?
Other than the brief stretches and rolling out of my joints, no. I don't really have the time in the morning to meditate.
9. Do you answer email first thing in the morning, or leave it until later in the day?
If I check anything before I'm sitting down with breakfast, I won't be able to stop. So ideally I wait until I'm back from the gym, showered, dressed and sitting down with my coffee and smoothie.
10. Do you use any apps or products to enhance your sleep or morning routine?
I was using one of those sleep timer apps that wakes you when you're in your lightest stage of sleep, but that had a half hour window and it was sometimes waking me up at 6am when I really didn't want to be up until 6:30am. So now it's just the standard iPhone alarm clock.
To keep my life organized I use Todoist which is probably the single greatest app I've ever used. There's a desktop version and the app version which are constantly in sync with one another. My entire schedule is in there, along with all my to-do lists and grocery lists and deadlines and goals and bucket lists. You sort everything into various projects, like school and shopping and traveling and work. You can schedule things for one time occurrences, or for repeated occurrences (you literally type 'every fifth day at 10am' and it pops up) and you check off each item as you go. I like the idea of my life being organized into a to-do list, it's very manageable.
11. How soon do you check your phone in the morning?
I try to not check my notifications until breakfast, but I do use my phone right away for my alarm and for my music.
12. What are your most important tasks in the morning?
Going to the gym, to get moving and feel healthy. And then catching up on all my notifications!
13. What and when is your first drink in the morning?
A bottle of water at the gym, starting at 7am!
14. Do you also follow this routing on weekends, or do you change some steps?
I work different hours on Saturdays so I just get up early, make breakfast, get ready and head out the door. Sundays I usually have a bit of a sleep-in, and then head outside for a hike or skiing.
15. On days you're not settled in your home, are you able to adapt your routine to fit in with a different environment?
When I'm traveling, I use the travels as my workout such as walking and hiking and biking. I do maintain my bathroom routine, and try to be consistent with waking up early and not falling victim to the dreaded jet-lag (on either end of the trip!) When I get home at the end of a trip, I make extra effort to get myself straight back into routine so I don't have the chance to fall out of habit.
16. What do you do if you fail to follow your morning routine, and how does this influence the rest of your day?
I know this routine sees me at my most productive, so I try and maintain it. If I don't manage to do something, like if I sleep-in and can't have breakfast at home or don't make it to the gym, I try and squeeze them into the later parts of the day. My gym is open late, and there's nothing wrong with a smoothie bowl for dinner 😉 And most importantly, tomorrow is always a new day.